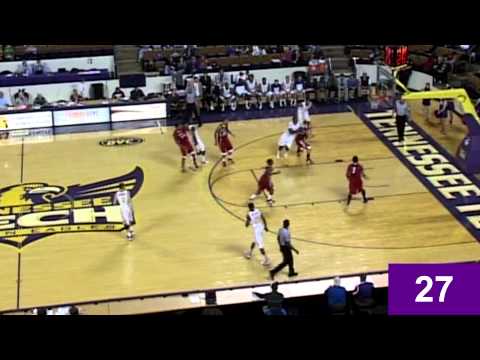 View 30 Items
YouTube



He's a kid that's got an NBA skill and that's the thing that we talk about in the draft. … Right now he's got one (skill) and I think there's a couple other things he can do.

—Kevin O'Connor
Read more: 2012 NBA Draft Selections
SALT LAKE CITY — Mo Williams. Paul Millsap. Kevin Murphy?
The Utah Jazz and Murphy can only hope the Atlanta native continues the organization's uncanny luck with the No. 47 pick in the NBA draft.
The relatively unknown Tennessee Tech guard was taken in that second-round spot Thursday night by the Jazz.
Murphy, a two-time All-Ohio Valley Conference first-teamer, is a versatile 6-foot-7 shooting guard who averaged 20.6 points, 5.2 rebounds and 2.3 assists for the Golden Eagles in 2011-12.
The thing Murphy does that most impresses the Jazz?
Shoot the ball well — and especially from outside. Last season, he hit 41.6 percent from 3-point range.
"He's a kid that's got an NBA skill," Jazz general manager Kevin O'Connor said, "and that's the thing that we talk about in the draft. … Right now he's got one (skill) and I think there's a couple other things he can do."
"He's a shooter," Jazz coach Tyrone Corbin said shortly after talking on the phone with the excited Murphy. "He's a proven scorer."
Corbin's eyes lit up as he talked about the wing's quickness, size and his abilities to score from mid-range and outside, and how Murphy can make things happen with the ball.
"He addressed a need for us," Corbin said. "And we're excited to have him."
Murphy, who weighs 185 pounds but can bench press 300 according to NBA.com, will join the Jazz for their summer league camp in Orlando in early July. Utah also expects Enes Kanter, Alec Burks, DeMarre Carroll and Blake Ahearn to be with the squad, among others.
"I'm just blessed to be picked with this team, with this organization," Murphy said from his Atlanta home on a conference call with Utah media. "I'm so excited to come. I'm just ready to get out there and just get it started."
The 22-year-old Murphy, whose wife is expecting their first baby son this fall, ended up at Tennessee Tech out of Georgia after academic issues kept bigger schools away. He ended up surpassing the 2,000-point mark and is Tennessee Tech's No. 2 all-time leading scorer. Murphy scored 50 points in a game last season (against SIU-Edwardsville).
The Jazz were happy he was still on the board so they can take a chance on him after he slipped in the draft.
It'd be another second-round jackpot if he turns out like previous No. 47 picks Millsap (2006) and Williams (2003).
"He kind of fits the mode of a second-round pick for us," O'Connor said. "He's a kid that came out of Atlanta under-recruited, went to Tennessee Tech. … He's probably got a little chip on his shoulder. He thought he was going a lot sooner than he went, so those are the good things."
O'Connor said the Jazz have taken notice of Murphy since the middle of his junior season (2010-11) and they watched him play in person multiple times during his senior year. They were impressed by his performance at pre-draft workouts this spring, including at New Jersey, Chicago and Minnesota. Murphy, who's never been to Utah, believes his workout at Portsmouth helped him out most.
"I feel like I can compete on any level," Murphy said.
Though he's known as a scorer, Murphy said his all-around game improved as his college career progressed. He's also looking to become more than just a good shooter.
"I want," he said, "to become an expert shooter."
Though they only ended up with a second-round pick after giving up their first-round selection to Minnesota to finish off the Al Jefferson trade, the Jazz tried their darndest to move up into the lottery.
"We had really broached the subject with first 10-12 picks," O'Connor said. "We really tried to figure out what kind of package they would require."
Turns out, not much movement was made all night in the draft (though the Jazz reportedly have a three-way deal to reacquire Williams on the table).
7
comments on this story
"I could have made a trade, but I don't think you would have liked who I traded," O'Connor said. "It would have been a minus for us."
On the other hand, the Jazz GM believes they picked up a player who has the potential to be a plus for the organization. Utah is in desperate need for outside shooting, and it's uncertain whether free agent veteran wings like C.J. Miles and Josh Howard will return, giving Murphy a chance to earn a spot.
"We think he's a nice player," O'Connor said. "We think he has an opportunity to make the team, but it's up to him."
Email: jody@desnews.com
Twitter: DJJazzyJody