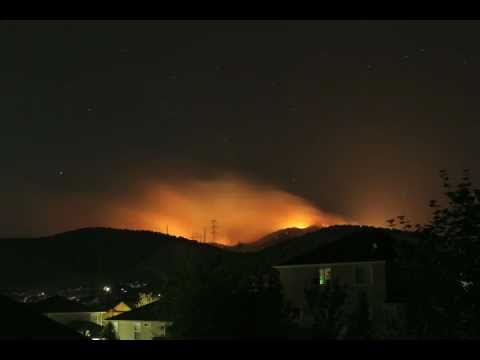 View 77 Items
Youtube

Editor's note: As of 5 p.m. Friday, the information that follows was verified accurate. Over the natural course of the fire coverage, some information may change.
Related blog: Gunfire started this one, could be fireworks next time
Related: Saratoga Springs fire Twitter updates, coverage
Related: Evacuated residents await word as Saratoga Springs fire grows
Related: Social media reaction of the Dump Fire in Saratoga Springs
A fire caused by target shooters started near Saratoga Springs landfill around noon Thursday. The Dump Fire has spread over Eagle Mountain, threatening homes and facilities. Evacuations have been issued for Saratoga Springs and Eagle Mountain residents as the fire closes within 1/2 mile of homes, burning 4,000 acres and emitting dangerous smoke plumes. Thousands of residents have been evacuated from their homes, and fire officials are estimating the fire containment is less than 20%. No homes have burned at this point.
Because of the high fire danger, residents in all evacuated areas will not be able to return to their homes tonight.
Updates will be posted as they become available.
Eagle Mountain Brief
Fire evacuation updates on eaglemountaincity.org
Eagle Mountain City Twitter @emcity.org
Eagle Mountain evacuation areas: Mayor Heather Jackson says 300+ homes have been evacuated in Eagle Mountain. Mandatory evacuations have been ordered for all residents from Kiowa Valley subdivision east to Redwood Road, North to Pony Express. Everyone south of Pony Express pkwy, east of Smith Ranch Rd, all the way east to Redwood Road is being evacuated. Voluntary evacuations at this point include Fremont Springs, Eagle Top, Three's Crossings, and Silver Lake.
Here is a list of affected subivisions for the evacuation at this point: Kiowa Valley, Eagle Top, Fremont Springs, Three's Crossing.
Residents in SilverLake or City Center do not need to evacuate at this point.
City Hall is closed.
Evacuation Rendezvous Points: Vista Heights Middle School, 484 W. Pony Express & LDS church at 3332 E. Windhover, by Nolan Park are NO LONGER being used as evac centers. All residents are instructed to evacuate to Westlake High, 99 N. Thunder Blvd. The Red Cross has been notified and has a shelter there.
EOC is located at City Hall, incident command is at Neptune Park in Saratoga Springs. Check with Cami from BLM 385-226-6540. (Evacuation center for the ‪#dumpfire‬ is Westlake high school in Saratoga Springs not Eagle Mountain)
Saratoga Springs Brief
Fire evacuation updates on Saratoga Springs City Website.
Saratoga Springs City Facebook
Saratoga Springs City Twitter @saratogasprngut
Saratoga Springs Evacuation Areas: Mayor Heather Jackson says 2,000+ homes have been evacuated in Saratoga Springs. The evacuation area now includes all of the Stillwater subdivision and continues north to the Church farm. This includes the Jacobs Ranch subdivision, north of Grandview Boulevard, South of the Church farm, and West of Redwood Road. All neighborhoods west of Redwood Rd and south of Stillwater should be prepared for an evacuation should it become necessary.
A Google map of the evacuation areas in Saratoga Springs is provided.
The current evacuation area includes all homes north of Grandview Boulevard, South of the Church farm, and West of Redwood Road.
Other neighborhoods asked to prepare for evacuation: Neighborhoods in Saratoga Springs from the Stillwater subdivision north to Grandview Blvd and West of Redwood Rd, including all of Jacobs Ranch, are asked to prepare for an evacuation should it become necessary.
Evacuation Rendezvous Points: Those being evacuated can go to Westlake High, 99 N. Thunder Blvd. The Red Cross has been notified and has a shelter there.
(Evacuation center for the ‪#dumpfire‬ is westlake high school in saratoga springs not eagle mountain.)
Utah Fire Info Website
Utah Fire Info Twitter @UtahWildfire
Utah Red Cross Website fire updates
Utah Red Cross Facebook
Utah Red Cross Twitter @UtahRedCross
American Red Cross volunteers are now on scene with more than 200 evacuees at the reception center at Westlake High School 99 N. Thunder Blvd in Saratoga Springs, to provide support to evacuation center staff for the Saratoga Hills Subdivision.
Roads Closed:
SR-68 is closed from 400 N to Harbor Point in Saratoga Springs South of 400N hwy68. North of Harbor Bay Drive in Saratoga Springs is also closed.
Hwy 68 (Redwood Road) closed from Elberta to 400 N in Saratoga Springs.
Those evacuating and leaving City limits should take Pony Express to Ranches Pkwy to SR-73 at this point.
Pet Boarding
If you are evacuating and need a place for animals here are several shelters and volunteers willing to board animals.
Anne McIntyre North Utah Valley Animal Shelter is accepting evacuation dogs and cats from the fire for free. They are located at 193 N 2000 W Lindon, Utah 84042. Call them at (801) 785-3442
On the Spot Pet Care is accepting all pets from the fire evacuation. The address is 94 S 700 E American Fork.
Local residents are also volunteering to take in animals in homes and ranches. Check Eagle Mountain and Saratoga Springs' Facebook and Twitter feeds for more information.
Unified Fire
For current information on the #dumpfire in Utah County, Eagle Mountain City should call 801-789-6600
Saratoga Springs residents should contact their city offices at 801-766-6503 for updates.
Fire officials would like to remind citizens to avoid the areas of the fire and keep the roads clear for evacuations and fire personnel.
Related blog: Gunfire started this one, could be fireworks next time
Related: Saratoga Springs fire Twitter updates, coverage
Related: Evacuated residents await word as Saratoga Springs fire grows
Related: Social media reaction of the Dump Fire in Saratoga Springs