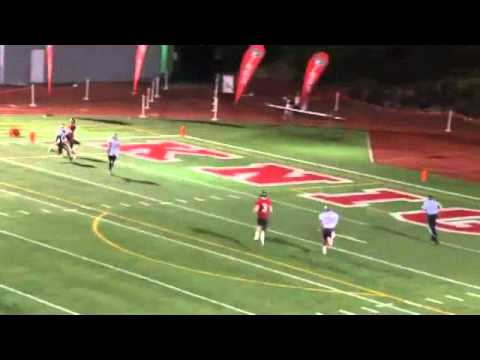 View 2 Items
YouTube

Related: BYU lands another Pau'u
SHORELINE, Wash. — BYU is in search of a quarterback prospect who can play four to five straight years and believe they have found a good candidate in Billy Green. Green is a 6-foot-2, 196 prospect from King's High School just north of Seattle.
Quarterback coach Brandon Doman has maintained a good relationship with the Barton camp in the area since recruiting Jake Heaps. The Barton camp helped hone the skills of Heaps and is doing the same with Green, who has received a lot of local interest. Doman asked camp directors to recommend a quarterback prospect who would fit in well at BYU, and they gave him Green's name.
Green threw for 2,397 yards, 40 touchdowns and just eight interceptions last season, but more importantly, for BYU, he attends the non-denominational Christian King's High School, which holds its students to strong Christian standards — much like BYU.
Green attended BYU's junior day earlier this month and performed well enough to gain an offer from coaches, which was his first.
"It was surreal to get that first offer," said Green. "BYU coaches let me know that they were impressed with my performance and liked that I could play four or five straight years for them. It's really an honor to get that first offer and it's great that it's come from a school like BYU."
Green didn't know what to expect when visiting BYU, but came away with an overall good impression of the football program and the school. Being non-LDS, he had a few questions about how he could fit in at a school whose students are overwhelmingly LDS.
"I was able to talk to a few of the non-LDS players and they let me know of what it's like for them," said Green. "I still have some questions and things I need to sort out, but I like the standards at BYU and it's the same standards I grew up with."
Green was able to tour the campus and found the Marriott Business School much to his liking. "I really want to study business and that's a big plus for BYU with their great business program," said Green.
62
comments on this story
Green hopes to make his commitment by the end of the month with BYU being a strong possibility. Schools such as Washington, Washington State, Utah, Arizona and Oregon State have all shown interest with the two Washington schools showing the most.
"I've been able to see both Washington and Washington State a lot and I'm very familiar with both programs and their coaching staffs," said Green. "Both schools might be close to offering, so we'll see what happens, but I definitely want to decide where I'm going to sign within the next week."