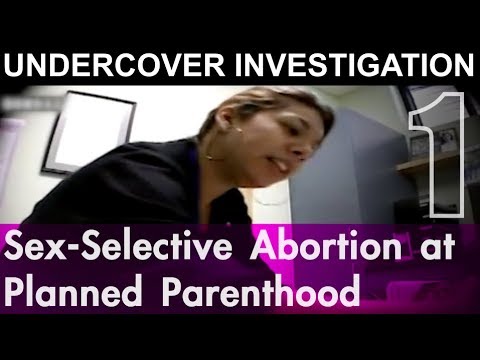 View 3 Items
YouTube


We are the only advanced country left in the world that still doesn't restrict sex-selection abortion in any way.

—Rep. Trent Franks, R-Ariz.
Related: Will new gender-predicting blood test increase abortion rates?
Gendercide has long been known to be an issue in countries such as India and China, but a House bill and two new videos released by pro-life group Live Action have raised the debate on gender-based abortions in the United States.
The Prenatal Nondiscrimination Act (H.R. 3541), sponsored by Rep. Trent Franks, R-Ariz., was defeated in the House Thursday. The bill, which also addressed race-selective abortions, would have made it a federal offense to knowingly do any of these four things:
1. Perform an abortion knowing that the abortion is being sought based on the sex or gender of the child.
2. Use force or treat of force to injure or intimidate any person for the purpose of coercing a sex-selection or race-selection abortion.
3. Solicit or accept funds for a performance of a sex-selection abortion or a race-selection abortion.
4. Transport a women into the U.S. or into a different state for the purpose of getting a sex-selection or race-selection abortion.
"We are the only advanced country left in the world that still doesn't restrict sex-selection abortion in any way," Franks told The Associated Press. "This evil practice has now allowed thousands of little girls in America and millions of little girls across the world to be brutally dismembered."
Prior to the bill's failure in the House, President Barack Obama said he opposed the legislation.
"The administration opposes gender discrimination in all forms, but the end result of this legislation would be to subject doctors to criminal prosecution if they fail to determine the motivations behind a very personal and private decision," White House deputy press secretary Jamie Smith told ABC's Jake Tapper. "The government should not intrude in medical decisions or private family matters in this way."
A Lozier Institute poll released in May showed that 77 percent of respondents would support a law banning abortion in cases where "the fact that the developing baby is a girl is the sole reason for seeking an abortion."
According to the Susan B. Anthony List and the Lozier Institute, four states — Illinois, Pennsylvania, Oklahoma and Arizona — have banned sex-selective abortions. The constitutional authority section of Frank's defeated bill states that only Arizona has addressed race-selective abortions.
Sujatha Jesudason and Anat Shenker-Osorio, writing at The Atlantic, suggest that the House law is discriminatory and say that in place of legislation, son preference must "catch up to the new reality" in which gender roles have been changed.
"Empowering families, communities and societies to root out biases and alter their own behaviors without shaming, blaming or curtailing the rights of women is our only real hope of tackling this issue," they wrote.
"Sex-selective abortion is odious," Michelle Goldberg wrote at The Daily Beast. "Banning it means allowing the government to decide what constitutes a legitimate reason for a woman to terminate a pregnancy, and forcing doctors to try to discern the motives of their patients ... . Anyone who is genuinely concerned about sex-selective abortion should be working to fight sexism, its underlying cause."
Live Action, a youth movement that aims to build "a culture of life" and end abortions, released two videos on protectourgirls.com showing discussions with Planned Parenthood workers regarding sex-selective abortions.
"If experts are right and gendercide is taking place in our own backyard, what is being done to protect our girls from the most brutal form of discrimination — violent sex-selective abortion?" the first video asks.
The first video, filmed in April and released Tuesday, shows a Planned Parenthood worker in Austin, Texas, giving a young woman advice on how to receive an abortion if her baby is a girl. When getting an ultrasound, the worker recommends not telling a doctor she'd like to terminate based on gender in order to avoid being judged. The worker also gives her information on how to get Medicaid to help pay for the ultrasound prior to the abortion.
"I was worried that I would get judgment for terminating because of the gender and you've been so —," the undercover activist said.
"Some things you probably can't be too open because there are people out there who will place judgment," the worker said. "And then whenever it does happen, you could tell them one thing and they might even just think another, so, what matters is that, you know, you have your family."
"Yes, my boy and my girl," the activist said.
"Exactly," the Planned Parenthood worker said.
Planned Parenthood responded to the video by firing the staffer. A Planned Parenthood spokeswoman also told The Huffington Post that the organization condemns sex-selective abortions, but that its policy is to provide "high quality, confidential, nonjudgmental care" to all who come into the centers.
6
comments on this story
A second video, released Thursday, shows a visit to a New York City Planned Parenthood office. In the video, the Planned Parenthood worker gives advice on how to get genetic testing in order to tell the sex of the baby.
"If you decide that, even if you find out that it's a girl, and you decide that, what you would prefer is to terminate the pregnancy, then that's just your decision," the worker said. "I can tell you that, you know, here at Planned Parenthood we believe that it's not up to us to decide what is a good or a bad reason for somebody to decide to terminate a pregnancy."