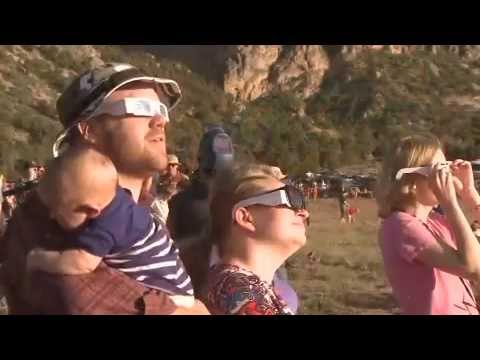 View 60 Items
YouTube/Utah League of Cities and Towns


The 2012 eclipse didn't bring the end of the world, but it did bring out many interested viewers from around the world and across the Internet, including thousands in Utah.
A large crowd of nearly 5,000 gathered in Kanarraville, outside of Cedar City, as experts said it would be the best place in Utah to view the eclipse, but that wasn't the only place that saw eclipse viewers in droves. In Boulder, Colo., locals and not-so-locals came to the University of Colorado's Folsom Field football stadium, where they estimated 13,000 in attendance, according to MNN.com.
Besides gathering in Kannarraville, many Utahans came to the Gateway in Salt Lake City where the Clark Planetarium and University of Utah set up pinhole viewers and solar telescopes for people to take a peek at the phenomenon, according to KSL.com.
According to the LA Times, anxious viewers in China missed the eclipse, that hasn't showed its face for 18 years, because of stormy cloud coverage.
However, some early risers in Hong Kong reported seeing a tiny glimpse, while many in Tokyo caught a phenomenal sight that the country hadn't seen in 173 years, according to the Times of India.
And just as people gathered around the world — on mountains, valleys, rooftops and fields — even more thousands of people came together online to share in this celestial event. The "Ring of Fire" began in Asia, where a live video stream was being broadcast from Mount Fuji, according to MSNBC. It was reported that more than 275,000 people watched the live stream.
Photos and home videos coupled with tweets and posts of the eclipse were posted on Facebook, Twitter and Instagram as viewers expressed their awe. The hashtag #eclipse2012 shows a stream from around the world of viewers' eclipse experience.