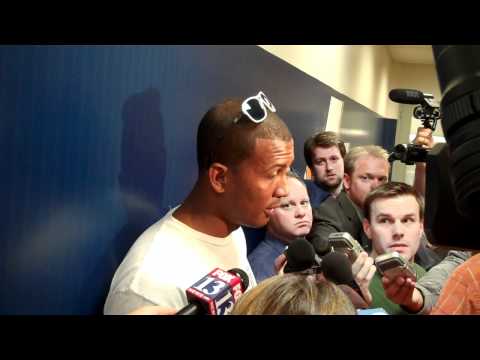 View 39 Items
YouTube

I just thought that the way I was handled by Ty was unprofessional.

—Raja Bell
SALT LAKE CITY — The morning after being swept by San Antonio, most Utah Jazz players talked about how satisfying their past playoff season was and expressed optimism for the future.
And then there was Raja Bell.
The 12-year veteran has one season remaining on his three-year deal with the Jazz, but he is convinced his stay in the Beehive State is over.
Bell started his candid nine-minute interview at Tuesday's locker clean-out with the verbal bombshell, "I don't think I have a future with the team."
By the time he was finished expressing his disgruntled feelings, Bell had touched on his dissatisfaction with his role, his relationship with Jazz head coach Tyrone Corbin and his return to the Jazz organization.
Bell's biggest beef was about a communication gap with his coach, something that dates back to the 2010-11 season when he was displeased with the way Corbin told him about his decision to move him to a reserve role at the end of the year.
"I just thought that the way I was handled by Ty was unprofessional," Bell said.
Things came to a head this season when Bell had a locker room blow-up with Corbin in Philadelphia on March 9 and was sent home and suspended for the next game.
A lack of dialogue at the end of the season and in the playoffs — coupled with Bell being the only healthy Jazz player to not see any postseason action — soured the veteran to the point that he doesn't see a future here.
"When it gets to a point where there's absolutely no communication for months on end," Bell said, "I think we all know that that's irreparable damage."
Bell spoke positively of the Jazz's youth — "We've got some really, really good young kids," he said — but the 35-year-old didn't feel like he was in the team's plans as the season progressed. Bell even told the Jazz he would be amenable to a trade, thinking that it could benefit both parties. But that didn't come about.
Bell also said his relationship with Corbin and Jerry Sloan, the coach who was here when he re-signed with the Jazz two years ago, was "night and day." Though he can't see himself donning a Utah uniform again, Bell believes he has years remaining as an NBA player.
"I do think given the opportunity and a role that's established and not just jumping all over the place from night to night that I could contribute," Bell said. "Hopefully, (Jazz general manager Kevin O'Connor) and the brass here find a way to make it work for all of us."
O'Connor offered a sarcastic response when asked about Bell's pointed comments.
"I would probably say, 'Gee, that's unexpected. I would have never thought that would've happened,' " said O'Connor, who obviously was not surprised by Bell's harsh words and accusations.
But O'Connor made it clear the Jazz will look into rectifying the situation.
"We'll deal with all that stuff behind closed doors as far as that goes," O'Connor said. "He's got a contract next year. We expect him to honor it. If we can make our team better, we will."
This season, O'Connor insisted that the Jazz will not do buyouts, so that solution would presumably have to be a trade unless Utah decided to use its amnesty clause on Bell.
"I don't have a number (of years), but I know that this year when I was playing well and I was playing, I felt good. My body felt good," Bell said. "I was worried that I wouldn't be able to chase people and I wouldn't be able move my feet, and I felt like I had some nights where I smothered some guys and really got up under them and did my thing. I shot the ball pretty well. It was exciting to me, coming off a year like last year, where I could never find that, so I do think I could (play more in the NBA)."
Corbin spoke before Bell went off and didn't offer much detail about the shooting guard's future.
As for not playing Bell in the playoffs, Corbin said, "That's on me."
Added the coach: "I just decided it wasn't the best thing for us — where we were and where he was — to go as we were going."
Bell had fought back from a knee injury and suffered groin muscle issues, but he felt good enough to play and help the Jazz in the playoffs.
"Do I think I could've contributed? I do. I played the Spurs in three playoff series in my career. Big battles with Manu (Ginobili), Tony (Parker), those guys," Bell said. "When you have referees coming up to you asking you why aren't you playing because you can make a difference out there (and) their team asking you why aren't you playing because we really were worried if you were in the scouting report, those things make you wonder."
Bell continued: "But it wasn't my call to make and once I realized after Game 1 when (Corbin) cleared the whole bench and I didn't even touch the court at the end of the game that it was a personal matter, then I didn't care any more."
Email: jody@desnews.com
Twitter: DJJazzyJody