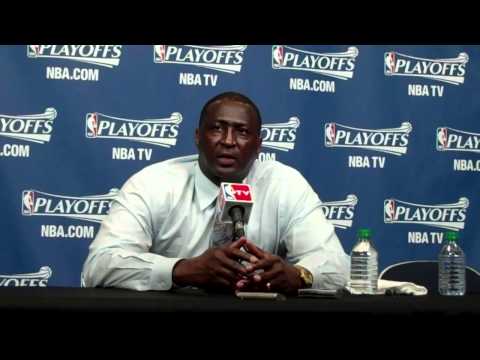 View 38 Items
Brandon Brown, Deseret News

We decided to make that push at the end of the season to make the playoffs and we just kept fighting and fighting. We came up short in the series, but we can't hold our heads (down) for it...

—Jazz forward Derrick Favors
Read more: Utah Jazz notebook: 'Honest Al' Jefferson hammered by media for his comments
Read more: Brad Rock: Strike-shortened season ends too soon
Read more: Randy Hollis: Utah Jazz show grit, class in final defeat
Read more: Spurs bench comes up huge when needed most
Read more: Utah Jazz-San Antonio: Game 4 instant analysis
Read more: Utah Jazz-San Antonio: Game 4 report card
SALT LAKE CITY — The Utah Jazz's postseason ended earlier than the team and its fans hoped it would. The season lasted four games longer than most people thought it would.
But even though they were swept in four games by the San Antonio Spurs after Monday's 87-81 playoff-ending defeat, the Jazz went down with a fight and a fire like their coach hoped they would.
How fitting.
The ending could've been better, but it could've been a lot more bitter, too.
Reflective of their never-quit season, the Jazz scraped and clawed their way back into Game 4, somehow making a tight game out of a seeming blowout in the last minute to pull within four with 49.4 seconds remaining after trailing by 21 points only five minutes earlier.
"We weren't going to let each other off the hook and come out and lay down and let these guys take a win here," Jazz coach Tyrone Corbin said. "I thought we fought and continued to fight and make sure to show who we are."
It hardly came as a shocker that Tony Parker and Manu Ginobili teamed up to remind the Jazz who they are in the final half-minute while bringing Utah's valiant comeback effort to a screeching halt. The Jazz had a chance to cut into the Spurs' suddenly shaky lead — 81-60 with under six minutes, down to four — when Parker stole the ball from Paul Millsap and tossed it to his Argentine assassin for an easy game-clinching layup with 18.9 seconds remaining.
"It's a bad experience, a bad feeling, to just know your season's over with," Jazz center Al Jefferson said after his game-high 26-point peformance. "(After) all the hard work we put in and all the fighting and all the things we had to fight through, it just (stinks) to know the season's over."
Despite the heart-searing pain of dreams dashed, that near-heroic push against a championship-caliber Spurs team helped the Jazz hold their heads up high heading off the court and into the locker room for the final time this season.
Jazz emotions ranged from feeling disappointment over being mostly dominated by Tim Duncan, Parker, Ginobili and crew to recapturing the satisfactory sweetness of the year-ending five-game winning streak and season-long overachieving that helped them defy critics by making the playoffs in a supposed rebuilding year.
"We decided to make that push at the end of the season to make the playoffs and we just kept fighting and fighting," Jazz forward Derrick Favors said. "We came up short in the series, but we can't hold our heads (down) for it.."
Utah even gained renewed respect from the man whose team befuddled the Jazz on seemingly every move all series long — from unsuccessfully trying to contain Parker on the pick-and-roll, failing to cool off the Spurs' outside shooters or not being able to score inside against San Antonio's stifling defense.
"The Utah Jazz showed you the kind of class and the kind of organization that they are," said Spurs coach Gregg Popovich, who partly modeled his team after Jerry Sloan's successful squads over the years.
"Down 3-0 and I think we were up 17 or 18 (actually 21) and some people probably thought it was over," Popovich continued. "We put in a couple of subs and they just ran it right to us and stuck it to us, because they don't quit."
The Jazz started with a big lineup because Corbin hoped putting 6-10 Favors in with 6-8 Millsap and 6-10 Jefferson would give Utah an inside advantage on offense and defense against the Spurs.
But Utah sputtered out of the gates again, only scoring 19 points in the first quarter. A 21-3 Spurs run, reminiscent of the killer 20-0 surge San Antonio had in the 31-point Game 2 blowout, helped the deep and deadly visitors go into the locker room with a 50-42 lead.
Jefferson scored a couple of baskets in a row for the Jazz in the middle of the second half, but there was a big problem between those two makes. Namely, Utah suffered through dry spell that lasted eight minutes and nine seconds, during which Ginobili hit three 3-pointers and scored 10 points in a 15-0 Spurs run.
San Antonio stretched that lead to 21 before Utah dug deep one last time. Even that last lineup was reflective of the Jazz's season makeup, considering it included veterans-trying-to-prove-themselves in Jefferson, Millsap and Devin Harris, a young up-and-comer in 20-year-old Favors and a player trying to find his way in the league in DeMarre Carroll, who was picked up in February after Denver waived him.
Sure, they fell short. But, like the team that bounced back after losing 11 of 14 in February and overcome numerous obstacles and injuries, went out fighting.
"They are just a class team and a class organization," Popovich added. "Ty has done a great job of keeping that going. It is just who they are and they showed it tonight. I just have to congratulate them on that."
Jefferson was equally proud of his team, which helped him get back into the playoffs for the first time since his rookie season in 2005.
"I'm not just saying, but this is the best group of guys I've ever been around. We never let no one had us thinking that we couldn't achieve this goal of getting to the playoffs. We always stayed together through thick and thin," Jefferson said. "At the end of the day, you can't ask for nothing more than a great group of guys like this."
Well, he actually can — advance in the playoffs with a great group of guys.
"I think," he said, "the sky's the limit for us."
Email: jody@desnews.com Twitter: DJJazzyJody Blog: Jazzland.blogs.deseretnews.com
Read more: Utah Jazz notebook: 'Honest Al' Jefferson hammered by media for his comments
Read more: Brad Rock: Strike-shortened season ends too soon
Read more: Randy Hollis: Utah Jazz show grit, class in final defeat
Read more: Spurs bench comes up huge when needed most
Read more: Utah Jazz-San Antonio: Game 4 instant analysis
Read more: Utah Jazz-San Antonio: Game 4 report card