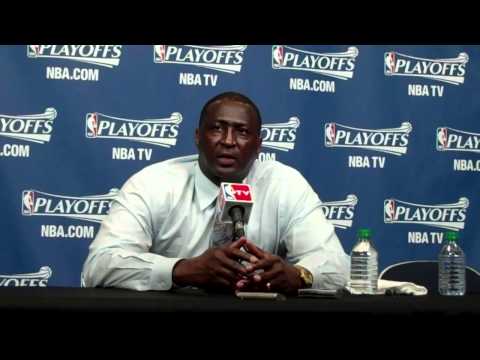 View 38 Items
Brandon Brown, Deseret News

Read more: Utah Jazz season ends in loss, but it could have been worse
Related list: Utah Jazz players' summer plans and final thoughts
SALT LAKE CITY —
There was absolutely no "quit" in this Utah Jazz ballclub.
What they may have lacked in talent, experience and poise, they valiantly tried to make up for with an abundance of spunk, desire and determination.
Of course, when you're going up against a tough team like the San Antonio Spurs — a strong, savvy squad that has compiled the NBA's best regular-season record over each of the last two seasons — it'd be awfully nice to have a little more of that talent, experience and poise that the Spurs possess to go along with your young ballclub's spunk, desire and determination.
So, much to the surprise of probably nobody but the most overzealous of Jazz fans, San Antonio completed a first-round playoff sweep of Utah with an 87-81 victory on Monday night at energized EnergySolutions Arena.
With the defeat, an overachieving Jazz team — one which supposedly wasn't supposed to be a postseason contender in this condensed NBA campaign — sees its 2012 season come to an abrupt end.
The powerhouse Spurs led at the end of all 16 quarters in this one-sided, four-game series. But this one definitely didn't come easy for the team from Texas, which actually had to sweat for a change.
After racking up three consecutive double-digit victories, and piling up a seemingly safe 21-point lead, 81-60, midway through the fourth quarter of Monday's game, San Antonio had to hold on down the stretch as the Jazz summoned one last-gasp comeback bid.
And for a brief moment, it looked as if the Jazz had finally found the long, lost secret to stopping the Spurs.
Utah's young, promising big man, Derrick Favors, showed some nastiness and bumped San Antonio's stellar point guard, Tony Parker, into the second row of seats behind the Jazz bench late in the game. As Parker stepped to the foul line, a clever cluster of Utah fans started chanting "Eva! … Eva! … Eva!" Parker promptly missed both free throws — and somewhere, you sensed that his ex-wife, actress Eva Longoria, was probably smiling.
Jazz fans certainly were, and their hopes soared.
After all, a refuse-to-quit 19-2 run had pulled Utah within four points, 83-79, with 49 seconds left, and perhaps the greatest Jazz playoff comeback in history appeared in the making as a frenzied sellout crowd roared its approval.
"Let's go Jazz! … Let's go Jazz! … Let's go Jazz!" thundered through the arena, and it brought back sweet memories of emotion-charged postseason triumphs from the past.
Then after Parker missed a short shot and Paul Millsap pulled down the rebound, Utah had a chance to slash the deficit down to one or two points in the closing seconds.
But just as the Jazz began to set up their offense on an all-important possession, Parker slapped the ball away from Millsap and San Antonio's Manu Ginobili wound up a breakaway layup on the other end of the floor.
That critical play gave the Spurs some breathing room — a six-point lead with 18.9 seconds remaining — and soon it was game, set and match in this first-round Western Conference series.
"The Utah Jazz showed you the kind of class and the kind of organization they are," San Antonio coach Gregg Popovich said. "Down 3-0 and I think we were up 17 or 18 (actually 21) and some people probably thought it was over.
"We put in a couple of subs and they just ran it right to us and stuck it to us, because they don't quit. They are just a class team and a class organization.
"Ty (Corbin) has done a great job of keeping that going," Popovich said. "It is just who they are and they showed it tonight."
Utah's starting point guard, Devin Harris, liked the way he and his teammates refused to give in, despite long odds that led to the inevitable, disappointing defeat.
"This team has been doing that all year long," said Harris, who wound up with 19 points and seven assists. "We could have easily just folded in that fourth quarter when they built that lead, but guys fought it out to the end.
"It shows a lot of character and a lot of heart that we have on this team."
But against the Spurs, all that spunk, desire, determination and heart still wasn't quite enough.
San Antonio will live to fight another day in its quest for the fifth NBA championship in franchise history. Utah, meanwhile, will pack it in until next season.
Still, in spite of this year's frustrating sweep, the postseason experience should prove invaluable for a young Jazz lineup whose key core group moving forward has only three players — Josh Howard, Earl Watson and Jamaal Tinsley — over the age of 29, and four up-and-coming youngsters who are 22 or younger.
Give 'em a few more years of playing together, and maybe they can build something really special in the Beehive State.
For now, though, Corbin was mighty proud of his team's gritty effort in Game 4 and throughout this entire season.
4
comments on this story
"We have shown that when things are bad and not going as well as we would like for them to go, we are going to continue to fight," Corbin said. "Any time you have a game against us, you are going to know you have been in a fight.
"Win, lose or draw, these guys are going to give you everything they have.
That's one of the great things about this group of guys that I really respect and love working with them, because they are going to give what they have every night."
And for that, Corbin and Co. should rightfully be proud.
And Jazz fans should be grateful — and optimistic about what the future may hold for this spunky squad in the years to come.
email: rhollis@desnews.com