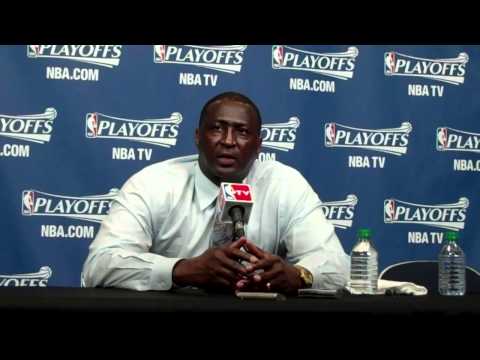 View 40 Items
Brandon Brown, Deseret News

Read more: Utah Jazz season ends in loss, but it could have been worse
SALT LAKE CITY — One of the sports world's loudest mouths took exception to something that came out of Al Jefferson's mouth this weekend.
ESPN basketball analyst Stephen A. Smith railed on Honest Al for telling media members at Sunday's practice that the Spurs are better than the Jazz and everybody else.
"I just think we're playing against a team that's at its peak," Jefferson said. "I don't see nobody beating them. It's a great team. I just take my hat off to them. Mad respect."
Added Jefferson: "It gets to the point where you're just playing a team that's better than you."
Nobody will dispute that, especially after this sweep.
But Smith was particularly disgusted with Jefferson and his timing, seeing as Utah still had one game remaining in the series.
"He's pathetic," Smith blurted out during ESPN's morning show "First Take" with Ric Bucher and Skip Bayless.
After Bucher and Bayless guys questioned his choice of words, Smith continued: "Excuse me. I speak fluent English. I stand exactly by what I say," Smith said. "For him to stay this, if he said this after they lost the series, I've got no problems with this. To say this while the series is still going on, while the Utah Jazz and their organization is asking in excess of 16,000-plus people to come there and pay to see the game. … It's a despicable statement. It's weak. It's pathetic."
Smith added that he had respect for Jefferson's game and respected him while he played in Boston five years ago, but then continued on his rant.
"This is ridiculous," Smith said. "I understand San Antonio is a juggernaut.. I understand they're formidable. ... Remember, I'm not refuting his words.. I'm saying to admit such a thing while you still have a game to play ... come on, man."
Bucher was less caustic in his criticism.
"I don't like seeing when he said it," the NBA reporter said. "You know what? He said the truth. He was honest and are we going to kill a guy for being honest?"
Smith's response: "I didn't kill him. I said he was pathetic because he's admitting it."
Bucher: "I can't think of a worse thing of saying about a guy for being honest."
Not surprisingly, that riled Smith up again.
"The series is not over," he added. "You do have 48 minutes that you're scheduled to go up against them."
Added Bucher: "He simply said what every guy is feeling right now on that team."
Smith finished his tirade by trying to say he didn't mean to personally call the Jazz center pathetic — just what he said.
"Al Jefferson, your statement, not you as a human being. I don't know you," Smith said. "OK. Clearly, your game is not pathetic. Your statement about your team going up against the San Antonio Spurs with still a game to go in this series is pathetic."
Bayless added this line, apparently for humor: "Al Jefferson, I loved what you said and I would appreciate if you and your teammates would fold your tents tonight and just say, 'No mas' so my Spurs can sweep and go home and rest."
Bucher's final shot at Smith and Bayless: "You're pathetic right now."
WAYWARD SHOOTING: Second-year shooting guard Gordon Hayward was frustrated about his offensive performance during his first NBA playoff action.
Hayward went 0-for-7 and didn't score in Monday's 87-81 loss to the Spurs.
In the four-game series, the 22-year-old shot 6-for-33 (18.2 percent) from the field and only hit 1 of 12 3-pointers.
"It's just frustrating, especially with the work that I put in, to come out and shoot like that. That's unacceptable," Hayward said. "You've got to be able to just knock down shots. This series has just been a rough one for me personally, but something that I'll learn from and be ready on the next one."
LIMITED DANCING: It wasn't just the Jazz's shooting that was missing for part of Monday's playoff game.
So were the Nu Skin Jazz Dancers.
The team's cheer group performed during the opening moments of the game, but then disappeared until midway through the fourth quarter — an unusual occurrence.
According to Jazz publicist Derek Garduno, it was an "operations decision," based on what other activities were scheduled during time outs. He went on to say the dancers didn't sit courtside, as they normally would, due to NBA restrictions during the playoffs.
Contributing: Brad Rock
Email: jody@desnews.com Twitter: DJJazzyJody Blog: Jazzland.blogs.deseretnews.com