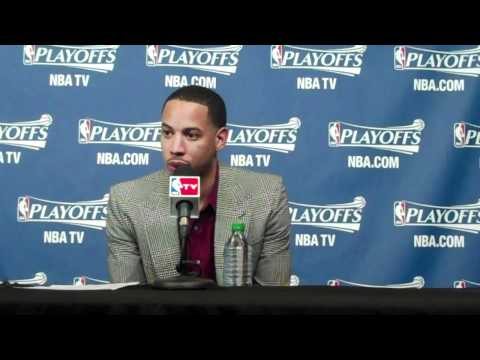 View 3 Items
Brandon Brown, Deseret News

SALT LAKE CITY — With all the lessons the Jazz are learning in this surprise post-season appearance, you have to wonder: THIS is a good experience?
Absolutely.
Maybe not as good as a ticket tape parade, but nobody expected that.
After getting wiped out in the first two games of the playoffs, the Jazz made it considerably more interesting in their 102-90 loss to San Antonio on Saturday. Trailing 3-0, it's safe to assume the series over. The Jazz will surely give it the never-say-die approach, and they should. But realistically, what can they do? They're obviously overmatched.
Besides that, not a single team has ever come back from 0-3. Not Shaq's Magic, Not Magic's Lakers and not LeBron's Cavaliers.
And the Jazz are going to be the first team ever to do it?
Not this time around.
Still the Jazz have learned some things they wouldn't have known otherwise. For instance, the playoffs are a monster. Every day in every way. Now what they need to do is find out what it feels like to win a playoff game.
Asked whether it's worth making the playoffs, even in blowout situations like the 31-point loss on Wednesday, Jazz coach Ty Corbin said: "Absolutely. Any time you get in the playoffs and can grow — you can talk about it, and you can tell guys about it, and you can tell stories about, but until they actually go through it ... until they get in there and see that this is completely different ... that it changes and gets more and more intense. ...(not) until they go through it, then they'll understand it."
They'll understand that effort is one thing, execution another. So even though they were within five points with 8 1/2 minutes remaining, and even though they looked more like the team that won five straight down the stretch, it's not good enough to make half your free throws. Or settle for jump shots. Or take a few minutes off.
For the three days following the Jazz's loss in Game 2, they talked of gut-checks, execution and home court advantage. Which is pretty much what you need when have been outscored 220-174 in the first two games. That's not competition, it's annihilation.
Meanwhile, the Spurs put some variety in their torture on Saturday. In Game 1 they buried the Jazz with drives to the rim. Game 2, they opened with seven first-half 3-pointers. In Game 3, they ground it out until they could get some breakaway baskets at key times.
There has been plenty of blame to go around, from Al Jefferson's mysteriously quiet acquiescence in the paint to Harris' passive acceptance in the first two games, to Corbin's unwillingness to go mostly with his big lineup.
Each of those, to one degree or another, was improved on Saturday.
While they were far from perfect — 54 percent free throw shooting and 28 points in the paint — they were a different team than earlier this week. It seemed their basketball IQ's had soared just by coming home.
For most of the game they were all involved. Harris, who had previously contributed all of two field goals, had 12 points — after the first quarter. Alec Burks, Enes Kanter, Derrick Favors and DeMarre Carroll each chipped in some important plays/points.
And while Jefferson still eschewed getting down low and dirty against Tim Duncan, he was making baskets, tying Harris for high scorer with 21.
In short, almost everyone got into the act.
As they say, it takes a village.
3
comments on this story
A village that harbors a couple of future hall of famers wouldn't hurt, but beggars can't be choosers.
Still, by the end of Game 3 the Jazz had figured some things out. Not just the Jazz, but Corbin himself, who used Favors for 32 minutes. Corbin drew criticism for underplaying Favors in Game 2.
But down the stretches, they got schooled. At the end of the first half, Matt Bonner got free for an open 3-pointer that gave San Antonio the lead. And in the late third quarter, the Spurs widened the lead to double figures.
The lessons continue, which is good. Too bad for them they're running out of time.
Email: rock@desnews.com