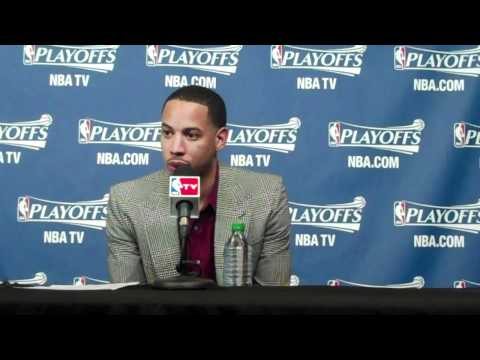 View 23 Items
Brandon Brown, Deseret News

It's a tough loss, but we've gotta learn our lessons from it. We've got to learn from what they do. They really understand the time and situation of the game and how they have to pick it up.

—Tyrone Corbin, Utah Jazz head coach
Read more: Brad Rock: Jazz learn lessons, but class is dismissed
Read more: Too much Parker, Duncan in San Antonio win
Read more: Jazz notebook: Derrick Favors plays well in increased minutes
Read more: Jazz-Spurs report card
Read more: Jazz-Spurs: Game 3 analysis
SALT LAKE CITY — Al Jefferson was right. As he predicted on Friday, the Utah Jazz did have one last bounce back in 'em.
Following back-to-back blowouts in the Alamo City, the Jazz bounced back against the San Antonio Spurs on Saturday night.
Jefferson and Devin Harris played far better than they had.
Utah took a rare lead.
The Jazz were even within striking distance in the fourth quarter.
But — and this is a near-season-ending but — the Jazz just didn't have enough to get over the NBA's hottest team.
Barring a bounce back of historical proportions, the Jazz's postseason days are now numbered after they suffered a deflating 102-90 setback to the Spurs.
"It's a difficult loss. It puts you down 3-0 (in front of) our home fans here and on our home floor," Jazz coach Tyrone Corbin said. "It's a tough loss, but we've gotta learn our lessons from it. We've got to learn from what they do. They really understand the time and situation of the game and how they have to pick it up."
The Spurs, hoping to add a fifth NBA finals championship banner to their rafter, have the first of four opportunities to close out the Jazz and advance to the second round Monday at ESA.
"We've gotta keep fighting," Corbin said.
According to NBA history, that fight won't be enough. No team in the league has ever rallied to win a best-of-seven series after falling behind by three games.
According to this series' short history, the Jazz's odds seem just as extreme.
Much of the chatter about the Spurs revolves around their Big Three, and rightfully so. Tony Parker (27 points, six assists), Tim Duncan (17 points, six rebounds) and Manu Ginobili (10 assists, six points) each took turns punishing the Jazz's defense.
But yet again, the deep Spurs were lifted by stellar support guys like guard Danny Green (14 points), sub Stephen Jackson (13 points) and big bench man Tiago Splitter (10 points, eight rebounds).
"We expected them to have a much better effort, play a much better game, especially here at home," Duncan said. "Good win for us. We had a lot of guys really step up and play well for us."
"This is a great team. They make adjustments. They're used to everything," Corbin added. "We didn't get the energy or the sense of urgency when we had to at key points of the game."
Like when the Jazz allowed Ginobili to breeze up court and find a wide-open Matt Bonner for a buzzer-beating 3-pointer heading into the locker room.
And when the Spurs countered Harris' strong second-half opening by going on a 10-2 run capped by back-to-back treys from Green and Jackson to take a 70-63 lead over Utah.
And when Splitter scored six straight points to bridge the third and fourth quarters during a pivotal stretch when San Antonio took a 13-point lead early in the final period.
The killer moment came after Utah trimmed the Spurs' lead to 81-76 in the fourth when Parker led San Antonio on a game-clinching 9-2 surge.
Not to leave out the Spurs' superiority over the Jazz inside where they outscored the home team 50-28 in the paint, once again dominating an area where Utah usually excels.
Corbin credited the Spurs' defense for pressuring the ball at the point, for making Jazz perimeter players force passes from bad angles and for effectively fronting, bumping and denying the Jazz bigs the ball down low where they like it.
It didn't help that the Jazz missed 12 of their 26 free throws, only got nine points from starting wings Gordon Hayward and Josh Howard and shot an ice cold 40.4 percent in their own building.
On top of that, Utah finally got big games from Harris and Big Al, both near no-shows in San Antonio, but saw that and big bench efforts from Derrick Favors (15 points, 11 rebounds) and Alec Burks (11 points) go for naught.
"It's going to take more than one or two of us to have good games," said Harris, who only had 12 points total in this series coming into this game. "To beat this team it's going to be a full, full-out effort."
While they played better, that wasn't good enough for a bounce-back victory.
"We just try to limit everything they do well," Parker said. "We know they're very good in transition. We know that they're going to crash the boards and go hard to the offensive boards, and so we try to make sure we control all the stuff that makes them good."
Parker didn't think the Spurs succeeded at that in the first half. However, when it really counted in the second half, Parker said, "We did a lot better."
Added Corbin: "At a certain point of time, you've got to pick up the intensity and they did a little better than we did tonight."
NOTES: Game 4 will tip off at 6 p.m. Monday. … The Jazz fell to 9-2 all-time in home playoff games against San Antonio. … Utah is 22-24 all-time and 14-10 in elimination games.
Email: jody@desnews.com Twitter: DJJazzyJody Blog: Jazzland.blogs.deseretnews.com