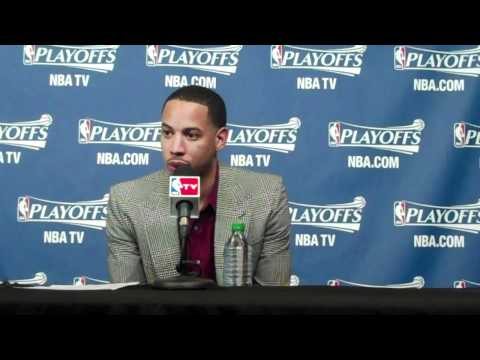 View 27 Items
Brandon Brown, Deseret News

SALT LAKE CITY — There's a long list of reasons the Utah Jazz dropped Saturday night's playoff game against the San Antonio Spurs.
Utah missed 12 free throws, going just 14-of-26 from the line, and got outscored by a whopping 50-28 margin in the paint ?— which has normally been the Jazz's stronghold all season long. Utah only shot 40 percent from the field and 31 percent from 3-point range, and was outscored 50-40 in the second half.
But the biggest reason the Jazz lost 102-90 to go down by a demoralizing 0-3 deficit in this best-of-seven series is really pretty easy to see, and it doesn't have anything to do with free throws, points in the paint or shoddy shooting statistics.
No, the real reason the Jazz are now one game away from starting their summer vacation is that the Spurs, quite simply, are just too good for 'em.
Oh, sure, with an energizing EnergySolutions Arena crowd urging them on, the Jazz gave it a great effort — much, much better than in their embarrassing 31-point blowout loss in Game 2. Devin Harris had a solid 21-point performance; Al Jefferson's steady jump shooting paved the way for a 21-point night of his own, and he also grabbed 11 rebounds to share game-high honors with teammates Paul Millsap and Derrick Favors, and youngsters Favors and Alec Burks showed they are ready-for-prime-time players with strong performances off the bench.
But in the end, the Spurs had too much Tony Parker, too much Tim Duncan, too much Stephen Jackson, too much Manu Ginobili and too much Tiago Splitter for Utah to contend with.
"I thought we played better," Jazz coach Tyrone Corbin said, "but we just couldn't put it together enough to get over the hump against these guys.
Their experience showed; they are a great ballclub. Take nothing away from them — they know time and situation and know exactly what to get."
Parker, the slick point guard who the Jazz passed on drafting a decade ago, scored 16 of his game-high 27 points in the fourth quarter on some perfect shooting — 5-of-5 from the field, 6-of-6 from the foul line — and he also had six assists. Duncan scored the game's first six points and finished with 17, while Jackson and Splitter both scored in double figures off the bench and Ginobili wound up with a game-high 10 assists.
Indeed, the Spurs showed why they earned a 50-16 regular-season record that matched the Chicago Bulls for the league's best mark, and why they've got their sights set squarely on winning the fifth NBA championship in franchise history.
San Antonio coach Gregg Popovich, who was named the NBA's Coach of the Year last week, admitted that his squad's savvy veteran experience and a ball-sharing system that's tough to stop paid dividends down the stretch — just like it always seems to do.
"They know that if they just stick with each other and the system that often times things are going to turn our way," Popovich said of his team.
"That experience they have gained over a long period of time and I guess they feel comfortable with each other when they're in a tough environment like here in Utah."
Favors and Burks, Utah's two 20-year-old future stars in the making, came in off the bench and seemed unfazed despite playing on the biggest stage of their young careers. Favors finished with 15 points and 11 rebounds, but he also was among Utah's main culprits at the foul line, going 5-of-10. Burks scored 11 points in just 15 minutes on the court, and he had seven of his points in just a 7 1/2-minute span of the first half.
But the Spurs' own reserves, led by Jackson and Splitter, outscored Utah's bench by a 40-30 margin. And in a 12-point ballgame, those 12 missed free throws certainly came back to bite the Jazz on the backside.
email: rhollis@desnews.com