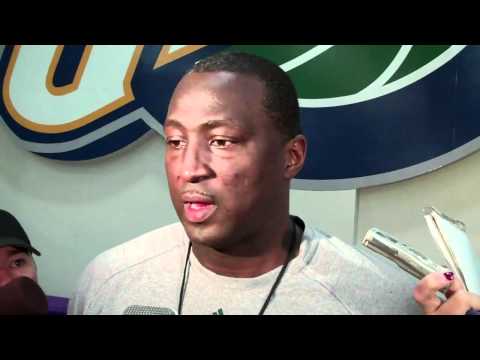 View 15 Items
Brandon Brown, Deseret News

The being-too-small stuff, I think, (Millsap) takes that personally, so he'll go out and show you and that's why he'll play with such enthusiasm and energy like he does.

—Utah Jazz coach Tyrone Corbin
SALT LAKE CITY — He's that guy who's been the subject of trade rumors for the past couple of years, although they've always been started by people outside — not inside — the Utah Jazz organization.
He's that guy who, although he stands 6-foot-8 and a muscular 253 pounds, is supposedly too small to play power forward in this league.
And he's that guy who just keeps his head down and goes about his business, doing his job every day in an efficient, workmanlike manner. That guy who's incredibly steady and consistent, who always plays through pain, who often earns the spotlight but does his best to shy away from it as best he can.
He's the under-appreciated, over-achieving Paul Millsap, that soft-spoken "little big man" who likes to let his performance do his talking for him. And that performance continues to speak volumes about his desire, determination and work ethic — qualities he possesses in great abundance.
Millsap has been with the Jazz for six seasons since being selected with the 47th pick in the 2006 NBA Draft out of Louisiana Tech, where he swept three straight NCAA rebounding titles at the school that produced another pretty good Jazz power forward — maybe you've heard of him — named Karl Malone.
Well, you might call Millsap "Mailman Light," because not-so-tall Paul has many of the same, admirable characteristics that made "Mailman" Malone such a hugely successful star during his Hall of Fame career.
Jazz head coach Tyrone Corbin could certainly make the comparison.
"Their toughness, their determination to get better every year, the way he wants to come in and give you an honest day's work every day," Corbin said of the similarities between Millsap and Malone. "Karl never liked missing a game, and I think (Paul) has some of that in him, too. When he's supposed to be at work, he's at work."
This season, Millsap was Utah's second-leading scorer and rebounder, averaging 16.6 points and 8.8 rebounds a game. He also averaged 2.3 assists per game, had his best-ever season at the foul line by shooting a career-best 79.2 percent, and ranked fourth in the league in steals per game at 1.84 while cutting back considerably on his turnovers.
Millsap had a team-high 20 points and nine rebounds in Game 1 of Utah's playoff series Sunday at San Antonio, and he'll be counted on to help lead the way again tonight when the underdog Jazz face the top-seeded Spurs in Game 2 of their first-round matchup at 5 p.m. at the AT&T Center.
Some folks might not appreciate everything that Millsap does to help the Jazz win, but Coach Corbin is definitely not one of them.
"Absolutely, on both ends of the floor," the Jazz coach said of Millsap's tireless contributions. "He makes big plays for us on the offensive end of the floor, but he also makes huge plays for us on the defensive end of the floor with his rebounding, getting a big rebound or getting a big stop or getting his hands on the ball, running the floor.
"He and Al (Jefferson) and a couple of other guys have been probably the most steady guys we've had all year, and Paul's been great about just fighting through everything. Whatever the (trade) talk has been from outside entities, as far as I know they've never talked to him about any trade stuff. He's just continued to play hard and try and get better himself and make us better as a team.
"The being-too-small stuff, I think, he takes that personally, so he'll go out and show you and that's why he'll play with such enthusiasm and energy like he does," Corbin said. "Small doesn't matter because he's big in what he does."
Millsap admitted that having people constantly yacking about him being traded or being undersized gives him the impetus to work that much harder.
"It's motivation for me," he said. "I don't get down on myself because I'm on the trading block or get down on myself for kinda being too small, and I use that to motivate me and to help me to continue to do what I do."
What he does, quite simply, is bust his tail to help his team win. And over the course of the season, he does it time and again for the Jazz.
He scored the last six points of the game in an overtime victory against Golden State and had a couple of huge fourth-quarter baskets in a victory over Oklahoma City. Then there was the time he scored six straight points in the final minute of Utah's only victory of the season over San Antonio — thus far, that is.
And how about his monstrous follow-up dunk which tied the Dallas game with two seconds left in regulation of an eventual triple-overtime victory over the Mavericks? Or how he hit four free throws in overtime of a key late-season win over Orlando? Or his huge three-point play in the fourth quarter of last week's win over Phoenix, a victory that clinched Utah's playoff spot?
And who could ever forget that night in November 2010, when Millsap hit three 3-point bombs and amazingly scored 11 points in the final 28 seconds of regulation on his way to career-high 46 in a rousing come-from-behind road victory in overtime against the Miami Heat?
Indeed, Millsap is one of those blue-collar guys who shows up every day ready to go to work. In his career, he has missed just 14 games over his first six seasons, playing all 82 games in the 2006-07, 2007-08 and 2009-10 seasons. He played in 64 of Utah's 66 regular-season games this year.
And he'll play hurt — a rare, vanishing breed in today's NBA, and a great example to his teammates.
"You've got to watch him in some cases when he's beat up, because he won't say much about it," Corbin said. "He doesn't look for excuses — he's a no-excuse guy. He wants to come in and give you a day's work every day that he's supposed to be at work.
"And that's a great commodity for us and a great lesson for our young guys to learn that, in this business, you're going to be banged up some and if you're looking for an excuse, it's easy to find a lot of excuses not to work. But if you want to work, you can get people to fight through those and that's what winning teams and winning people do."
Late in the season, Corbin starting going to a bigger lineup at times, a lineup which moved Millsap from his customary four (power forward) position to the three (small forward) spot, with Jefferson moving from center to power forward so Derrick Favors could come in and play center.
It was highly effective, as Millsap's size — while at times being supposedly somewhat smallish for the four spot — puts him at a definite advantage over the small forwards in the league.
Millsap wasn't wild about the switch in positions, but was willing to do it in order to help the team.
"I'll go to the three when I'm called, when I'm told to go to the three," he said. "Whenever he puts me there, I'm always going to be ready to go step in and play that position. But I'm a four right now, and if I can continue to do my job as a four then I'd rather be there.
"It doesn't matter, though, as long as I'm playing. If they say Paul, we want you to play the three for the whole year, I'll do that. If they want me to play the four for the whole year, I'll do that, too. It's not going to matter to me because I'm always going to try to adjust and, if I'm able to, I can make it. As long as it helps the team, and I see that it helps the team, I'm willing to do it."
Perhaps Jefferson put it best: "Paul just wants to play, man," Big Al said with a broad smile. "He'd play point guard if they asked him to."
Well, Millsap might not be quite ready to run the point position just yet.
But give him some time. If it'll help the Jazz beat the Spurs and advance in the playoffs, "Mailman Light" would do it in a heartbeat.
Email: rhollis@desnews.com