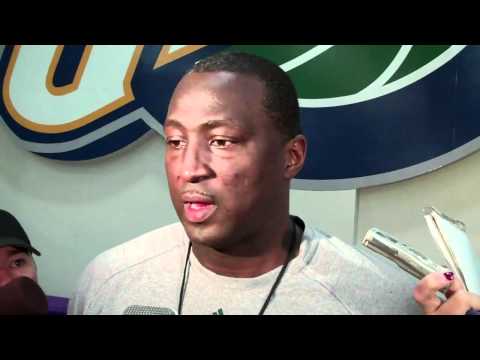 View 4 Items
Brandon Brown, Deseret News

SALT LAKE CITY — Although the Utah Jazz dropped a 106-91 decision to San Antonio in their playoff series-opener, Tyrone Corbin managed to get on the scoreboard. He now has one postseason game under his belt as a head coach. Gregg Popovich of the Spurs, by comparison, has 181 more.
"The emotions I felt just before the game were different than what I felt all the regular season," Corbin said. "So it's a little different. I'm sure he didn't feel it."
Corbin noted that Popovich, who was named NBA Coach of the Year on Tuesday, was a lot more comfortable in the opener because of past playoff experience.
It's something the Jazz, as a team, lack against the Spurs. Paul Millsap and C.J. Miles are the only players on Utah's roster to have played in the NBA playoffs since 2009. Overall, only eight Jazzmen have any postseason experience.
Sunday, thus, was a big deal.
"This is our first dance and we're playing a great team with a great coach," Corbin said. "They've been through it a lot so we have to learn our lessons."
Things are ratcheted up, he added, because the playoffs offer a whole different set of circumstances and intensity.
Now that the Jazz have experienced it once, Corbin expects everyone to do better in Game 2 on Wednesday.
The players feel the same way.
"It's business at the end of the day," said rookie Alec Burks. "So I feel like we can lock out the emotions."
AS EXPECTED: Utah center Al Jefferson said his first playoff game since 2005 was everything he pictured it would be.
"I knew it was going to be an intense game from the beginning and I knew that San Antonio wouldn't be playing any games," Jefferson said. "They were going to come out there to take care of business."
Jefferson acknowledged that San Antonio veteran Tim Duncan is still a force to be reckoned with inside.
"He's still a very talented player. What he lacks in quickness and explosiveness, he makes up for with experiences and smartness," Jefferson said. "He's very smart in what he does and knows how to play the game."
5
comments on this story
NO JOSH-ING AROUND: After starting and going scoreless in 16 minutes in Game 1, Jazz veteran Josh Howard is hoping to see more action as the series progresses.
"I think the more time I get on the court, the better it will be for me," Howard said. "... I'm going to do my best when I'm out there on the court."
Getting more comfortable, he continued, also applies to the team. Playing well in a hostile environment like San Antonio, Howard explained, is "going to help these guys a lot and it's a great experience at the end of the day."
email: dirk@desnews.com