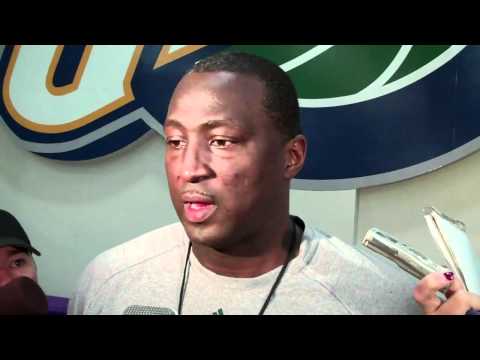 View 2 Items
Brandon Brown, Deseret News

His shot was flat, but here again he's getting back. I thought he played well the last game of the season and his rhythm was coming back; he just didn't score in the game (Sunday)

—Tyrone Corbin, Utah Jazz head coach
SALT LAKE CITY — Utah Jazz head coach Tyrone Corbin announced Tuesday morning that he will stick with the same starting lineup on Wednesday night that he used in Game 1 of his team's playoff series-opener against the San Antonio Spurs on Sunday.
That means veteran forward Josh Howard, who missed more than a month of the season with a knee injury that required surgery, will start Game 2 at San Antonio ahead of DeMarre Carroll, who joined the team in February and moved into the starting lineup for the final nine games of the regular season.
Howard went scoreless in Sunday's 106-91 series-opening loss to the Spurs, going 0-for-4 from the field with four rebounds, an assist and a steal. The 6-foot-7 small forward had returned to the Jazz lineup last week, appearing in Utah's final two games of the regular season as a reserve and scoring 12 points with six rebounds in the season-finale against the Portland Trail Blazers.
"He missed some shots, but I thought defensively he did a pretty good job," Corbin said of Howard's performance in Game 1 of the playoffs. "His shot was flat, but here again he's getting back. I thought he played well the last game of the season and his rhythm was coming back; he just didn't score in the game (Sunday).
"I thought because of (his playoff experience) and he had a good game the other night (in the regular-season finale against Portland), I thought he was over the hump with his injury. So we could use him at the beginning of the game, especially as intense as the situation was going to be down there, and he would be comfortable in it."
Carroll wound up coming off the bench in Sunday's game and scoring seven points on 3-of-8 shooting. Like Howard, he also had four rebounds and an assist, along with a blocked shot.
Howard, a nine-year NBA veteran who has logged more playoff minutes than any other player on this year's Jazz roster, is hoping his worst game of the postseason is behind him now.
"I think the more time I get on the court, the better it will be for me," he said. "But I have to work with what time is giving to me.
"I'm going to do my best when I'm out there on the court. Other than that, we've just got to keep trying to get wins or get a win to make us feel comfortable in this series.
"I was a little nervous yesterday, too," Howard admitted, reflecting on Sunday's series-opener at the AT&T Center in San Antonio. "I had to take a couple of deep breaths before that jump ball, but after we ran up and down the court about two or three times, I was fine."
Howard also said that playing on the road in a hostile environment will help this young team grow up a lot, and that playing against tough teams like the Spurs in a playoff series "is going to help these guys a lot, and it's a great experience at the end of the day."
Email: rhollis@desnews.com