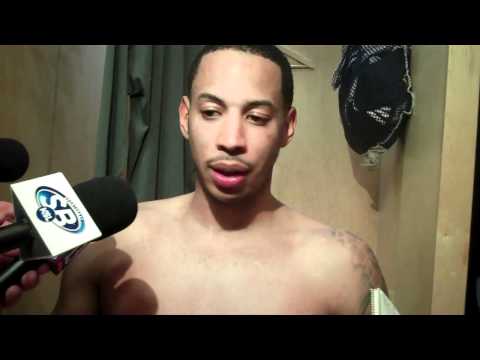 View 42 Items
Brandon Brown, Deseret News

Read more: Utah Jazz players moving past just being kids
Read more: Utah Jazz big men dominate the paint, guards hold Nash in check
Read more: Utah Jazz bigs come up huge to put team in postseason
Read more: Utah Jazz vs. Phoenix Suns: Instant analysis
Read more: Utah Jazz vs. Phoenix Suns: Report card
SALT LAKE CITY — Moments before a confetti blizzard filled EnergySolutions Arena and prior to Al Jefferson and Paul Millsap embracing each other at midcourt after the buzzer, the raucous and postseason-hungry crowd of 19,911 chanted "Playoffs! Playoffs! Playoffs!"
It was a simple but oh-so-satisfying chant that aptly summed up the night for the Utah Jazz.
The playoff drought — longer for some members of the Jazz than others — is over.
After a postseason off, the Jazz will be back in the NBA's Big Dance once again after eliminating the Phoenix Suns in a tense and thrilling 100-88 victory Tuesday night at EnergySolutions Arena.
"You know, it's a credit to these guys," Jazz coach Tyrone Corbin said.
And from these guys, Corbin was referring to everybody from his coaching staff that helped him build a bridge from Hall of Fame coach Jerry Sloan's era to his own, to the 15 Jazz players who helped the franchise secure its 25th playoff berth in 29 years.
Even when others doubted — and many did, considering the absences of Sloan and star Deron Williams — the group inside the Jazz locker room didn't stop believing.
"The guys stayed together. It's a tremendous achievement for a group of guys that laid it out there every night," Corbin said. "Whatever happened, good or bad, they stayed together. That's the most rewarding thing to see them be rewarded for all the hard work they put in."
It all came together perfectly during this clinching play-in contest.
Earlier Tuesday, center Al Jefferson admitted, "It's the biggest game of my life." Hours later, he played like he meant it, especially late when he scored eight consecutive points to almost single-handedly put the Suns away and punch the Jazz's playoff ticket.
Jefferson ended up with 18 points, 16 rebounds and his first trip to the playoffs since his rookie season with Boston in 2005.
Along with Big Al, there was no shortage of heroes for the Jazz on this monumental night when critics had to have been turned into believers.
Utah's Big Three had perhaps its best outing together, with the trio each tallying double-doubles. Paul Millsap led the Jazz with 26 points and grabbed 15 rebounds, and Derrick Favors came off the bench to total a much-needed 13 points and 11 rebounds. Favors also made a huge defensive impact, blocking five shots and wreaking havoc on Phoenix's offense.
"We've been fighting all year," Millsap said. "We went out there and fought and we're going back to the playoffs, and thank God for it. We worked hard for it."
With the exciting win — which featured a 26-12 Utah run to finish it off — the Jazz improved to 35-30. Utah concludes its regular season at home Thursday against Portland. That game could end up being important if Denver (36-28) loses its next two games, because Utah holds the tiebreaker and could finish with the No. 7 seed.
Otherwise, it appears the Jazz will be headed to San Antonio to take on the Western Conference-leading Spurs.
At this point, it doesn't matter who the Jazz play. They're just floating that they'll be extending their season past the compressed 66-game lockout schedule.
"Everybody was excited. I was excited. We were happy," Favors said of the Jazz's playoff-clinching mood. "We worked all year for this. (Experts) were down on us early in the year saying we weren't going to make the playoffs and we had to prove everybody wrong."
Devin Harris, back in the playoffs for the first time since 2007, scored 15 points and played Steve Nash pretty tough.
Gordon Hayward, one of seven Jazz players who've never been in the NBA postseason, added 11 points and eight assists. Alec Burks added eight points, and the Jazz even had a nice four-point contribution from Josh Howard, back after a month rehab from knee surgery.
"That's who we are. We need everybody that we have," Corbin said. "The guys have been great all year supporting each other, making the right plays."
Jared Dudley topped Phoenix (33-32) with 15 points, and Nash had 14 points and 11 assists. The Suns played without Channing Frye (shoulder), which hurt Phoenix's offense because he'd excelled against Utah in two earlier wins this season.
Even so, Phoenix had a 76-74 lead in the fourth quarter before Utah went on a tear to end the game.
Millsap started the game-winning surge with a free throw, followed by a Favors dunk and a Harris 3-pointer, giving Utah an 80-76 lead.
Moments later, Big Al went on his spurt to push the Jazz into the playoff position.
"Seven long years since I've been in the playoffs. It's a blessing," Jefferson said. "It's a great opportunity to get here. A lot of people counted us out. Nobody thought this team would be in a position to get in the playoffs, and we made it. It's a great group of guys and everyone on our team deserves it."
Even before the victory, Corbin admitted that he couldn't be prouder of his team for the way the players handled themselves through adversity and challenges all season long.
The Jazz looked like they might live down to pundits' low expectations when they began the season with a 1-3 record, including three blowout losses.
But Utah sent a message that this might be a special season — considering the circumstances — when it responded with five straight wins.
Since then, the season was one of ups and downs, with sweet stretches like the six-game winning streak in March and rough patches like losing 11 of 14 in February.
The Jazz integrated four young guys between the ages of 19 and 22 with veterans looking to prove themselves. They absorbed four late-season injuries to key players. And they kept their heads up even when it seemed they might prove their detractors right.
They've taken lumps, but managed to hand out some along the way as well.
"It's a huge accomplishment," Corbin said before the game, referring to the simple fact that the Jazz were in a play-in situation.
24
comments on this story
"It shows the determination and the character of the guys and the fight and the growth that they've shown and learning from situations early in the year," Corbin added. "There are just so many different things that we've grown through and lessons learned from."
Jefferson credited Corbin for being the glue that got and kept this Jazz team together.
"Coach is not the type of guy that's just going to let us give up," Jefferson said. "I always felt like we had a pretty good team. We just had to go out and play. And the last couple of weeks, that's what we've been doing."
The victory was the Jazz's fourth straight overall and snapped the Suns' seven-game winning streak over the Jazz.
Email: jody@desnews.com Twitter: DJJazzyJody Blog: Jazzland.blogs.deseretnews.com