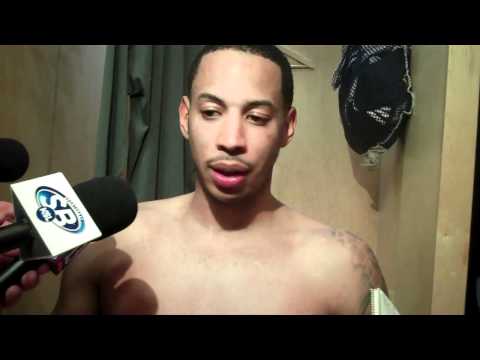 View 43 Items
Brandon Brown, Deseret News

Read more: Utah Jazz players moving past just being kids
Read more: Utah Jazz big men dominate the paint, guards hold Nash in check
Read more: Utah Jazz vs. Phoenix Suns: Instant analysis
Read more: Utah Jazz vs. Phoenix Suns: Report card
SALT LAKE CITY — In the biggest game of not just this season, but their whole basketball careers and most likely their entire lifetimes up to this point, Utah's three big men came up big.
Mighty big indeed.
Heck, big doesn't begin to describe their tremendous performance — these guys were downright huge ... gigantic ... massive.
Use whichever XXXL adjective you like, but Utah's front-line trio of Paul Millsap, Al Jefferson and Derrick Favors were the dominant difference-makers in Tuesday night's 100-88 victory over the Phoenix Suns — a win which vaulted the Jazz into this year's NBA playoffs.
Millsap scored a game-high 26 points and grabbed 15 rebounds; Jefferson contributed 18 points and a game-high 16 boards, and Favors came in off the bench to score 13 points, pull down 11 rebounds and block five shots.
Between them, Utah's "Big Three" combined for a whopping 57 points, 42 rebounds and eight blocks.
And with Devin Harris adding 14 points, Gordon Hayward 11 points with eight assists and rookie Alec Burks chipping in eight more key points off the bench, it propelled an over-achieving Jazz ballclub — one which most so-called experts expected very little success from in their preseason predictions — into postseason play as either the No. 7 or No. 8 seed in the Western Conference.
"We battled through everything," Millsap said of a roller-coaster ride of a season. "Nobody expected us to be where we're at, but we're there now.
Hopefully, we're going to make some noise."
If it's anything like the raucous EnergySolutions Arena crowd that came out for Tuesday's late-night nationally televised showdown, it'll definitely be loud if nothing else.
Jefferson, an eight-year NBA veteran center who scored eight straight points during a critical stretch of the fourth quarter after the Suns had slashed Utah's lead to 85-80 with 4:35 remaining, sustained a cut over his right eye late in the third period.
But Big Al came back strong down the stretch, and he was delighted to be back in the playoffs for the first time since his rookie season with the Boston Celtics.
"Seven long years, seven long years since I have been in the playoffs," he said. "It's a blessing. It's a great opportunity to get here.
"A lot of people counted us out, nobody thought this team would be in a position to get in the playoffs and we made it. It's a great group of guys and everyone on our team deserves it."
For guys like second-year players Favors and Hayward, and the rookie Burks, the wait won't be nearly so long as Jefferson's, but it'll be their first taste of postseason play in their young NBA careers.
"We worked all year for this," Favors said. "(Many experts) were down on us early in the year, saying we weren't going to make the playoffs, and we had to prove everybody wrong."
And prove 'em wrong they did.
Jazz coach Tyrone Corbin was extremely proud of his team, and rightfully so, and he gave his three big men a well-deserved pat on the back for a job well done.
"They've been doing a great job for us all year," he said after the Jazz improved to 35-30 with one regular-season game remaining. "Trying to find a time for them to get a good matchup with them on the floor, and what's happening now is we're finding time when we can force other teams to match up with us, which is great.
"They're going to continue to get minutes on the floor together and they're going to continue to get better, and that's going to be a great thing for us."
Email: rhollis@desnews.com