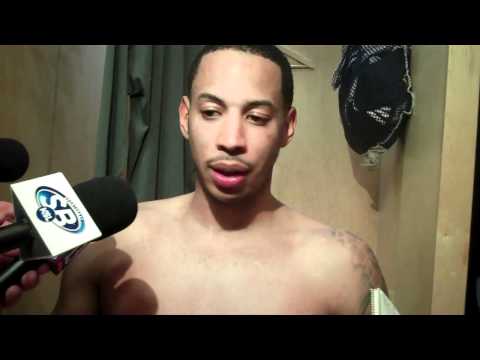 View 43 Items
Brandon Brown, Deseret News

Read more: Utah Jazz punch playoff ticket with 100-88 win over Suns
Read more: Utah Jazz vs. Phoenix Suns: Instant analysis
Read more: Utah Jazz vs. Phoenix Suns: Report card
SALT LAKE CITY — Before Utah's huge playoff "play-in" game with Phoenix on Tuesday night, a lot of the talk was about how the Jazz had to stop Suns point guard Steve Nash in order to win and clinch a playoff spot.
The Jazz pretty much kept Nash in check all night as he ended up not being much of a factor, scoring 14 points on 4-of-11 from the field and handing out 11 assists — right on his season average. He also had five turnovers, above his season average.
The big difference in the game wasn't Nash or any of the guards, really. It came on the inside where the Jazz dominated with big men Al Jefferson, Paul Millsap and Derrick Favors combining for 57 points and 42 rebounds. On the other side, the Suns' starting three inside players combined for a mere 23 points and 22 rebounds.
Phoenix center Marcin Gortat looked a bit shell-shocked after watching Utah's three big men dominate all game. Gortat simply had an abysmal game against the Jazz inside players. Although he grabbed 12 rebounds, he only scored two points on the night, his season low, on 1-of-8 shooting. And most of those misses came on blocked shots, mostly by Favors.
"I've never seen three guys block the shot at the same time," Gortat said. "They were literally waiting for me in the paint. It was hard for me to finish inside. It was a bad game."
Nash came out shooting, missing two shots in the first minute. Later in the half, he made a couple of shots and dished out seven assists, but he also had four first-half turnovers, including a big one in the final seconds.
After a timeout, Phoenix was going for a final shot, but Devin Harris came up from behind Nash and knocked the ball forward, right to Gordon Hayward, who in turn flung a pass to a streaking Harris for a layup. Instead of possibly leading by three, the Jazz went into halftime with a seven-point advantage.
In the fourth quarter when the Jazz went from a 76-74 deficit to an 85-78 lead in a four-minute stretch, Nash was on the bench in favor of Sebastian Telfair. By the time he got back in, at the 6:15 mark, it was too late.
3
comments on this story
After the game, Nash sat on the training table in the locker room getting his 38-year-old knees iced.
The question on everyone's minds was could this have been Nash's final road game in a Suns uniform? He is a free agent after this season and with no playoff possibility, his season is over after Wednesday's game
He was not making any comments, but Gortat did.
"I have a feeling and I'm quite sure he's going to stay," Gortat said. "I didn't talk to him, that's just my feeling. He loves this place and I think we're probably going to make a move to bring in some more people."
Email: sor@desnews.com