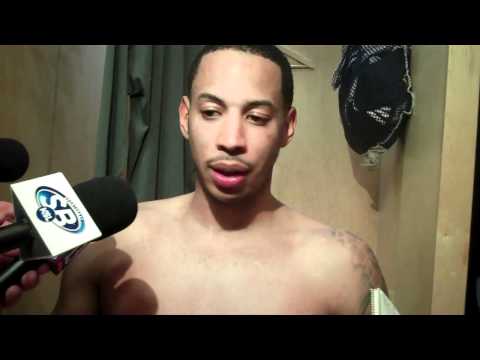 Brandon Brown, Deseret News
SALT LAKE CITY — Earl Watson was at EnergySolutions Arena on Tuesday with his usual big smile and a pair of crutches.
"It was great just to see him, to get back," Jazz coach Tyrone Corbin said.
The Jazz made it official, however, that Watson won't be back playing for however long their season lasts.
Watson had arthroscopic surgery in New York City on April 17 to repair a torn medial meniscus in his right knee, which was injured against San Antonio on April 8.
Corbin said Watson will sport a knee brace for a couple of months, but the 32-year-old guard is expected to make a full recovery in time for the 2012-13 season.
"Any time that somebody goes down with an injury, whether it's your team or even another team, you feel for the guy," Jazz shooting guard Gordon Hayward said. "Because we've all been in that situation where you can't play and can't help your team. You've just got to sit there and watch. No one wants to do that."
Watson, who has one year left in his Jazz contract, seemed to be in a good mood and even joked that he was going to challenge a reporter to a one-on-one game with his crutches.
"You know that he's doing well by seeing him and his spirits are good and he's on the mend," Corbin said. "He's a huge part of this team and he's a great guy to have around the team, and it's good to see him back supporting us."
Hayward agreed with his coach.
"He's a leader so having his presence in this locker room is good for us as a team," Hayward said. "We're glad to see him back."
VETERAN REINFORCEMENTS: Two of Utah's other veteran players, shooting guard Raja Bell and swingman Josh Howard, have both been working hard trying to get themselves ready to play again after missing more than a month of the season following knee surgeries of their own.
Both 30-something players had surgery on their left knees and, after being sidelined since mid-March, both of them practiced with the team earlier this week.
"They've been out for quite awhile now but they had a good practice yesterday and they've been working their butts off to get back in shape and back up to game speed," Corbin said. " ... We'll see how it goes to see if we can give them opportunities on the court."
Jefferson said he's eager to welcome Howard and Bell back to the lineup and isn't worried about whether they might mess with the team's winning chemistry of late.
"Those guys are ready to get out there and help us to get to the next level," Jefferson said. "... I don't think that will hurt us at all. Those guys are rushing to come back to help us, and I think they're coming back to fit right in with us and continue to do what we've been doing."
Howard was champing at the bit to get back on the court, and he got in Tuesday's game late in the first quarter and responded by hitting his first two shots. However, he missed his next four attempts from the field.
"I want to play, you know, as much as I can," Howard said. "But I don't think that's gonna happen that much, you know, especially with the chemistry. I'll be available if (Corbin) needs me; if not, I'll be down there (on the end of the bench) cheering."
BIG AL'S PERSPECTIVE: Al Jefferson, Utah's starting center, leading scorer and leading rebounder, said the Jazz did not get discouraged when they went through a mid-season slump that saw them lose 11 of 14 games in a frustrating four-week span from Feb. 1 through Feb. 28.
"Coach (Corbin) is not the type of guy that's gonna let us give up," Jefferson said. "... I always felt like we had a pretty good team, we've just got to go out there and play. And for the last couple of weeks, that's what we've been doing — we've been putting ourselves in a position to win games.
"I always believed in this team and always knew that this team could have a little success, if we'd just fight. It would've been easy for us to give up on each other and put our heads down, but with the type of coach that we have and the type of guys on this team that want to win, that was the last option.
"This is one of the wonderful things about this team," Jefferson said. "The one thing that stood out to me was, for a young team, everybody knows their roles. And you don't hardly ever see that. I've been on a lot of young teams where everybody is out for self, they're losing and they just want to get their numbers. But with this team everybody knows their roles and supports each other, and it's a wonderful thing to be a part of."
Jefferson is proud of his performance and that of his teammates this season, and rightfully so.
"... Regardless of what happens, we have no reason to put our heads down and we're gonna fight to the end," he said. "And if you do that, at the end of the day, that's all the coach asks you to do and you have no regrets.
"It just feels good to be a part of it, actually being one of the main guys. When I was in Boston, I was kinda the second or third option off the bench. I played big minutes but, still, it's great to be a part of it just to be a starter to help lead this team to the playoffs would just be a wonderful experience."
DOWN THE STRETCH THEY COME: Win or lose, Corbin expressed how pleased he is to see his young team do what was necessary to put itself in this position late in the season.
"I'm excited for the guys," he said prior to Tuesday's showdown with the Suns. "I'm excited for this group of guys. They've put in a lot of good work to get to this point and we're excited for the opportunity. You've gotta love playing in these kind of games.
"We control our own destiny. We're not looking for anybody else to win or lose for us to back into it, we've worked our way into a position where we control our own destiny. So that's the best-case scenario. You come out here and you lay it all on the line, you win the game and you go forward.
If we don't and it goes the other way, then we've got an opportunity but then we've got to count on somebody else to do something.
Comment on this story
"All of our work that we put in early in the year is now paying off for us, and we're in a position to finish it off," Corbin said. "... When you control your own destiny, it's the best-case scenario because you can lay it all out there and you just feel better about it being in control."
Phoenix coach Alvin Gentry feels much the same way.
"I told the guys I think you should embrace it and understand that it's a lot more fun when you're playing meaningful games than it is to kind of play out the string," Gentry said prior to Tuesday's late-night showdown.
"... I think it's something that should be embraced and you should enjoy playing in games like this."
email: jody@desnews.com; rhollis@desnews.com