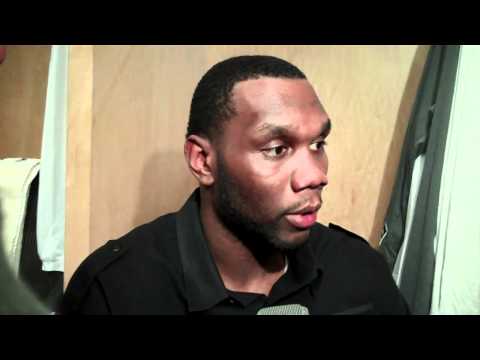 View 73 Items
Brandon Brown, Deseret News

SALT LAKE CITY — It's not that hard for the Jazz to make the playoffs. Seriously. All they need to do is win the games they're supposed to.
Which pretty much means all of 'em down the stretch.
There are few guarantees in life, but there should be. Beautiful starlets should marry handsome stars. Gas should be $1.50 a gallon. And the Jazz should beat a Dwight Howard-less Orlando Magic squad.
On Saturday at EnergySolutions Arena, it happened. But it took an overtime. The Jazz got big plays and made clutch shots at the end for a 117-107 win. Another win on Tuesday over Phoenix and finally, in the next-to-last game of the season, they can clinch a playoff spot.
So this is what it's like on the short end of the schedule: The crowd on its feet. Big Al Jefferson leading cheers. And the playoffs inching closer to reality.
But not without sweating. A lot.
Of all the indicators that the Jazz are still young is that they've lost too many games to bad teams. These were a kick in the teeth: A loss at home to Toronto, a team that has won just 22 games; a loss at Golden State, where victory should be a foregone conclusion; a defeat at Minnesota, where the Timberwolves have built a legacy of losing.
Then there were the New Orleans Hornets and Sacramento Kings, currently bringing up the rear in the Western Conference. Yet both have defeated the Jazz twice this season.
Win those four games and the Jazz aren't sweating bullets right now.
Coach Ty Corbin will tell you there are no easy games.
Maybe not, but there should be.
Which brings us to Saturday's game against the Magic, a broken-winged bird if there ever was one. This year Orlando has had more wild rides than Disney World. Will Howard be leaving as a free agent or not? Then came the recent back injury that sidelined him for the rest of season.
Surely the Jazz could handle the Magic, couldn't they?
Yup. But it didn't seem that way when they trailed by 14. They fell behind by 13 in the first quarter. But by halftime they had tied the score at 55.
The trouble wasn't over yet. The Jazz had to fight back again in the fourth quarter to tie, then get a blocked shot by Devin Harris at the buzzer. They went hard to the rim in overtime to pull off the win.
Maybe they're figuring this out after all.
To their credit, the Jazz have spent the last 21/2 weeks playing as though they meant business. They did fall at home to Phoenix, but when have they ever been able to contain Steve Nash? And there was that road loss to New Orleans. Laissez le bon temp rouler — let the good times roll.
Throughout the season the Jazz coaches continued to talk about making each game count. That has been the mantra since the team's early days in Utah. A loss in December can keep you out of the playoffs in April. That's not always easy for young players to understand.
"It's so real now. You can talk about it when you're going through it (earlier) and they see so many more games are left, and it's just one game," Corbin said. "Well, one game means a lot at this point of the season."
If the Jazz had won half of the aforementioned gimmes, they'd be a fifth or sixth seed in the Western Conference the the playoffs wouldn't be a worry. The 2010 Jazz got a fifth seed, but missed second by just two games. The 2009 Jazz were an eighth seed but missed sixth by two games. In 2008 they were a No. 4 seed, but missed being top seed by just three games.
So the coaches tell them in training camp, remind them at Christmas and hammer it home on Valentine's Day: No nights off.
The message either takes or it doesn't.
"I'm sure they go through it and get the messages and learn the lessons, and going forward they can use it next year," Corbin said. "But I think (now) it's all more real to them."
Corbin added that he has no plans to remind players that he warned them about complacency back when the snow flew.
"No. No," he said. "We are where we are."
EMAIL: rock@desnews.com TWITTER: therockmonster