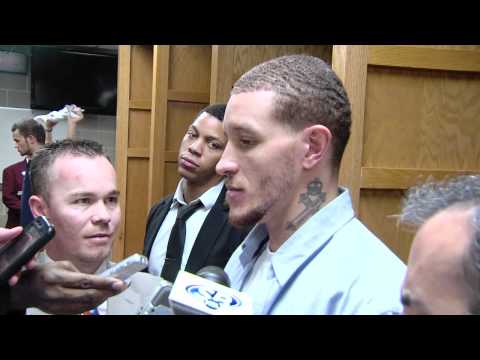 View 10 Items
YouTube

That was an experience I'll never forget of keeping my composure then. We could have just gotten into an all-out fight right there. Things like that aren't worth it.

—Gordon Hayward
PORTLAND, Ore. — Delonte West's finger wasn't the only thing going through Gordon Hayward's mind when that weird incident took place.
Hayward's first thought right after receiving what could be described as a West willy: "Did that really just happen?"
Oddly enough, yep.
And because it did happen Monday in the Jazz's wild triple-overtime win over Dallas, another thought entered Hayward's invaded head.
"I wanted to just fight right there, but you can't do that," Hayward said. "It wouldn't have been a smart idea."
That's kind of like the time the former competitive tennis player resisted retaliating during a match — even after his opponent threw his racket across the net at Hayward for beating him.
"That was an experience I'll never forget of keeping my composure then. We could have just gotten into an all-out fight right there. Things like that aren't worth it," said Hayward, who has another unforgettable experience. "To me, winning the game and competing is much better than settling it right there. I've always just tried to keep my composure."
Keep his composure while trying to make his opponents lose theirs, to be more precise.
Forget the choirboy looks. Hayward's style of play can annoy the heck out of guys guarding the improved offensive player or trying to score on the improved defensive athlete.
That occasionally results in things being sent his direction — a finger or elbow here, a tennis racket or shove there. The Jazz, who play their road-finale in Portland tonight, are likely to benefit if that opponent frustration continues as they keep pushing toward the playoffs.
Nobody admires that more than teammate Raja Bell.
"Gordon's one of those players — and it's a testament to him — he plays hard," Bell said. "He plays tough. He plays physical."
Bell is as aggressive and feisty as anyone in the NBA, so he knows very well that a lot of players aren't particularly fond of that style.
It's also why the veteran shooting guard thinks Hayward is as sly as a fox by his physical play, which some might not expect because of his boyish looks.
"You can get into people's head real quick when you do that," Bell said. "He's able to keep his cool while others around him are kind of losing their stuff because of the physicality of the game, so that's an advantage for him."
West was given a technical foul after the referees conferred about the second-quarter incident, and some argue he deserved to be ejected (or at least get a noogie in return).
"I'm a competitor. I play physically out there," Hayward said. "I'm going to fight for position, not back down and ... I don't think a lot of guys like that."
West jokingly claimed he was trying to remove lint off of Hayward's head. Then he teased about giving him a wet willy.
The Mavs' guard, who had 16 points in the 123-121 loss, also said he forgot playground antics don't belong in this particular league.
"We are two warriors. We're out here battling on the battlefield. I forgot the NBA is a gentleman's game, so we have to fight and scrap and do it nicely," West said. "Everything is left on the court, though. You get caught up in the game. The game is emotional, it's physical and you just get caught in the moment sometimes."
Though Bell has a positive history with West, the Jazz guard wasn't fooled. He knew Hayward had gotten in West's head, resulting in West trying to return the favor in a bizarre way.
"I don't think anybody who's been around, played in basketball games, probably grew up in some of the places we grew up in thinks he tried to give him a wet willy," Bell said. "That's one of those things that you do to somebody when you've had enough and you try to put your finger in their face to let 'em know that you've had enough."
By not freaking out and keeping his cool, it's game, set and match from a mental match-up for Hayward at that point. The 22-year-old developed that skill in tennis.
"You know that you have him right where you want 'em. They're frustrated," Hayward said. "You know that it gives you the edge. That's why it's important to keep your composure, so they can't do that for you.
"They're looking for a little excitement out of you. You keep you're steady pace and it frustrates them even more."
Corbin re-emphasized to his players that they need to stick up for each other, but he liked how Hayward handled himself by not ripping West's finger off.
"I thought he did a great job of just staying in the game and playing," Corbin said. "And after that, he didn't back down any. He just continued to play hard."
Added Jazz center Al Jefferson: "I'm glad the way Gordon handled it, because if that had been anybody else I think it would've been handled a little bit different. Two wrongs don't make a right. Gordon handled it very professional. He took care of business on the court."
Bell chuckled when it was suggested that Hayward gets victimized after the fact because he won't fight back.
"I don't think he gets picked on, man. I think Gordon knows what he's doing. There's some Reggie Miller to that," Bell said. "He grew up in Indiana. You're the instigator sometimes. Sometimes you're not. But you do just enough to get under somebody's skin, then you play the whole 'woe-is-me' when they lose their cool."
That was a big compliment from Bell.
Game. Set. Match.
"You've won," Bell said. "If you can do that, that's a crafty game you're playing there. He's better than I am at it."
Miller was the Brownsburg native's hero growing up, but Hayward doesn't think he's a clone. For one thing, he throws his body around, but not verbal trash.
"Reggie was a lot more of a talker than I am. He's one of the best at getting into people's heads, getting under the skin," Hayward said. "I would definitely have a long ways to go if I wanted to be like him."
Speaking of talk, Hayward said he didn't hear what some observers thought was offensive comments by West.
"I didn't hear anything. The crowd was already booing with the (first) bump," Hayward said. " I was just kind of walking away, getting out of there. He mumbled something, but I couldn't hear him."
Maybe having a finger in his ear had something to do with that.
Corbin liked that the whole team moved forward from the wacky moment, but he was taken off guard watching the weirdness unfold in front of him.
"Different guys have different methods. His was a little different," said Corbin, adding that he hadn't heard anything from the league about the play. "It surprised me."
Hayward said it shocked his mom, aunts and his friends' moms.
"They were all upset about it, like, being mothers," he said. "My friends were all just laughing about it."
Eventually Hayward did, too.
"I think," he said, "we got the last laugh with the win."
Email: jody@desnews.com Twitter: DJJazzyJody Blog: Jazzland.blogs.deseretnews.com