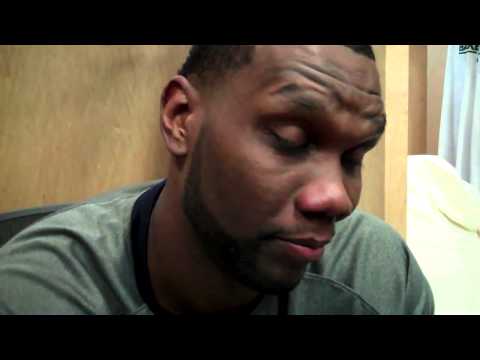 View 61 Items
Brandon Brown, Deseret News

SALT LAKE CITY — On Monday morning, Al Jefferson was reminded that this is as close as he's been to the playoffs for many years.
"Thanks for pointing that out," he joked.
It took four wild quarters and three additional hard-fought overtimes, but Big Al and the Utah Jazz took a step even closer to earning a spot in the postseason once again.
Jazz fans will thank him for that.
The Jazz dug deep time and time again and finally got past the defending NBA champions later Monday night than anyone expected, outlasting the Dallas Mavericks for a 123-121 triple-OT victory at EnergySolutions Arena.
"I tell you what," Jazz coach Tyrone Corbin said, "the guys really did a great job, man, of just fighting through whatever was happening in the game, just making sure we gave ourselves a chance to win the game. We made timely plays."
It took all the Jazz had and all the timely plays they could muster to overcome Dirk Nowitzki and gang in this thriller, which had 63 basketball minutes of head-scratching and entertaining twists and turns.
Jazz point guard Devin Harris (23 points, seven assists) made the final timely play against his old team, drilling a pair of big free throws with 4.8 seconds remaining to finally give Utah enough points to fight off the Mavericks. He also had a 3-pointer with 1:38 left in 3OT to give the Jazz the lead for good.
And Paul Millsap (16 points) had clutch plays, including a monster putback dunk with seconds left at the end of regulation to force overtime and a steal (following his travel turnover) at the end of the second extra session to prevent Dallas from getting off a game-winning attempt, among others.
And DeMarre Carroll had clutch plays, with a very big offensive rebound late in the third overtime to go with 15 points two nights after receiving a mild concussion and hours after visiting the dentist to a get a tooth repositioned.
And Gordon Hayward had clutch plays while scoring 24 points with five assists and four boards.
Not to leave out Jefferson, who keyed the win in the third overtime session with a bevy of big-time plays, including a rejection of 6-11 Ian Mahinmi's dunk to spark a Millsap bucket, a pump that faked Nowitzki out of position for a push shot and a much-needed five-point lead with 1:08 remaining.
"He was huge," Corbin said.
Career-best-night huge when it came to crashing the glass.
Jefferson had a monster outing with a team-high 28 points and grabbed 26 rebounds, tying his career-high.
"They did a great job of not letting him them get the ball low. They were double-teaming him as soon as he got it," Corbin said of the Mavs' defense, which only allowed Utah to score 32 points in the paint all night.
"They had bodies on him all night to try to get him off the block," Corbin added. "But he hung in there. He didn't force many shots. He made timely jump shots on the perimeter and he did a great job on the boards with 26 rebounds for us."
Jefferson also logged 54 minutes, rivaling the time he played in the Jazz's quadruple-overtime loss at Atlanta a few weeks ago.
This time, though, Utah didn't let the victory slip away.
That, despite 40 points from Nowitzki, and multiple outside jumpers from Jason Terry (27 points), Vince Carter (18 points) and new Utah Enemy No. 1 Delonte West (16 points).
"Right now we just got to win every game, no excuse. We just got to take one game at a time. No excuse," Jefferson said, who hasn't been in the playoffs since 2005 with Boston. "We want to be in the playoffs. This is a big test for us."
Their professor gave them all A-pluses for their effort, which helped them improve to 32-30. With the win, the Jazz moved to within a half-game of the final playoff spot in the West. Houston and Phoenix are tied for the No. 8 position at 32-29 following the Rockets' loss to Denver and the Suns' win over Portland.
"You can't reiterate enough about the character of this group of guys," Corbin said, "and how much they understand and they want to do the right things and how they lay everything they have out there.
"We may make some mistakes, but the guys are going to continue to fight their way through everything."
That everything on this night included Nowitzki's roaming elbows, the Mavericks' rough-and-tumble physicality and one of the weirdest plays you'll ever see in a sporting event.
Dallas always tries to get a mental edge on the Jazz. But West took getting into an opponent's head to a whole new level.
Setting the tone for a weird and wild game, West stuck his finger in Hayward's ear after getting called for a foul on the Jazz shooting guard. West was given a technical — somehow avoiding getting tossed for the bizarre act — and Utah got the last laugh.
West's explanation?
"(Hayward) had some lint in his hair. I was just trying to get it out for him," West said. "I was giving him a wet willy. That's all. We are two warriors. We're out here battling on the battlefield."
For the first time in eight tries, the Jazz left the battlefield as the victors.
"We just got to see where our heart is at," Jefferson added, "and I know everybody in that locker room wants to make the playoffs."
Email: jody@desnews.com
Twitter: DJJazzyJody