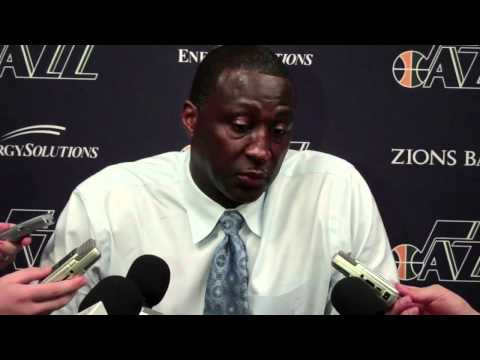 View 22 Items
Brandon Brown, Deseret News

SALT LAKE CITY — OK, go ahead and call San Antonio's no-name Monday night lineup whatever you want: The Spurs' junior varsity, or their second-stringers perhaps, or maybe the Not-Quite-Ready-for-Prime-Time-in-Texas players.
But when you've lost to a team six straight times the way Utah had against San Antonio, a franchise which has historically given the Jazz fits and came to town riding high on an 11-game winning streak, you're definitely not going to apologize for anything — especially when your postseason hopes are barely breathing on life-support.
So when the Jazz rallied down the stretch to slip past the Spurs — who were without their "Big Three" of Tim Duncan, Tony Parker and Manu Ginobili — for a 91-84 victory at EnergySolutions Arena, nobody from Utah was offering to give it back.
"It (threw) us off a little bit because guys tend to relax, thinking their 'Big Three' are out," Jazz coach Tyrone Corbin said. "They have a system where they plug guys in and they are going to play hard.
"It took us a while to get going, but in the fourth quarter we did what we had to do to win the ballgame. We picked our defense up and, thank goodness, Devin (Harris) was making some shots down the stretch for us. The guys just toughed it out; everybody's a little beat up, but it's a great win for us.
"He had the ball in his hands and was making plays for us," Corbin said of Harris. "He was the one guy for us who acted like he had a little bit more in the tank, and so it was great to see him come out and be aggressive on the offensive end."
Indeed, one night after losing to the Spurs by 10 points in San Antonio — where Parker and Ginobili combined for 51 points and Duncan had 13 points, 16 rebounds and three blocked shots — Harris fueled a furious Jazz rally over the final eight-plus minutes of the fourth period.
Things started looked pretty bleak for Utah (30-28) when the Spurs opened up an eight-point spread, 75-67, with 8:49 remaining. But right when the Jazz appeared on the brink of defeat, Jamaal Tinsley, Paul Millsap, Gordon Hayward and Harris each scored two points in an 8-0 run that tied it at 75 with 4:52 to go.
Then Harris took over the game. During the ensuing 21/2 minutes, he hit a pair of 3-pointers from the same top-of-the-key, left-angle spot which, along with 3-of-4 free throws, lifted the Jazz into an 84-80 lead with 2:23 to go. In all, he scored 11 consecutive Utah points.
"I was just trying to step up and make shots," Harris said. "It was kind of a sluggish game for the first three quarters, but we got some stops that allowed us to get into transition and get some good shots, and we were able to knock them down."
Then, with the Jazz leading 84-80, Millsap hit a jumper and then a monstrous followup dunk on a miss by Al Jefferson to make it 88-82. Millsap soon added two free throws and Harris hit another one from the line to cap Utah's decisive 24-9 run to finish the game.
"I got higher than what I expected," Millsap said of his highlight-reel dunk that brought the ESA crowd to its feet. "I just went and jumped and felt like I wasn't going to get there at first ... it just went in."
Harris finished with a game-high 25 points — 12 coming in the fourth quarter — along with six assists and six rebounds. Millsap had nine of his 18 points in the final period, and he also grabbed 10 rebounds to share game-high honors with Jefferson, who contributed 12 points and four blocked shots to Utah's team total of 13 blocks.
Gordon Hayward added 16 points and six boards for the Jazz, who remained 10th in the tight Western Conference playoff chase, a half-game behind ninth-place Phoenix (30-27) and 11/2 games behind both Dallas and Denver, which are tied for the seventh spot at 31-26. Utah has just eight regular-season games remaining.
With its top three scorers not making the trip and staying back home in Texas instead, reserves Tiago Splitter and Gary Neal topped the Spurs' scoring with 14 points apiece. DeJuan Blair added 13 points and eight rebounds for San Antonio (40-15), now second in the West's overall standings.
"The big difference in the game, like with a lot of NBA games down the stretch, is you have got to make shots," said Spurs coach Gregg Popovich.
"And Devin came down and knocked down two in transition in a row — and on the other end, we couldn't throw it in the ocean."
"I think both teams were digging deep," said the Spurs' Matt Bonner, who scored 10 points off the bench, "especially after playing last night and having the long flight here. It was like a heavyweight boxing match, and it was coming down to the end. They hit us with a couple extra punches."
And even though their "Big Three" was missing in action and the Spurs made do with their junior varsity and second-stringers, the Jazz will gladly take it — even though their teetering playoff hopes are hanging on the ropes, desperately trying to avoid being counted out.
email: rhollis@desnews.com
Jazz91
Spurs84