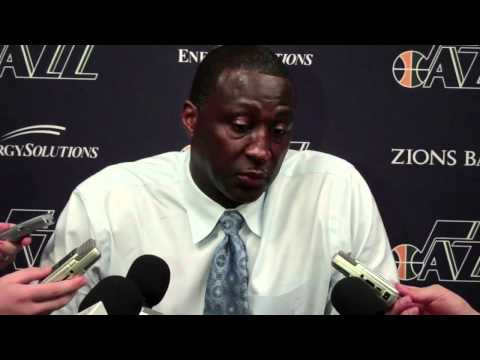 View 2 Items
Brandon Brown, Deseret News

SALT LAKE CITY — The Jazz added Developmental League guard Blake Ahearn on Monday and said they hoped to get him to Salt Lake later that night.
It's a good thing he didn't arrive in time for the Jazz-Spurs game.
He might have thought he was in the wrong town.
There weren't many recognizable NBA names around.
That's not to say it was necessarily minor league talent at EnergySolutions Arena, but there was clearly a dearth of major league names. To the casual fan, it may as well have been an Austin Toros-Idaho Stampede moment. Tim Duncan? Undoubtedly home by his pool when the game tipped off. Manu Ginobili? Maybe enjoying a quiet dinner for two. You have to wonder if Tony Parker was catching up on episodes of "Desperate Housewives."
Each was listed by coach Gregg Popovich as "not with the team" on the lineup sheet.
Of course, this comes from the guy who earlier this season rested 35-year-old Duncan with this explanation: DND — old. (DND stands for did not dress.)
Meanwhile, the Jazz forged ahead minus four of their top 10 players. Josh Howard, C.J. Miles, Raja Bell and Earl Watson were out with injuries. Yet the Jazz stayed within shouting distance of the playoffs by pulling ahead at the end for a 91-84 win.
With eight games remaining, they're still hoping to get a toe in the water.
If the Jazz and Spurs looked like no-name teams, that doesn't mean EnergySolutions Arena was entirely devoid of star power. John Stockton was in the stands, looking good to go. He received a standing ovation when introduced with 3:18 left in the first half. Ah, yes, the good old days. Still they weren't perfect. Former Jazz center Greg Ostertag was at the game, too, but was neither game-ready nor introduced.
"Coach, you need a big guy who can set a pick?" Ostertag said to Corbin after the game.
But with Jazz players falling the way they have, even the enigmatic 'Tag would have been a welcome addition.
Thus, the no-name game went forward. Paul Millsap, Gordon Hayward, Matt Bonner, Stephen Jackson and others are familiar to serious hoop fans, but to once-a-year-type fans, who would they recognize?
"I like to think all of them," Jazz coach Ty Corbin said.
And he was sticking by his story, DeMarre Carroll and Patty Mills notwithstanding.
The manpower shortage arrived in two ways: accidental and on purpose. The Jazz absences were accidental, as injuries have spiked. Reserve Jeremy Evans became the latest casualty when he sprained an ankle in the third quarter. With Bell and Howard already on the IL, the team also lost Watson and Miles during Sunday's game.
Three had problems with their knees, one with his calf, one with his ankle and Corbin, well, he had a pain in his gut.
"It's just a tough time to have injuries," Corbin said.
But the Spurs absences were the inspiration of Popovich, who is a fine coach but a bad politician. He elevated his game to another level by leaving his three All-Stars home. Asked afterward if he rested his big three in order to ensure a healthy playoff team, the always-prickly Popovich told reporters, "That's pretty obvious. I think that's obvious."
Comment on this story
In the end, though, all was as it should have been when an injury-plagued team meets half a team. Devin Harris' 12-point fourth quarter helped the Jazz live another day. With just eight games left, it's still an uphill race. They fight hard, seldom conceding, yet are notorious for their inability to win on the road. Although they have respectable depth, they've needed all of it just to survive. Now the injuries are rising. Nine players have missed a total of 47 games.
Among the other challenges: remaining games against playoff-bound Houston, Memphis, Dallas and Orlando. Four of their next five games are on the road.
That leaves a thin space for the Jazz to work.
On the other hand, maybe they can sneak into towns incognito.
email: rock@desnews.com
Twitter: therockmonster
Facebook: rockmonsterunplugged