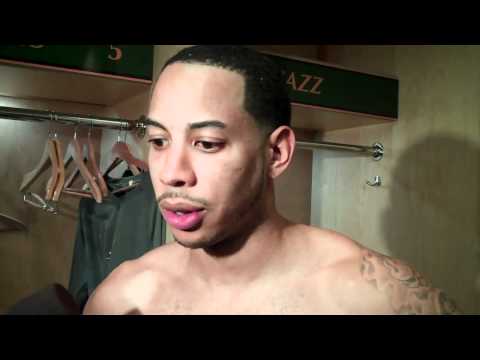 View 26 Items
Brandon Brown, Deseret News

SALT LAKE CITY — FedEx should've sponsored Friday night's Utah-Golden State game at EnergySolutions Arena.
Because if the Jazz had any chance of keeping their teetering NBA playoff hopes alive, then a victory absolutely, positively had to be there on this night.
And, thanks to a pair of monstrous performances by center Al Jefferson and point guard Devin Harris, the Jazz were able to do so — and they delivered it right on time, too.
Jefferson and Harris, Utah's Mr. Inside and Mr. Outside, combined for 58 points as the Jazz turned back the Warriors 104-98. With the win, Utah (29-27) leapfrogged back over Phoenix (28-27), which lost at Denver, into ninth place in the tight Western Conference playoff race.
Jefferson hit 13-of-18 shots on his way to a game-high 30 points, playing through an abdominal injury he sustained with 4 1/2 minutes remaining in the third quarter. Big Al also grabbed a team-leading 11 rebounds and blocked a season-best five enemy shots.
"We just played," Jefferson said. "We had to play the whole 48 minutes. We made some mistakes, they made us fight, but we just kept pounding the ball inside.
"Devin got hot and hit some outside shots, so they had to play honest, and we came out with the victory."
As for Harris, well, he got hot indeed, hitting five 3-pointers to match his career-high on his way to a season-best 28 points. He scored 12 of them in the first quarter and, after Utah fell behind 80-78 entering the fourth quarter, splashed in 11 points in the final period, when he buried three of his 3s.
"I played a little shooting guard tonight," Harris said. "Shooting guards get to shoot. ... Obviously they played zone tonight, so there were some gaps and some opportunities out there."
Although Harris downplayed his performance in his typical humble, ho-hum manner, it certainly wasn't lost on Utah coach Tyrone Corbin or teammate Gordon Hayward.
"I'm just happy to see it tonight," he said of Harris' slick 3-point shooting. "He did a great job. Went inside and out, great patience on offense, and he took the right shots.
"And against a zone, that's how you break it — you make shots from the perimeter. And he did a great job in that stretch."
In all, Harris was 5-of-8 from 3-point range, 8-of-13 overall from the field and 7-of-8 from the foul line. For good measure, he also handed out five assists.
"I saw it right before the game," Hayward said. "We usually do a little shooting drill against each other and he didn't miss, so I knew it was going to be a good night."
Harris hit two 3s to open the fourth quarter, then scored on a layup off a steal for a one-man 8-0 run that vaulted the Jazz on top, 86-80. He hit another 3-pointer as Utah opened the final period with an 18-6 spurt that helped pave the way for the victory.
Utah's dynamic inside-outside duo impressed the Warriors as well.
"Well, I think they had two weapons the entire night," said David Lee, who led Golden State with 26 points and 12 rebounds. "Al played a great game inside.
"And the big thing that killed us, it seems like every time it got close, Devin Harris — who is a streaky 3-point shooter but can get it going — definitely got it going in the second half and made a bunch of big shots."
And, as it turned out, the Jazz needed every one of them.
Because they absolutely, positively had to be there on this night, and like that famous Mailman who starred for this franchise for so long, they definitely delivered.
Email: rhollis@desnews.com