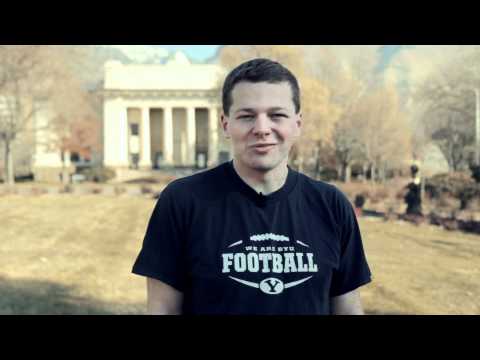 BYUitgetsbetter
PROVO — A video released last week in which BYU students discuss dealing with same-gender attraction and their membership in the LDS Church gathered some momentum in the university community Friday as friends shared it and linked to it on Facebook and YouTube.
The video was made by an unofficial group of students and faculty called Understanding Same-Gender Attraction. Devoted to respectful dialogue, the group formed in 2010 to provide a forum for those who deal with same-sex attraction on the socially conservative campus.
On Wednesday night, the group held a BYU-approved panel discussion titled "Everything you wanted to know about being gay at BYU but were too afraid to ask."
The group's president, Bridey Jensen, was overwhelmed by the interest.
"The fact that we had 400 people packed into a room that was supposed to only seat 250, and then we had to turn away at least 200 people because there was no more room, was absolutely amazing to me," said Jensen, who sat on the panel. "I started to cry at one point because of all this support I never knew existed because they didn't know I existed."
Sociology Department chair Renata Forste introduced the panel of students and explained that participating students had signed and abided by the Honor Code, according to the BYU campus newspaper The Daily Universe.
The Honor Code states the university "will respond to homosexual behavior rather than to feelings or attraction and welcomes as full members of the university community all whose behavior meets university standards. Members of the university community can remain in good Honor Code standing if they conduct their lives in a manner consistent with gospel principles and the Honor Code."
The group created the video, "It Gets Better at Brigham Young University," with the help of a former executive producer at BYU Broadcasting, Kendall Wilcox, who is gay. Wilcox was fired in November after he missed work for two months.
The video is an offshoot of a project Wilcox is producing, a documentary film project called Far Between. It also joined the It Gets Better Project, which has grown to 40,000 videos in 18 months, including one by President Obama. Collectively, the videos have been viewed 40 million times. The messages are intended to inspire hope among gays who face harassment, according to the project's website.
The It Gets Better BYU video is a professionally done, 10-minute presentation that follows the stories of 11 BYU students as they struggle to manage their same-gender attraction and their Mormon faith. The video has been viewed on YouTube more than 2,250 times.
"(My same-sex attraction) scared me," said Jenna, a woman in the video. "I truly believed in this church and these feelings did not coincide with that church."
The students in the video talked about trying to align themselves with Mormon teachings and rid themselves of their feelings of same-sex attraction. Many were some of the most active teenagers in their LDS congregations because of their belief in the teachings of The Church of Jesus Christ of Latter-day Saints.
The students remain committed to the church and BYU's principles. Church members dealing with same-sex attraction who don't act on those feelings can enjoy full fellowship in the church.
Church leaders have counseled members to love those dealing with same-sex attraction.
"The Church doesn't have a position on" whether same-sex inclinations are nature or nurture, Elder Dallin H. Oaks of the Quorum of the Twelve has said.
Elder Jeffrey R. Holland has said, "...let me make it clear that attractions alone, troublesome as they may be, do not make one unworthy. The First Presidency has stated, 'There is a distinction between immoral thoughts and feelings and participating in either immoral heterosexual or any homosexual behavior.' If you do not act on temptations, you have not transgressed."