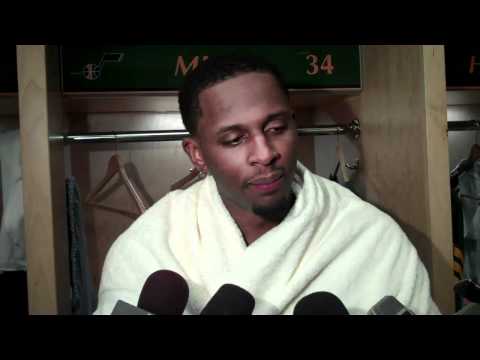 View 29 Items
Brandon Brown, Deseret News


We can't wait to get ourselves going. We have to be ready to go at the beginning and set the tempo. We did it in the second half.

—Jazz coach Tyrone Corbin
SALT LAKE CITY — Several oldies-but-goodies who've made big impacts on the NBA over the past few decades were at EnergySolutions Arena on Wednesday night.
Hall of Fame power forward Karl Malone was there.
Commissioner David Stern stopped in for a rare visit.
Unfortunately for the Utah Jazz, security guards also allowed a John Stockton-like clutch player to enter the building too.
Even worse, Steve Nash, the ageless one, and his Phoenix Suns exited after delivering a damaging blow to the Jazz's playoff hopes with a 107-105 victory that sent the vast majority of 19,911 fans home with a broken heart.
"It's tough, man, because we were right there," said Jazz forward Paul Millsap, Utah's leading scorer with 25 points whose overtime-forcing tip came after the buzzer sounded. "To lose a game by two points, especially to a team that you know you can beat, that you're supposed to beat, you know, it's tough."
Losing to Nash is one thing.
The 38-year-old was a two-time NBA MVP for a reason, and his skills haven't eroded much, if it all, since those spectacular seasons as was clearly evident the way he ended his 13-point, nine-assist outing.
But as painful as his two big-time buckets in the final 14 seconds were — and there was plenty of postgame pain in Jazz players' eyes in the locker room — this bitter defeat was all the tougher to ingest for a few more reasons.
For one thing, the loss was the Jazz's (28-27) fourth in five games and dropped them to No. 10 in the Western Conference playoff race — a half-game behind now No. 9 Phoenix (28-26) and 11/2 games behind 29-25 Houston and Denver.
For another thing, the ending was a dour déj?vu from what happened the last time the Jazz played at home.
Missed last-second shot. Tipped ball goes in. Referees correctly rule it a millisecond too late.
Home loss.
Al Jefferson's potential game-winning tip came a hair too late in last Friday's 104-103 loss to Sacramento.
This time, it was Millsap who caught C.J. Miles' 3-point airball in front of the basket and quickly put it in the hoop. But the clock showed 0.0 before it left his hands, resulting in another rough setback for this Jazz team that's struggled to find traction since a six-game winning streak ended 10 days ago.
"I thought it was good," Millsap said. "I'm looking at the ball, looking at the backboard and it felt like the light flashed when I let it go, so I don't know. Split decision."
The way the Jazz allowed the Suns to hang around, giving Nash an opportunity to win, was also tough for the Jazz to swallow.
Utah fell behind 10-2 and allowed the Suns to score 31 first-quarter points — the third opponent in a row to tally 30-plus in the opening period.
"The first quarter we came out and weren't as aggressive as I thought we would be," Jazz coach Tyrone Corbin said. "We can't wait to get ourselves going. We have to be ready to go at the beginning and set the tempo. We did it in the second half."
The Jazz fought back multiple times and even took a five-point lead, but they were burned badly in the fourth by the combination of supposedly washed-up shooter Michael Redd and backup point guard Sebastian Telfair.
Both Redd, Phoenix's leading scorer with 19, and Telfair had seven points in the final period to help the Suns take a 10-point lead midway through the fourth, forcing the Jazz to mount yet another comeback to have a chance.
Channing Frye, however, made the one play that might even be harder for the Jazz to watch again in film session than Nash slipping through Gordon Hayward and Millsap for his game-winning runner with 1.7 seconds remaining.
For almost 24 seconds, the Jazz played smothering defense against Phoenix on the possession following a Millsap bucket that trimmed the Suns' lead to two. Frye ended up with the ball in his hands behind the 3-point line and, despite being off-balanced and having Millsap in his face, the Suns' 6-11 big man unleashed a 25-foot heave just before the shot clock expired.
A miss and Jazz rebound would've given Utah a chance to tie or go ahead with a minute left.
Instead, the ball bounced off the backboard and through the net to give Phoenix a 103-98 lead.
"That was a dagger. What can you do about that?" said Hayward, who notched his first-ever double-double with 20 points and 10 rebounds. "You play great defense the whole shot clock and then he throws in a prayer."
Utah still fought back, though, as Millsap made a steal, bucket, a free throw and a sweet pass to Jefferson, who also had two late baskets to get the Jazz back in it.
But the Jazz didn't get their own prayer from Miles answered after Phoenix's stifling inbound defense with 1.7 seconds remaining forced Utah to the corner for a fading long attempt.
"I didn't really have anywhere to try to drive or have enough time to really make a play," said Miles, who scored 22. "I tried to get my feet set as possible. I got a decent look, but I knew if I could get a shot it would be enough time to get a rebound."
And there was. The Jazz just didn't have enough time to get another shot up as well.
"I knew it wasn't good. I walked off," Jefferson said. "It's tough to lose any game. It just makes you realize what mistakes you made during the game that cost you. Every little thing cost you."
Especially when Old Man Clutch is on the other team.
Email: [email protected]