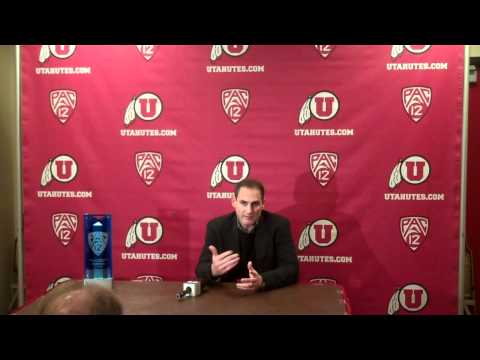 View 36 Items
Amy Donaldson

We were on such a high for bars — so much excitement and enthusiasm. Sometimes on beam you have to just chill out, and I'm not convinced that didn't have anything to do with it.

—Utah co-head coach Greg Marsden
SALT LAKE CITY — What looked to be a blowout turned into a nail-biter that went down to the final competitor Saturday in the inaugural Pac-12 gymnastics championships.
In the end, consistency won out and UCLA quietly earned its 17th league title before a record-setting 10,879 fans watching the second session of the Pac-12 Conference gymnastics championships in the Huntsman Center.
The Bruins' efforts were lost between a Stanford team that was on fire through its first three events, and the rowdy Red Rock fans rooting for the home team. The Cardinal took a 148.375 lead over UCLA at 148.05 into the final rotation, but fell apart on the bars counting a fall and low score from a bobble. This opened the door for UCLA and a Utah team that clawed its way back into the meet.
"Beam was one of our better events this year," said UCLA coach Valorie Kondos Field. "I really didn't think we had a chance at winning this meet going into the last rotation. It was important for me that our athletes go out and compete well because this was all a dress rehearsal for the national championships."
UCLA posted a 49.375 on beam, led by Elyse Hopfner-Hibbs' event-winning 9.975. The effort was good enough to keep a season-best 49.525 effort by Utah on floor a moot point. The Red Rocks looked to be out of the meet after Kassandra Lopez and Mary Beth Lofgren both fell on beam — it was the first counted fall of the meet before Stanford's bar set. Lopez was the beam leadoff and followed one of the best bar sets in Utah gymnastics' history of 49.600.
"If there is any nerves at all that's the event (beam) that it really magnifies, and it can get away from you so quickly," said Utah co-head coach Greg Marsden.
"We were on such a high for bars — so much excitement and enthusiasm. Sometimes on beam you have to just chill out, and I'm not convinced that didn't have anything to do with it.
Marsden said the team shot itself in the foot on beam and decided to just have fun with the floor event and entertain the fans.
The relaxed state produced a strong effort that fell just short as the Bruins finished with a 197.425 to Utah's 197.375. It was the same margin of defeat Utah suffered against UCLA in the season opener. Oregon State was third at 197.025, while Stanford fell to fourth at 196.825. The first session teams rounded out the eight with Arizona (195.900) fifth, Arizona State (194.550) sixth, Washington (194.125) seventh and California (193.525) eighth.
Kondos Field said it was the hardest fought conference championship she has experienced in her tenure at UCLA. She also said she believes four teams could represent the Pac-12 in the NCAA championships and Super Six.
"What a great lesson for our athletes," said Kondos Field. "Coming in the favorite, coming out flat and being able to pick it up and finish strong. Wasn't it a great athletic event — this was a great athletic event across the board, any sport."
Along with Hopfner-Hibbs, UCLA's Olivia Courtney and Vanessa Zamarripa won individual titles, tying with Stanford's Ivana Hong at 9.95 on vault.
Freshman Georgia Dabritz was Utah's lone individual event winner with a 9.95 on bars, while Stanford's Ashley Morgan won the floor with a 9.95. Utah's Corrie Lothrop led all gymnasts with a career-high 39.625 for the all-around title.
"That was really fun. We have been without a conference for a long time, and if tonight was anything like this is going to be, it's going to be a fun ride," said Marsden. "It was a great experience for us."
The Red Rocks are back in the Huntsman Center on April 7 for the NCAA Regionals.
Pac-12 championships
Team Results
1. UCLA 197.425. 2. Utah 197.375. 3. Oregon State 197.025. 4. Stanford 196.825. 5. Arizona 195.900. 6. Arizona State 194.550. 7. Washington 194.125. 8. California 193.525.
All-Around Results
1. Lothrop, Utah, 39.625. 2. Zamarripa, UCLA, 39.575. 3. McAllister, Utah, 39.525. 4. Stambaugh, Oregon State, 39.475. 5. Jones, Oregon State, 39.425. 6. Cristello, Arizona, 39.325. 7. Quirk, Arizona, 39.200. 8. Jones, Arizona State, 39.075. 9. O'Brien, California, 39.025. 10. Mak, Oregon State, 38.875, Fechter, Washington, 38.875. 12. Pechanec, Stanford, 38.800.Heady goes here
Text