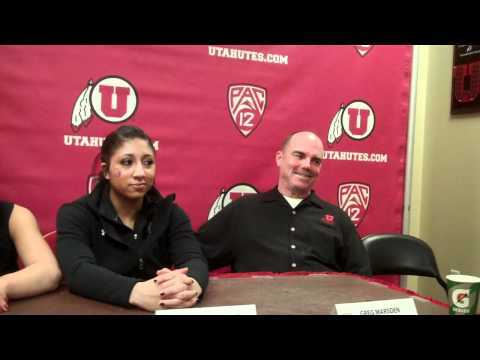 View 37 Items
Amy Donaldson

I think our goal coming into tonight was just to have fun. We all had a great time. There were a few mistakes, but just like Greg said, that's part of athletics, that's part of gymnastics. We just tried to stay relaxed and have fun.

—Utah senior Stephanie McAllister
SALT LAKE CITY — Corrie Lothrop stood on top of the podium celebrating a victory in front of 10,000 screaming Utah fans Saturday night.
It was not, however, the victory she had hoped to celebrate as the University of Utah hosted the first-ever Pac-12 gymnastics championships at the Huntsman Center.
The sophomore earned a career-best score of 39.625 to earn the all-around title, but the team finished second to UCLA in what turned out to be a thrilling finish. With one event left, Stanford enjoyed the lead with favored UCLA in second. Utah was in third and Oregon State was fourth, as Utah headed for the fan-favorite floor.
While Utah and UCLA performed exceptionally well on floor and beam, respectively, Stanford struggled mightily on the bars. Two falls and a stumble on a dismount dropped the Cardinal from first to fourth.
"That was fun," said Utah co-head coach Greg Marsden with a grin after Utah finished second with a score of 197.375 to UCLA's top score of 197.425. Had Utah not had two falls on beam, the Utes would have won the first-ever Pac-12 team championship.
"That would have been thrilling," said Marsden. "But it was so much fun to compete for a conference championship. We'll be back."
He had high praise for the athletes who earned individual honors. In addition to Lothrop's all-around title, senior Stephanie McAllister earned third place in the all-around and the Pac-12 gymnastics Scholar-Athlete of the Year Award. Georgia Dabritz was named Pac-12 Freshman of the Year.
Lothrop and McAllister were able to nail their beam routines after teammates fell just before they performed. Marsden said a season-high score on bars (49.6 points) gave the gymnasts an adrenaline rush that may have hurt them when they moved to beam.
But both Lothrop and McAllister delivered on the beam, even after the gymnast in front of them fell.
"All year, as Corrie and Steph go, so goes our team," said Marsden. "They are the on-the-floor leaders. When they're doing their thing, everybody kind of feeds off of that."
The fact that Utah had so many individual awards was thrilling to the entire squad.
"It's unbelievable," he said. "Especially because it's such a talented field of athletes out there tonight. I'm very proud of how many individuals we had on the awards stands."
Lothrop was low-key about earning the all-around honor.
"It was exciting to be able to go out and perform my routines like I have been practicing and contribute as much to the team as I could," said Lothrop. She said she had no idea what was happening to Stanford on bars.
"I try hard not to focus on the scores," she said. "In a meet like this it's hard not to (think about scores). But each event, I just started with a blank slate and did the routine the way I wanted."
After the disappointment of two falls on beam, the team came together and reminded each other that they perform better when they focus on fun rather than scores.
"I think our goal coming into tonight was just to have fun," said McAllister. "We all had a great time. There were a few mistakes, but just like Greg said, that's part of athletics, that's part of gymnastics. We just tried to stay relaxed and have fun."
The entire squad was grateful and proud at the fan support Saturday, which eclipses previous attendance records at conference championships by thousands.
"It was awesome," said Lothrop. "I was glad other people got to see what we (experience) every meet."
Marsden and the gymnasts were honored that Pac-12 commissioner Larry Scott attended the event. It was the first gymnastics meet he'd ever attended — in his life.
"We might have spoiled him tonight," said Marsden.
Comment on this story
UCLA head coach Valorie Kondos Field said the U. delivered the perfect preparation for regionals and nationals. The previous Pac-12 attendance record was 3,035 set in 2009 at Stanford. In two sessions Saturday, the attendance was 19,374, with 10,879 attending the evening session.
"We were really excited to come out here for the inaugural Pac-12 championship because we knew Utah would do it big," she said. "We knew they would do it just like a national championship. We thought this was going to be the biggest meet of the season. It certainly turned out that way. … That was a great athletic event, across the board, any sport."
email: adonaldson@desnews.com