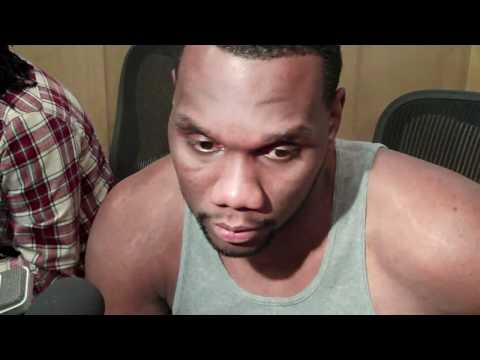 View 59 Items
YouTube

We came out in the second half and just kind of took it at them. I'm just proud of the team.

—Gordon Hayward
SALT LAKE CITY — There was an amazing stretch during Friday night's game against the Denver Nuggets when, if you closed your eyes and listened to the deafening roar of the Utah Jazz crowd, it took you back in time about 15 years.
Yes, you'd swear it was 1997 or '98, back during the glory days of Stockton, Malone and Hornacek, when visiting teams ventured into EnergySolutions Arena and, on most nights, got it handed to 'em.
With John Stockton handing out assists like nobody else ever did before or since, Karl Malone running the court like a powerful locomotive who would flatten anything in its path and Jeff Hornacek hitting tough shots from everywhere that most guys would save for a game of H-O-R-S-E, the Jazz were an NBA juggernaut back in the mid- to late-1990s.
And late Friday night, there were some moments that were mighty reminiscent of those great days gone by.
Sure, the names and the faces have changed a lot over the years, but the game hasn't — put the ball in the basket, and do your best to stop the other team from doing the same.
During an amazing nine-minute stretch of the third quarter, this latest edition of the Jazz were extremely efficient at doing just that.
After closing the first half with a 22-10 run that gave them a 63-55 halftime lead, the Jazz blew Friday's game wide open with a 28-9 surge that would've made Stockton, Malone and their old ball coach, Jerry Sloan, plenty proud indeed.
Thanks to scoring contributions from every guy who stepped on the court, Utah opened up a 27-point lead, 91-64, late in the third period. The Nuggets looked a little dazed and confused as the Jazz ran up and down the court, hitting shots from every angle and doing very little wrong during that impressive nine-minute span that turned an eight-point halftime advantage into an insurmountable 27-point margin that no team could overcome.
"We started giving up transition baskets and open 3s and they didn't look back," said Denver guard Arron Afflalo, whose frustration boiled over to the point that he was ejected midway through the third period after throwing an elbow at Gordon Hayward's face.
"We came out in the second half and just kind of took it at them," Hayward said. "I'm just proud of the team."
Jazz fans, no doubt, feel much the same way.
These days, the names that are called are usually Jefferson (Big Al), Millsap (that'd be Paul) and Hayward (that good guy Gordon), with daily contributions from Derrick Favors, Devin Harris, C.J. Miles, Alec Burks and Enes Kanter. Heck, Jamaal Tinsley and DeMarre Carroll are getting into the act for coach Tyrone Corbin now, too.
And it's an act that has produced a season-best six straight wins and a late-season push that has propelled the Jazz (26-22) right back into the thick of the Western Conference playoff race.
"I've never seen anything like it," said Harris, the point guard who had 13 points — one of seven Jazzmen in double figures — and nine assists. "We have a great mixture of veterans and young guys. Our young guys can step in and play right away; they are poised. They are talented guys, they have high basketball IQs. They can play down the stretch and they give us a lot of depth, and a lot of teams don't have that."
Indeed, this team of worker-bees and role players, a team without a true superstar, is starting to make believers out of a lot of people.
"I thought they outworked us more than outplayed us," Denver coach George Karl said. "At this stage of the season, understanding how important this game was, they seemed to have a better understanding than we did."
email: rhollis@desnews.com
Josh Howard has minor surgery on knee
Utah Jazz forward Josh Howard underwent successful arthroscopic surgery on his left knee on Thursday in New York City, the team announced late Friday night.
Howard will spend one week on crutches before being re-examined. A further update on his status and recovery is expected in two weeks.
Howard, a 6-foot-7 veteran, has played in 41 games for the Jazz thus far this season, averaging 8.7 points, 3.7 rebounds and 1.2 assists per game.
He was signed by the Jazz as a free agent in mid-December and moved into Utah's starting lineup following the All-Star break.
— Randy Hollis