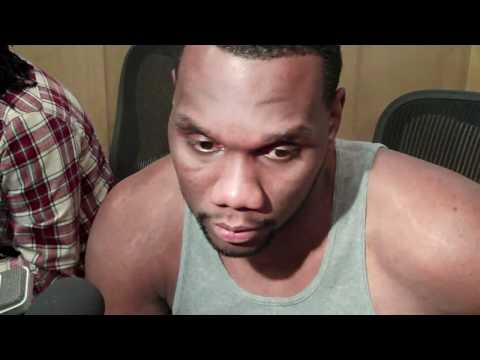 View 42 Items
YouTube

GUARDS: The first two matchups of the season between point guards Devin Harris and Ty Lawson were fairly even. Not this time. Harris greatly outplayed him, and was more productive and efficient. Gordon Hayward had a well-rounded game with 15 points, seven rebounds and seven assists. He played so well, he frustrated Arron Afflalo into committing a flagrant two against him, earning Afflalo an ejection.
Grade: A
FORWARDS: Paul Millsap shot the ball well and helped out on the boards. On defense, he didn't have to match-up against players who posed much of a threat. C.J. Miles showed what an asset he can be when he's aggressive and doesn't shoot too many 3-pointers. Denver's Wilson Chandler showed he's still getting into game shape since signing with the team last week. Rookie Kenneth Faried played with a lot of energy and will be an irritant to opponents.
Grade: A-
CENTERS: The Nuggets had no answer for Al Jefferson. He had 23 points on 11-for-16 shooting with eight rebounds and three assists. He certainly could have padded his stats with more playing time, but there's no need for that with the compressed schedule. Denver's Timofey Mozgov, meanwhile, is um, tall. He had two points and six rebounds in 18 minutes.
Grade: A
Comment on this story
BENCH: In a misleading and meaningless stat, Utah's bench was outscored by Denver's 52-44. Why doesn't it matter? Because Denver's reserves did much of their damage when the game was already decided, and someone had to score with the Nuggets' starters stinking it up so bad. Alec Burks (15 points) and Derrick Favors (12 points, seven rebounds) contributed the most, and we even had a sighting of Slam Dunk Contest champion Jeremy Evans.
Grade: B
OVERALL: The Jazz started to pull away before halftime and blew the game open in the third quarter. The victory obviously helped in the playoff race, but it also sent a message to the Nuggets, who had a one-game lead over Utah in the Western Conference playoff race going into Friday's game. The Jazz dominated in all phases of the game, and this young team is growing up fast.
Grade: A