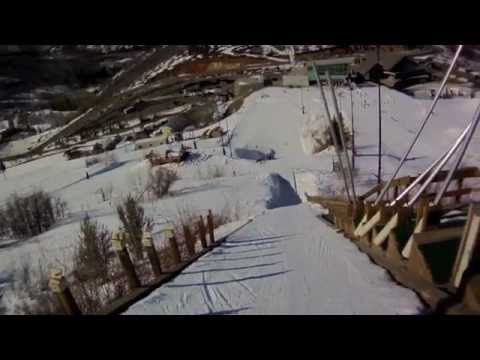 View 2 Items
YouTube
Winner: As about 1.4 million YouTube viewers know, it wasn't easy for Park City's Zia Terry, age 10, to launch herself down a 40 meter ski jump for the first time. The video, which follows her all the way down and records her victory "Whoop!" at the end, earned her the honor this week of becoming an honorary junior team member of the U.S. Women's Ski Jumping Team. "You've got the camera on, you can't turn back," she said. Well, many people would debate that. Clearly, Zia has the right stuff to make herself, with a lot of hard work, a full-fledged member of the team some day.
Winner: Scratch off one more excuse for not being able to vote. No longer can you say you didn't have time to go to the county clerk's office to pick up an absentee ballot before leaving town. The state this week announced the option of requesting a ballot online. You can even have the ballot emailed or faxed to you, if you like. Looks like the only excuse left is that you're too lazy to research the candidates and issues in time to submit an informed ballot.
Loser: Some criminals apparently haven't learned to think through situations and possibilities very well. How else to explain why a man who allegedly tried to rob a home in Holladay this week ended up trying to escape on a bicycle he found in the backyard? Reports say police Tasered him off the bike when he refused to stop. Oh, and did we mention he was wearing an ankle monitor at the time because he was on home detention for a previous conviction? The word "monitor" ought to have had some meaning to him. Police arrested 21-year-old Derrick Derbidge. Maybe now he will finally get rid of that ankle monitor, which isn't of much use inside a cell.
Loser: We wish Gov. Gary Herbert hadn't been so quick to sign HB187, which now is a law making it a crime to shoot video of animals on a private farm without the owner's permission. Utah isn't the only state to pass such a law, which is aimed at animal rights activists who try to document abuses against animals. But some constitutional law experts are claiming these laws are unconstitutional. Trespassing already is illegal. The irony with this law is that no one can point to any examples of such recordings taking place anywhere in the state, making this a solution for a problem that doesn't exist.