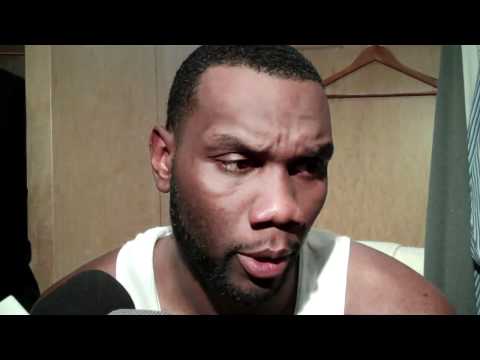 View 12 Items
Brandon Brown, Deseret News

These guys have worked hard all year and they're getting a better understanding of where we're trying to get to. Everybody's believing and trusting in each other; they trust in what we're trying to get done, and they're holding each other accountable. They're communicating … and that's what we're going to need. It's all positive stuff to make us better

—Jazz coach Tyrone Corbin
SALT LAKE CITY — These are mighty good times for the Utah Jazz.
Their defense has suddenly found a way to force opposing teams superstars - i.e., Kobe Bryant and Kevin Durant - into awful shooting nights.
Theyve won four straight games to move two games over .500 at 24-22 and climb right back into the thick of the NBA playoff race.
After a season-long struggle to finish strong in closely fought games, the Jazz win streak includes two overtime wins and two others against a couple of Western Conference heavyweights.
Theyre believing in each other and trusting each of their teammates to do their job.
And with all that going for them, its no wonder their confidence level is rising faster than fuel prices.
Any time you get a streak of games where youre winning, you build off that and you carry it over to the next game, said second-year swingman Gordon Hayward, who was instrumental in Utahs 97-90 victory over Oklahoma City on Tuesday night. We need to continue this; were almost there, were still not there yet in the playoffs so we need to keep this up.
As a team, weve done a much better job these last couple of games and played good defense thats something we do and need to do well so we have to rely on that.
Hayward had a big hand in helping the Jazz limit Thunder superstar Kevin Durant to 18 points on woeful 6-of-22 shooting from the field. Hayward, meanwhile, had 11 points he was one of six Utah players in double figures and a season-high eight rebounds in the win.
You try and make shots difficult, Hayward said of the terrific fourth-quarter defensive job he did on Durant.
Hes going to get shots off and hes going to get shots up; hes a very talented player. You just try and make sure every one is contested and challenged. You try not to send him to the line as well. When he goes to the line a lot, thats where he usually has big games.
Utah coach Tyrone Corbin agreed that these last two wins have worked wonders for his teams confidence and hes proud of the way theyve continued to work hard, and believe and trust in one another for the common good.
I think it helps our confidence tremendously, he said. A win on the road in L.A. against the Lakers and who they are, and then to come home and play one of the better teams in the league on our home floor and get a win here, I think were understanding what its going to take for us to compete with these kind of teams.
These guys have worked hard all year and theyre getting a better understanding of where were trying to get to. Everybodys believing and trusting in each other; they trust in what were trying to get done, and theyre holding each other accountable. Theyre communicating and thats what were going to need. Its all positive stuff to make us better.
Nobodys going at each other in a derogatory way. Its just constructive criticism to make us better.
I think these guys are doing a great job of understanding each other and supporting each other, Corbin said. Now these (young) guys have got some experience and they understand what its going to take for them to be successful in this league.
Corbin said his team wasnt trying to make a statement to the rest of the league with its recent surge. Instead, theyre trying to tell themselves that theyve got what it takes to compete and be successful.
Were making a statement to ourselves, he said. We cant worry about what anybody else thinks about us; weve got to make sure we understand what it takes for us to win, and were going to continue to fight, man, and thats all we want to do continue to fight and try and get better every time we step on the floor.
Backup point guard Jamaal Tinsley, whos often been buried on the bench this season, also played a pivotal role in Tuesdays win with 11 points including one highlight-reel play where he bounced the ball between a defenders legs, picked it up and buried a jumper with Earl Watson nursing an injured ankle.
It could change next game, he said of his role. Earl could be back and I could be back on the bench, doing what Ive been doing cheering and helping the team. Weve been getting wins when Im on the bench and weve been getting wins when Im playing, so Im just in a great situation and Im happy the Jazz gave me an opportunity by picking me up and signing me. So Im just excited."
Our confidence has been there all year. Its just a matter of believing and trusting in each other on the defensive end. Were going to score with the best of them, but if you dont get stops on the defensive end, you dont give yourselves a chance to win ballgames. Thats what were doing. Thats the key were just believing in each other.
And these days, it certainly shows.
email: rhollis@desnews.com