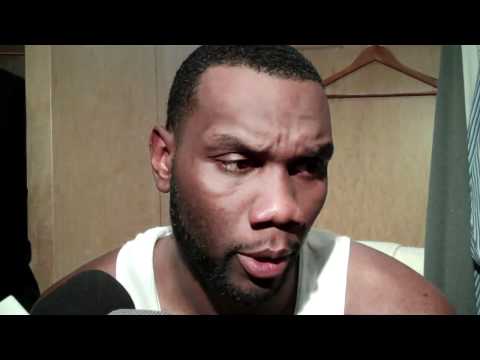 View 12 Items
Brandon Brown, Deseret News

That prove that when we get our head together and go out and play great defense, we can beat anybody, especially on our home floor.

—Jazz center Al Jefferson
SALT LAKE CITY — Big wins are starting to pile up for the Utah Jazz.
And, no, that wasn't a reference to that victory over the Golden State Warriors.
While that was a nice overtime outcome, the Jazz's big wins list in March is starting to resemble a who's who of the NBA.
Heat, Lakers and, yep, the Thunder.
LeBron James and Kobe Bryant, Kevin Durant can now feel your pain after his Oklahoma City squad was squarely beaten by the surging Jazz 97-90 at EnergySolutions Arena on Tuesday night.
"That prove," Jazz center Al Jefferson said, "that when we get our head together and go out and play great defense, we can beat anybody, especially on our home floor."
Two days after a masked man went 3-for-20 at Staples Center against the Jazz, C.J. Miles and Gordon Hayward teamed up for another defensive masterpiece against the explosive and versatile Durant.
The Thunder's MVP candidate was held 10 points below his scoring average with 18 points on 6-for-22 shooting. As a team, Oklahoma City only shot 42.3 percent and scored just 46 points in the second half.
Durant said several charges Jazz players took from him "messed with me," and he blamed himself and complimented Utah for his off night, which included a scoreless 0-for-7 fourth quarter.
"They played good defense," Durant said. "You have to give those guys credit."
The defensive performance by the Jazz wings was quite timely for the team that found out earlier in the day that it might be without starter Josh Howard for the rest of the season because of a surgery-requiring knee injury.
"(Hayward) and C.J. both, I thought they did a great job of coming off and DeMarre (Carroll) had some good minutes in there just making him work for everything," Jazz coach Tyrone Corbin said.
Even without Howard or starter Raja Bell (adductor) and key backup Earl Watson (ankle) the Jazz improved to 24-22 and moved within a half-game of Houston for the eighth spot in the Western Conference.
Power forward Paul Millsap led six Jazz scorers in double figures with 20 points, including a couple of big baskets in the final minutes. One was a dunk that was made possible by a terrific and tricky interior pass from Hayward; the other was a jumper.
Both of Millsap's late makes gave Utah a bit of space as OKC tried to steal this one away something a confident and cohesive Jazz team refused to allow them to do despite losing to the Thunder five straight times and by an average of 20 points in two blowouts this season.
"I don't know if it sends a message to anybody else but to us that we need to make sure we continue to understand the sense of where we are now," Corbin said. "Our goal is to get into the playoffs. It's always been that. We're in good shape now."
Utah has now won four straight games overall and six in a row at home. A team that looked to be on the brink of collapse a month ago when it lost 11 of 14 and fell three games below .500 is suddenly 24-22 and playing with confidence, unity, toughness and heart.
"That's major," Jazz guard Jamaal Tinsley said. "We went out there and beat the Lakers without Al Jefferson, Raja Bell and (Watson). To come back home and get a win like this is real big."
That also describes Tinsley's play of late. He scored 11 points filling in for Watson as starting point guard Devin Harris' backup.
Tinsley, the Brooklyn playground artist, had the highlight of the game when he split defenders and dribbled through OKC big Nazr Mohammed's legs and then finished with a floating hoop to electrify the crowd of 18,138.
"It's nice, but the win is even better," Tinsley said. "I hope we can keep it up. We've got a game on the road and we're just looking for that challenge."
Jefferson (16), Harris (15), Hayward (11 points, eight rebounds) and Miles (10) also scored in double digits.
Derrick Favors added nine rebounds off the bench, and Carroll even got into the act by finishing off a tough layup.
"We're going to need that every night," Favors said of the multiple contributions. "Sometimes Al and Paul, they're not going to be on every night, so we need everybody to come and step up."
Added Jefferson: "Everybody played well from Jamaal to Devin. Everybody just played well and played as a team."
9
comments on this story
The Jazz beat the Western Conference-leading Thunder (34-12) in almost every statistical category outrebounding them 43-41, outshooting them (47.5 percent to 42.3), outassisting them (19-15), forcing 20 turnovers (to Utahs 15) and even outblocking the tall Thunder (7-6, with three by Favors).
"Good things just continue to happen when you work hard. These guys have continued to work hard and stay together and depend on each other and support each other," Corbin said. "We've had a few great wins of late here. As long as we continue to play hard and then focus in on the things that we need to do on both ends, we're OK. I am just really proud of the effort we are going from both sides right now."
Email: jody@desnews.com
Twitter: DJJazzyJody
blog: Jazzland.blogs.deseretnews.com