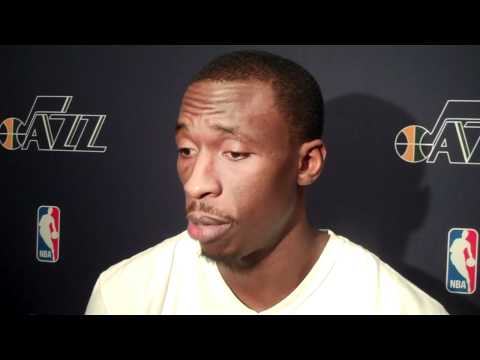 View 8 Items
Brandon Brown, Deseret News

If I have to go through with the surgery, it'll be a short recovery time and I'll be back to basketball before you know it.

—Jazz small forward Josh Howard
SALT LAKE CITY — Josh Howard almost couldn't believe what he was being told Tuesday afternoon when brought in to discuss his ailing knee.
Worst part, it was as unfortunate as it was unexpected.
Howard's knee had experienced some soreness and swelling for the past couple of weeks, and the team decided to have him undergo an MRI just to see what was going on inside of his joint. He expected it to be a routine check-up. No biggie.
Turns out, Howard has been playing with a loose chip in the lateral femoral cartilage in his left knee. Jazz team orthopedist Dr. Lyle Mason recommended surgery, which would prevent further damage but likely end Howard's season.
Howard's response?
"One word," he said. "Surprised."
However, the 31-year-old Howard maintains hope for a less-dire scenario. He will seek a second opinion today in New York City by Hospital for Special Surgeries specialist Dr. David Altcheck, who performed ACL surgery on him two years ago.
Howard considers his status "still up in the air," but he should know what course he'll take soon.
In his mind, the worst-case scenario could get him back in 4-6 weeks.
"If I have to go through with the surgery," Howard said, "it'll be a short recovery time and I'll be back to basketball before you know it."
Howard called the news "tough," but he's trying to remain optimistic. He's overcome bigger hurdles throughout his career, including that nasty knee injury two years ago (same knee but not related, Jazz general manager Kevin O'Connor insisted).
Howard's play was severely limited last season in Washington, but he'd finally turned the corner after working himself back into playing shape this season.
"I'm always going to be positive with that, especially if we make it to the playoffs," Howard said. "I want to be around and I if can get out there and contribute I will. If God sees it best for me not to (play that soon) then I won't, but I have to deal with that when it comes."
The Jazz, whose gamble to sign the free agent with a somewhat checkered past paid off handsomely, took the news hard.
Coach Tyrone Corbin called it "sad." O'Connor said it was "disturbing" for the organization and Howard.
"It's difficult," O'Connor said. "I thought he had done everything we've asked him and then some for this season, and then to have this happen now."
Corbin described Howard as a player who was an asset on offense, defense and off the court with his teammates.
"It's tough for us," Corbin said. "He's been such a pro for us and such a great part of what we're doing. He's a veteran leadership guy. He's been tremendous in the locker room all year long."
Corbin brought Gordon Hayward back into the starting lineup at the small forward spot, which was his position for the first 36 games this season. C.J. Miles filled in for injured Raja Bell as the starting shooting guard. But the Jazz coach isn't sure what he'll do with the first five for the remainder of the season — in part because he likes Hayward with the second unit.
Alec Burks and DeMarre Carroll, who saw action for only the second time Tuesday, both figure to see more playing time because of Howard's absence. Corbin isn't 100 percent sure whether Bell will return as a starter, either.
Whatever happens, Howard leaves a void.
"We're going to miss Josh," Corbin said, "but in his absence we still have to perform."
O'Connor said the Jazz will not look to add another wing player via free agency.
"That's why we signed DeMarre Carroll," the Jazz GM said. "Anytime you lose a starter, it's going to affect your team. Fortunately, we've got some depth and the young kids have gotten (46) games under their belt, so that's going to help a little bit, but we're going to miss him."
O'Connor hinted that the Jazz are hoping they haven't seen the last of Howard in a Utah uniform, even if he is out the rest of this season. The nine-year veteran will be an unrestricted free agent this offseason.
Comment on this story
"We have to look at it from a business point of view," O'Connor said, "but from a human point of view, you sit down and talk to him a little bit about it and say, 'Hey, we appreciate what you've done. We know how long it's been to get back on the court. Stay with us and we're going to stay with you.'"
Jazz forward Paul Millsap credited the athletic 6-foot-8 Howard for giving the Jazz offensive firepower and being a defensive presence.
"It's sad, but things happen," Millsap said. "He'll bounce back from it."
Sooner than some might expect, Howard hopes.
"It's tough, but if I can get through an ACL surgery and a meniscus tear, I can beat anything," he said. "It's a part of the game. It's just something I can deal with and I know I'll be back."
Email: jody@desnews.com
Twitter: DJJazzyJody