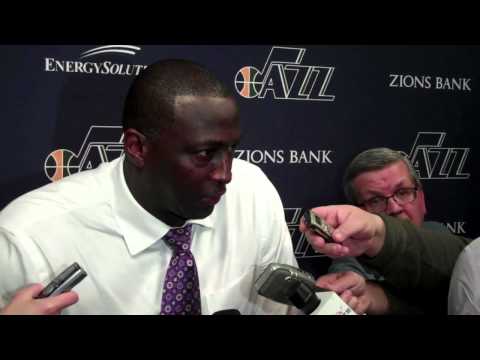 View 24 Items
Brandon Brown

SALT LAKE CITY — The Utah Jazz used their 10th starting lineup of the season Saturday night in their 99-92 overtime win over the Golden State Warriors.
The same first five — one that included Derrick Favors and C.J. Miles instead of Al Jefferson and Raja Bell — will begin tonight's game against the Los Angeles Lakers as well.
Might as well. They are now 1-0.
Jefferson will miss a second straight contest while spending time with his family in Mississippi after his grandmother's funeral. He'll be back in Utah on Monday in time for Tuesday's Oklahoma City game.
This was the ninth game this season Bell missed because of adductor issues. He played through it for a couple of games, but the groin muscle was tight and he felt like he was dragging on the court, so he sat out Saturday's contest.
"I know myself and when I watch myself on tape and I feel myself out there, I'm not able to do the things that help me help a team," Bell said. "At that point, it's probably better to let somebody else go out there and try to help, and get myself healthy."
Bell will stay in Utah instead of traveling to L.A., and he'll continue to receive treatment and work with weights to try to loosen up the muscle.
The Jazz could also be without Earl Watson for a third game in a row.
Watson hasn't been with the team since Wednesday when he sprained his left ankle against Phoenix, but he'll hook up with the Jazz today in L.A.
Watson received permission to travel to SoCal to be treated by Dr. Michael Scheps' exclusive laser therapy. The method helped him quickly recover from a similar sprain in early February when he only missed one game.
"Things are coming along," Corbin said. But the coach said Watson was limping "pretty good the other day." He's hopeful but uncertain about Watson's playing status today.
FOR STARTERS: Favors has replaced Jefferson in the previous games the usual starting center has missed, so that was no surprise to see the second-year big open the game. Jefferson made the most of his start with career-highs of 23 points and 17 rebounds, too.
However, some eyebrows might've been raised to see Miles inserted into the starting lineup instead of Gordon Hayward to replace Bell.
Corbin wanted to add some veteran experience and keep the second unit mostly intact, so he gave Miles his first start of the season. Miles missed Thursday's game because of allergies.
"I completely trust in C.J.," Corbin said.
Despite the start, though, Miles ended up only playing just 17 minutes and scoring four points. Corbin said he has not yet recovered from his sickness.
BRAGGING RIGHTS: Enes Kanter avoided shaking couches for loose change.
Comment on this story
According to Jamaal Tinsley, the Jazz rookie would have owed him 100 bucks, all in shiny quarters, had his alma mater, Iowa State, beaten Kanter's Wildcats in Saturday's NCAA Tournament game.
It's the second tourney game in a row Kanter has been able to boast about his old school beating a teammate's college. Before advancing to the Sweet 16, UK beat Jeremy Evans' Western Kentucky in the opening round.
Evans said Kanter teased him about eliminating the Hilltoppers, but the WKU product claimed the taunting ceased when he fired back a zinger about the rookie having not actually played for Kentucky.
Email: jody@desnews.com Twiter: DJJazzyJody Blog: Jazzland.blogs.deseretnews.com jazznotebook