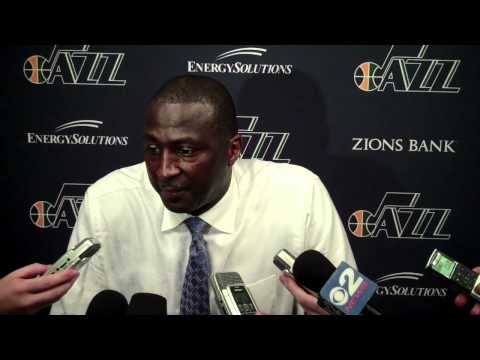 View 25 Items
Brandon Brown, Deseret News

I'm just coming out, being aggressive, trying to attack the basket a little more and make a play.

—Gordon Hayward
SALT LAKE CITY — Youth must be served.
It certainly was Thursday night for the Utah Jazz.
Utah's youthful bench trio of Gordon Hayward, Alec Burks and Derrick Favors — all of them age 21 or younger — played huge roles as the Jazz turned back the Minnesota Timberwolves, 111-105, in an overtime tussle at EnergySolutions Arena.
Hayward had a game- and season-high 26 points, including six in overtime to help Utah avoid another devastating defeat against the T-wolves, who rallied from 16 points down in the fourth quarter to slip past Utah in a 100-98 thriller on Feb. 22 at Minneapolis.
This time, Utah led by 12 points, 92-80, with less than four minutes left before the final regulation buzzer, only to see the Timberwolves stage a furious rally once again.
With 10.5 seconds remaining in regulation, Hayward made 1-of-2 free throws to give the Jazz a precarious two-point lead, 99-97, but that allowed Minnesota's Nikola Pekovic to tie the game with a putback basket with .7 seconds left. And when Paul Millsap's last-gasp lob/layup rimmed out, the two teams were headed for OT.
"Gordon did a great job," said Jazz coach Tyrone Corbin. "He didn't hang his head (over his missed free throw that would've given Utah a three-point lead). He continued to fight. … He didn't feel sorry for himself. He came back and made some big plays for us down the stretch."
Hayward — the old man in the group who'll turn 22 in a week — seems mighty comfortable in his new reserve role. And he was just glad the Jazz didn't come out on the short end of things again against the T-wolves this time around.
"I'm just coming out, being aggressive, trying to attack the basket a little more and make a play," said Hayward, who had been a starter for most of this season before being moved to the bench on Utah's recent five-game road trip. "I've got to be more consistent, for sure. … The biggest thing for me is just consistency, making sure I bring that every game because we need that if we're going to win games.
"I think I get a little more opportunity (with the second unit), a few more touches and chances to make plays, and I just try to take advantage of it.
"I'm just glad we were able to pull this one out," Hayward said. "There were too many games this year where we've had leads and not been able to pull it out. … There have been numerous games where we've been in control and let them come back and steal it from us."
Burks, a 20-year-old rookie guard, played a career-high 31 minutes and responded with a career-best 15 points.
"It's crazy, right?" Burks said. "I felt like he (Corbin) saw me out there get in a rhythm, making shots, and he let me ride. I thank him for that. I had a good game."
And Favors, the 20-year-old center/forward who's in his second NBA season, had a career-high 16 rebounds — including eight off the offensive glass — and blocked four Minnesota shots. He had 12 boards in the first half alone.
"I was just going after rebound because I couldn't hit a shot today," he said of his 2-of-9 shooting, "so I had to do something."
Comment on this story
Hayward commended his young teammate for doing just that — going after every rebound to help the Jazz own a 55-47 advantage on the glass.
"Derrick Favors was a beast on the rebounds," Hayward said. "Our whole team was."
Yes, they were — and ol' reliables Millsap (16 points, 11 rebounds and a career-high 8 steals) and Al Jefferson (12 points and 13 boards) certainly played their part, too.
But Utah's youth must be served.
And on this night, in a critical situation which the Jazz desperately needed to win, they certainly were — served well indeed.
email: rhollis@desnews.com