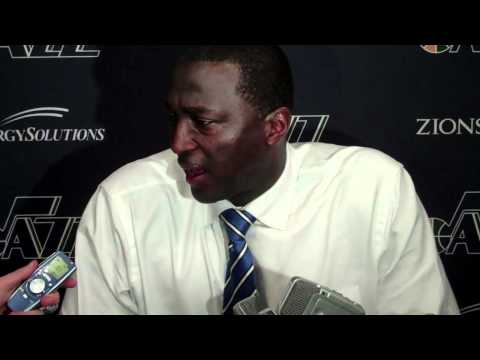 View 2 Items
Brandon Brown, Deseret News

PHOENIX — Being with his teammates and playing in Monday night's special game has helped Al Jefferson cope with one of the most difficult things he's had to deal with in his 27 years.
That Jazz support will continue today in Phoenix and Thursday in Utah as Big Al remains with his NBA family for games against the Suns and Timberwolves.
But Jefferson will then join his other family in Mississippi over the weekend to celebrate the life and mourn the loss of his dear grandmother who passed away Sunday night.
Jefferson has the Jazz's blessing to take time off, and he plans on rejoining the team Monday after missing Saturday's home game against Golden State and Sunday's game at the Los Angeles Lakers.
Corbin allowed Jefferson to skip Monday's shootaround session to rest after a rough night, and the coach respected how the center showed up and played against the Pistons. That Jefferson scored 33 points and hit his first-ever NBA 3-pointer in the 105-90 victory made it all the sweeter.
"Coach said that he didn't expect me to play. He wanted me to relax," Jefferson said. "I told him, 'There isn't nothing I can do but just feel sorry for myself. So I just really go out and play and do my job. It was good just being around my teammates and play basketball, win or lose."
Corbin admitted "it will be tough" to play without Jefferson. Not surprisingly, though, this family-friendly organization is all for allowing him to pay final respects to a woman that helped raise him.
"We'll support him," Corbin said, "and we'll be praying for him. We wish him well."
Jefferson still feels bad about not being with his family for services after his other grandmother passed away a few years ago. He'd spent time with her before she passed away, so, he thought that was "good enough for me." Plus, he didn't want to see her in a coffin.
"I didn't go to the funeral. I stayed with my team," said Jefferson, then with Minnesota. "I've regretted that situation. Even to this day, I wish I would've went."
Jefferson will travel to his hometown of Prentiss, Miss., immediately following the Jazz's home game Thursday night.
"This time, now that my other grandmother passed, I'm not going to make that same mistake twice," Jefferson said. "The team is very supportive. They told me to take as much time as I need. I hate to miss work, but sometimes there's other things more important."
Grandma Gladys definitely falls into that more-important category.
Before Tuesday's practice, Jefferson went from laughing about his first 3-pointer in eight years — he even teasingly asked Coach Tyrone Corbin if he could start shooting from deep now — to smiling while sharing stories about the strong woman who passed away at age 82.
"I'm just going to enjoy them (memories). Nobody can ever take that away from me," Jefferson said. "I know she'll always be in my heart and be with me."
Even some painful memories — like when she punished him as a child for misbehaving — now warm his soul. He knows she disciplined him out of love. She wanted him to be a better person, and he is because of her.
Jefferson's relationship with his grandmother was more of a mother-son mold. His mom, he said, was "like a big sister to me." His grandmother was the disciplinarian, which brought back a memory.
When he received a DUI three years ago in Minnesota, Jefferson told reporters he didn't care what the NBA did to him or how big of a fine he received from the league.
"The only thing I'm afraid of is my grandmother, because she didn't even know I was drinking," the 6-foot-10, 289-pound Jefferson said. "I didn't really care about nothing else. The only thing I was afraid of when I went to jail was my grandmother finding out."
Jefferson chuckled recalling how nobody in his family wanted to tell her about his unfortunate mistake, so mum was the word.
His grandmother didn't find out until she tuned into the Timberwolves' next game against Dallas.
Jefferson wasn't in the lineup because of an NBA suspsension.
And, yes, Grandmother noticed.
"Even after the season, I didn't go home because I was afraid," he admitted. "I called her and she told me I could come on home. ... She forgave me for that and told me just don't ever do it again."
That respectful fear has kept Jefferson on a narrower and straighter path.
Another memory Jefferson is more thankful for now is this past Thanksgiving. It was the first one he was able to spend in Mississippi with his family since 2003.
"Thank God for the lockout. ... I had a chance to be with her," he said, smiling. "She cooked for the first time in four years because she knew I was going to be there. We just laughed and talked and had a wonderful time. It was a good experience. I'm glad I had a chance to do that one last time with her."
Jazz at Suns
Today, 8:30 p.m.
TV: ROOT
Email: jody@desnews.com
Twitter: DJJazzyJody