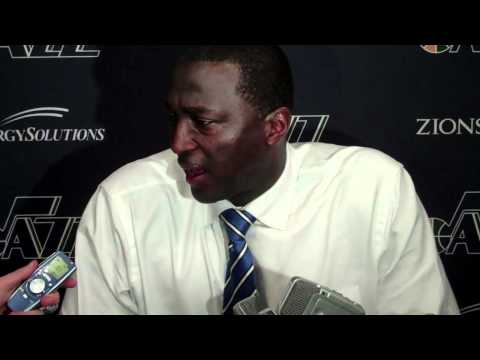 View 17 Items
Brandon Brown, Deseret News

Obviously we know that a lot is weighing on his heart with the things he has going on at home. But he gave us a good effort and came out and played like Al Jefferson

—Devin Harris
SALT LAKE CITY — Big Al's grandma is smiling down on the Utah Jazz star today, mighty proud of the big man's latest gritty, great performance.
And Al Jefferson's coaches, teammates, fans and all of Jazz nation couldn't help but feel the same way.
A day after the death of Jefferson's grandmother, who played a key role in helping raise the 6-foot-10 center, he came up with a huge effort that was worthy of a Hollywood movie, complete with a touching, almost unbelievable storybook finish.
Big Al, who pointed skyward several times during Monday night's game against the Detroit Pistons, overcame his heavy heart to pour in 33 points, collect a dozen rebounds and block a couple of shots as Utah pulled away for a 105-90 victory at EnergySolutions Arena.
And, perhaps fittingly, he finished off his fantastic night with a 3-pointer — the first one of his NBA career.
"I'm just extremely proud of him," Jazz coach Tyrone Corbin said. "You know how tough it is to come out, you know his emotions had to be pretty high.
"For him to come out and perform, I mean, he was 14-of-18 from the field. He did a great job on the defensive end, too; he was aggressive, he got his rebounds in.
"And then the 3 at the end just capped it off," Corbin said of Jefferson's seldom-seen feat with four seconds remaining. "I am just so happy he was able to get away for a little while and do what he do and come out and play the game. We will just continue to support him in whatever way he needs us."
With Utah trailing 77-75 entering the fourth quarter, C.J. Miles kept the Jazz afloat with a couple of 3-pointers and a pair of free throws. That helped give Utah an 85-82 lead until Jefferson, who sat out the first 41/2 minutes of the final period, returned to the game with 71/2 minutes left.
He immediately went to work, single-handedly carrying the scoring load with 10 straight Utah points as the Jazz moved out to a six-point advantage.
Then Miles splashed in another 3-pointer as Utah (20-21) outscored Detroit 12-1 over the final two minutes to pull away for the double-digit win.
His grandmother wasn't the only one helping Jefferson ease his burden by enjoying the sweet taste of victory on this difficult night. Point guard Devin Harris had 19 points and eight assists, Paul Millsap contributed a double-double with 12 points and 10 rebounds, and Miles, fueled by his three 3-pointers in the fourth period, finished with 15 points off the bench.
Rodney Stuckey scored 29 points and handed out seven assists for the Pistons (15-27), who saw their three-game winning streak snapped. Greg Monroe added 14 points and Ben Gordon had a dozen more for Detroit.
But this night belonged to Jefferson, and the big man tried to keep his emotions in check as he was surrounded by reporters and TV cameras in the postgame locker room.
"It's emotional, of course, but I'll get through it," he said. "We needed this win more than anything and it was just good to go out there and get it.
"I know that she didn't want me to not play, and I know she wanted me to go out and play and do my job, and that's what I did. … My grandmother is with me all of the time, she made me the man I am today. She was with me when I made mistakes and with me when I did great. I know she's resting.
It's tough to go through, but it's a part of life and you must go on."
On the strength of Jefferson's late 3-point dagger, Corbin was asked if Big Al would now have the green light from outside the arc.
The Jazz coach quickly responded "No" with a smile, and Jefferson doesn't plan on making 3-pointers a part of his repertoire in the future, either.
"That was a lucky shot," he admitted. "I'm not going to shoot no more and mess up my percentage. I'm 1-for-24 for my career, and I'm going to keep it at that.
"Honestly, when I hit that shot, I just thought it was one of those nights for me."
It certainly was, and his superb, emotion-charged performance certainly impressed his teammates, too.
"He was huge," Harris said. "Obviously we know that a lot is weighing on his heart with the things he has going on at home. But he gave us a good effort and came out and played like Al Jefferson."
He sure did, and somewhere up in heaven, his grandma is certainly smiling with great pride today.
email:
rhollis@desnews.com