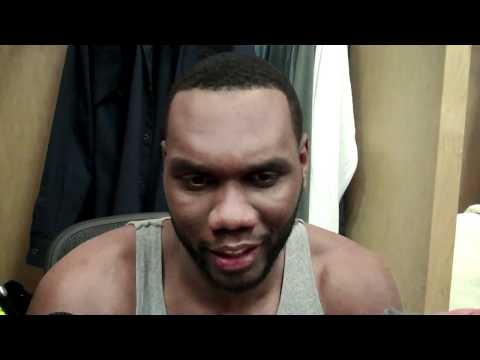 View 30 Items
Brandon Brown, Deseret News

We've got to take this and carry it over to the road. Obviously our road record isn't great, but if we play like this I think we'll be OK.

—Devin Harris
SALT LAKE CITY — If bonding time is what the Utah Jazz need to keep things going in a positive direction, they're about to get plenty of it.
The next eight days will be guys week out for the Jazz.
"I think we need the road trip," Jazz swingman Gordon Hayward said. "It'll just be us against the world out there. Sometimes that's a good thing, so it should be fun."
Fun is one word.
Exhausting and daunting might be others that could be used to describe the next eight days.
Utah has five away games between Saturday night's outing in Dallas and next Saturday night in Chicago. Stops in Cleveland, Charlotte and Philadelphia are in between those bookend contests.
At least the Jazz are hitting the road with two big home wins under their belts after beating Houston and Miami.
"We've got to take this and carry it over to the road," Jazz guard Devin Harris said following Utah's exciting 99-98 win over the Heat. "Obviously our road record isn't great, but if we play like this I think we'll be OK."
OK might be understating it a bit, but they'll need all they can get to reverse their road woes. Counting Friday's matchup with Miami, they're in a lockout-caused six-games-in-nine-days stretch.
Nobody on the Jazz is complaining about it, though.
"We've got a tough schedule ahead of us, so we've just got to stay focused," Jazz center Al Jefferson said. "Ain't any use in complaining about it. That's the schedule and you've just got to be ready to play focused."
Veteran Earl Watson believes it could help Utah get back into the thick of things in the Western Conference.
"I think it's a good opportunity. It's a good chance for our team to bond," Watson said. "It's a good chance for us to do something special. We talk about when we're going to get back into this race. The opportunity is now."
The Jazz couldn't do much worse than they have so far this season away from the comfy confines of EnergySolutions Arena. They are just 3-12 on the road.
"It's a big trip for us. We haven't had success winning games on the road," Jazz coach Tyrone Corbin said. "We've played well enough to win some games, we just haven't finished them. This is a huge five-game stretch."
Keeping up the momentum gained with the blowout win over the Rockets and the last-second victory against Miami will be key.
Corbin called beating the Heat "a huge boost" for the Jazz.
"We need some good things to happen. We've been playing well. We've been playing hard," he said. "But just to get the win after a team makes a run to come back and be able to finish a game off like this is a great morale boost for us."
NEVER SURRENDER: The Jazz hit rock bottom during the month of February, losing 11 of 14 games and four straight around the All-Star break.
But Corbin maintained a positive outlook.
The Jazz coach believes his team can still make a strong push toward the playoffs.
"It's going to be a dogfight the rest of the way, and we want to be in the fight," Corbin said. "This group of guys, there's no quite in 'em. They're staying together. They're working hard to get better every night.
"When we do make mistakes we realize it," he added. "We take it upon ourselves to make sure we understand what's going on. It's a standup bunch of guys."
A 'BIG' GAME: Jefferson complimented Enes Kanter, whom he fondly calls "Big Turkey" after the rookie center scored 11 points, grabbed six rebounds and played tough defense in the win over Miami.
"That's probably up there with the best (he's played)," Jefferson said. "I think it's confidence."
Jefferson was proud that Kanter didn't bring the ball down, something he's tried to emphasize to the big 19-year-old.
"I remember one play, he caught it and he kept it up and he shot and made it," Jefferson said. "The thing is all about confidence with him."
Email: jody@desnews.com
twitter: DJJazzyJody