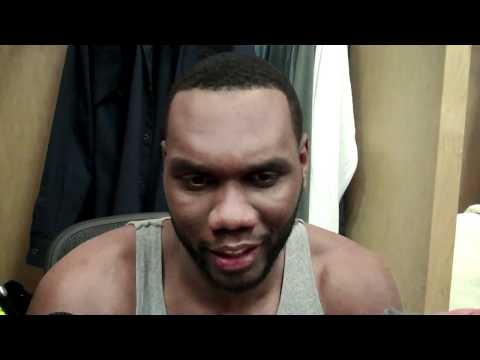 View 30 Items
Brandon Brown, Deseret News

SALT LAKE CITY — The New York Yankees were in town on Friday. Not the actual Yankees, but the NBA equivalent: the Miami Heat, the team millions love to hate.
They are disliked for their talent, fame and money. But mostly they're loathed for existing beyond the ordinary masses, or even ordinary teams. It's a delicate balance. Americans admire superhuman ability; they just don't like superhumans being cocky about it. They love to watch LeBron James shaking the earth with his dunks. But heaven help him if he dares take a job in a more visible media market.
The Jazz hosted the Heat on Friday and pulled off an unexpected 99-98 win. Utah's Devin Harris made a 3-point play with 4.5 seconds remaining and James passed to Udonis Haslem, rather than taking the game's final shot — despite a 35-point night.
The win left Jazz fans giddy over the fact the Jazz beat the most polarizing team in the NBA. Truth is, the Heat aren't worse people than anyone else. They were polite and accommodating in post-game interviews. James quietly handled questions, including those about his penchant for passing up big shots in the late game.
"No, I don't come out of timeouts thinking I'm making a pass to U.D. (Haslem)," James evenly noted. "I'm just looking at making plays, one way or the other. … It always comes to light when a teammate doesn't make the shot. If they make the shot, it doesn't matter much, coming from a media perspective."
Truth is, it's easy to choose sides on super teams. Some fans give over to the glamour and glare, or maybe just the talent. So it was on Friday. A few thousand black-clad Miami fans were in attendance at EnergySolutions Arena, and they had no problem making their presence heard.
Everyone else booed their guts out.
When James was introduced, it sounded like almost a 50-50 split on the response.
That's life on Planet Superior. Beneath it all is the same resentment that spawns other protests these days: the feeling that the rich are getting richer on the backs of the masses. Hence, high-fashion Miami swooped in and signed James as a free agent in 2010, tearing him away from working class Cleveland. The Hate LeBron campaign began in earnest when James aired his decision in front of 10 million ESPN viewers.
After Miami lost in the Finals to Dallas last spring. James made a heat-of-the-moment observation by saying that "All the people that were rooting on me to fail, at the end of the day they have to wake up tomorrow and have the same life that they had before they woke up today. They have the same personal problems they had today."
Most people took that to mean: "I'm LeBron James and you're not."
Yet to demonize James, Wade or anyone else is to oversimplify.
"They're decent guys," laughed Heat forward Shane Battier. He compared the polarizing effect Miami has on the public with playing at Duke.
"It's very similar to Duke and Coach K," he said. "When people don't care about you, it's apathy, and that's when you've got to worry. Mixed jeers and cheers means you're doing something."
Before the game, James met with a handful of Salt Lake area at-risk youth, signing autographs and posing for pictures — something he does at other venues, too. Yet his most galvanizing moment arrived at the end of the first half. With the Heat trailing by 15, he brought the ball down court, paused while dribbling to wipe the soles of his shoes, then bulled in for a monster dunk.
Playing what coach Erik Spoelstra termed a "brilliant" second half, James led the Heat from an 18-point deficit to lead with just seconds remaining. But this time the Jazz didn't fold during crunch time.
When the game was finished and the Heat filed out, taunts rained down. James and Co. took it all in stride. Nobody threw a tantrum. Spoelstra made a point to credit the Jazz with a nice plan. It was a big game for the Jazz, not so much for the most notorious team in basketball.
"It's never boring," Battier said.
Another game, another place where the cheers and jeers mingle in the night.
email: rock@desnews.com
Twitter: therockmonster
Facebook: rockmonsterunplugged