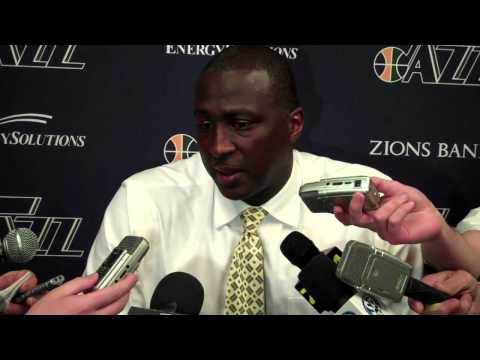 View 28 Items
Brandon Brown, Deseret News

I was just trying to be aggressive was my biggest thing, just keep playing. I've got to put in a lot of work, just stay ready so when I get those minutes.

—C.J. Miles
SALT LAKE CITY — A somewhat unexpected thing happened to the Utah Jazz on the way to what would've been their fifth straight setback.
Surprise! They found a way to win instead.
Thanks to a superb performance off the bench by swingman C.J. Miles and a gritty effort by point guard Devin Harris, the Jazz snapped out of their midseason slump with an impressive 104-83 victory on Wednesday night over the Houston Rockets — the same team that started Utah's tailspin with a 101-85 decision on Feb. 19.
Ten days (and three more disappointing losses) later, though, Miles and Co. shook off their doldrums with a much-needed win that pulls the Jazz (16-18) back within a couple of games of .500 and, more importantly, helps restore the confidence level that had slowly but steadily been slipping with their recent slump.
Miles scored a season-high 27 points on some slick 10-of-16 shooting from the floor, including three 3-pointers, and he provided the spark Utah needed after falling behind 26-18 at the end of the first quarter.
"I was just trying to be aggressive was my biggest thing, just keep playing," said Miles, who came into the game averaging 9.2 points per game — and scored three times that many in Wednesday's win. "I've got to put in a lot of work, just stay ready so when I get those minutes.
"We've had a couple of injuries (Paul Millsap and Raja Bell), so I was able to stay on the floor a little longer. The biggest thing is to keep playing in the flow of the game and it's going to come.
"I've got in the habit lately of, when I'm open, rushing as fast as I can 'cause I'm open and shooting shots clear off the back of the rim or whatever it may be," Miles said. "I told myself 'just relax' and, over the (All-Star) break, I had a chance to be in the gym and remind myself the reason why you're here and what you can do and the reason they put you in the position you're in. And I came out of the break like, that's too much pressure I put on myself to not be able to play the game the way I've been playing."
Jazz coach Tyrone Corbin was certainly pleased with Miles' performance.
"C.J. was huge for us," he said. "Any time we can get him or the perimeter guys to make shots from the perimeter or put the ball on the floor and attack the basket, it makes our offense flow a lot better.
"I thought he did great job of coming out and focusing on getting us going — he got himself going and made shots, he attacked the basket, and we did a good job of executing our offense as a result."
Harris left the game with just less than four minutes left in the third quarter, but not before scoring 19 points. He was suffering from nausea and, chances are, he was making the Rockets mighty sick, too, with the solid way he was directing Utah's offense. Harris was 6-of-11 from the field and 6-of-6 from the foul line.
5
comments on this story
With Josh Howard, Al Jefferson and Gordon Hayward also scoring in double figures, and Jefferson, Howard, Derrick Favors, newly minted slam-dunk champion Jeremy Evans and backup point guard Earl Watson leading a decisive 50-34 rebounding advantage, the Jazz felt a sense of relief with this slump-snapping victory.
"It's a great confidence-builder," Miles said of the win. "This was as important as it can be. We needed to get that winning feeling back, that confidence, that feeling that knowing that you did things right and knowing that the things we do do work when we do it the right way.
"It's definitely a weight lifted off your shoulders, but you can't get too high on it because one win is one win, and we still have 30 games left. …
It's a step in the right direction, but we want to make a leap."
email: rhollis@desnews.com