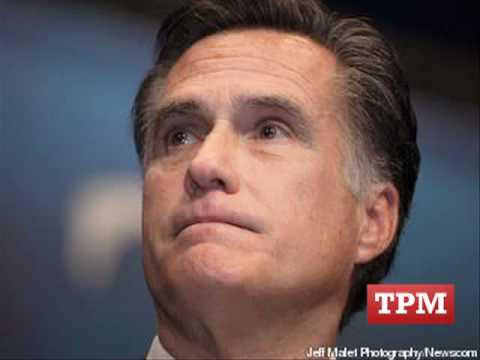 View 2 Items
Youtube

According to a new Gallup poll, Republican presidential candidate Mitt Romney has reclaimed his national lead over Rick Santorum with a 32 percent to 28 percent advantage over the former Senator.
As of a week ago, Santorum held a 10-percentage-point advantage, but Romney's support increased among nearly all subgroups of Republicans, Gallup reports. His gains have come partially at the expense of Santorum's decline among self-identified conservative Republicans.
Comparatively, a new USA Today/Gallup poll shows President Barack Obama lagging behind both Santorum and Romney in 12 swing states. Santorum leads Obama 50 percent to 45 percent in the swing states, while Romney holds a 48 percent to 46 percent lead.
The states surveyed in the poll include Michigan, Ohio, Virginia, Colorado, Iowa, Florida, Nevada, New Hampshire, New Mexico, North Carolina, Pennsylvania and Wisconsin.
With Michigan — the state where Romney was born — due to open primary voting in less than 24 hours, both Romney and Santorum have been making last-minute pitches across the state as they seek to attract voters. Recent polls suggest the race may be a nail-biter.
The latest Public Policy Polling survey shows Romney at 39 percent in Michigan, compared to Santorum's 37 percent, Ron Paul's 13 percent and Newt Gingrich's 9 percent. PPP also reports that of the 16 percent of Michigan voters who have already cast their ballots, Romney holds a 62-39 advantage, meaning Santorum will need to overcome that gap at the polls.
A Sunday Rasmussen Reports survey shows Romney with 38 percent support to Santorum's 36 percent in Michigan. However, a Mitchell Research/Rosetta Stone poll shows Santorum in a statistical dead heat with Romney, edging Romney 37 percent to 35 percent with a margin of error of 3 percentage points.
"The volatility we thought had changed has not," said Steve Mitchell of Mitchell Research & Communications. "The race remains very fluid."
In a CBS election analysis, reporter Brian Montopoli looks at two scenarios for Romney — one where he wins Michigan, and one where he loses Michigan.
If Romney wins, Montopoli writes, the Santorum bubble will pop, perhaps opening the door for Gingrich to reemerge as a challenger. If Romney loses, he posits, the Romney campaign will go into full panic mode, and he'll have to focus on Ohio to keep from losing his chance to win the nomination.
No matter what happens in Tuesday's vote, however, Santorum adviser John Brabender insists that the Santorum campaign has already won.
"No matter what the results are, we've won. This is Romney's home state," Brabender said on CNN. "The Romney campaign is spending a fortune they never expected to spend in Michigan, and every dollar they spend in Michigan is a dollar they don't have on Super Tuesday."
CNN reports that Michigan Democratic strategist Joe DiSano has been asking Democrats in Michigan to vote for Santorum Tuesday in an effort to hurt Romney.
"Democrats can get in there and cause havoc for Romney all the way to the Republican convention," DiSano said. "If we can help set that fire in Michigan, we have a responsibility to do so."
Santorum's campaign has also deployed robo calls to Michigan Democrats, urging them to vote for Santorum as well. The call focuses on Romney's opposition to the auto bailouts.
"Romney supported the bailouts for his Wall Street billionaire buddies, but opposed the auto bailouts, " the call says. "That was a slap in the face to every Michigan worker, and we're not going to let Romney get away with it."
"This is a dirty trick," Michigan politico Bill Ballenger told Talking Points Memo Monday. "I mean, first of all you know how these robo calls are. You get one, generally speaking, you kind of after the first couple of sentences you know what they're after. If you don't hang up right away you get the message, right? Well, most people don't listen all the way through [and] you have to listen to the bitter end of this one to get the clincher. Otherwise, you'd hang up and you'd be convinced this came out of the [United Auto Workers] Solidarity House or the Obama reelection campaign."
In Arizona, which also votes Tuesday, Romney has a comfortable lead, with PPP showing him at 43 percent compared to 26 percent for Santorum, 18 percent for Gingrich and 11 percent for Paul.
"We had been planning to do a 2 night Arizona tracking poll but with numbers this lopsided we're not going to bother, so this will be our final word on the race there," the PPP website states.