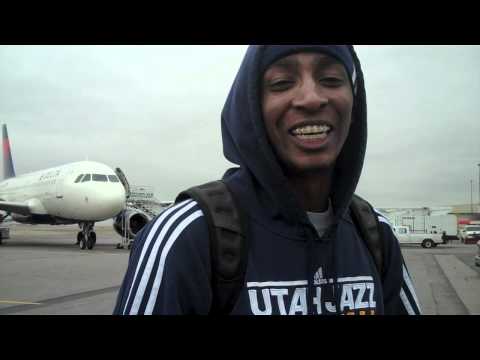 View 2 Items
Utah Jazz

MINNEAPOLIS — It looks like all those efforts to get Utah Jazz forward Jeremy Evans into the slum dunk contest during the NBA's All-Star weekend weren't a waste of time after all.
On Wednesday morning, it was announced that Evans had been added to the 2012 Sprite Slam Dunk competition that will be held Saturday at Amway Center in Orlando (TNT, 6 p.m. MT). Evans joins a group of three other players in this year's event that features a series of firsts, including four first-time participants, a new single-round format in which the winner will be chosen solely by fan vote, and the introduction of fan voting via Twitter.
"I think it's just good as far as getting my name out there and letting 'em know who I am and this is what I do," Evans said following Wednesday morning's shootaround in preparation for tonight's game against the Minnesota Timberwolves. "That's what I do best. It's awesome."
A campaign headed up by Jazz TV analyst Matt Harpring and Jazz fans was instrumental in eventually getting Evans' name added to the list of dunkers, which also includes Houston's Chase Budinger, Indiana's Paul George and Minnesota's Derrick Williams.
"I believe that's the biggest part. They did it," Evans said. "Without them, I don't think I had a chance to get in. With them pushing for it and campaigning, I think that's the reason I'm in it."
Evans becomes the sixth player in Jazz history selected to participate in the event, joining Darrell Griffith (1984 and '85), Blue Edwards (1990 and '91), David Benoit (1993), Jamie Watson (1995) and DeShawn Stevenson (2001).
Evans, a lean 6-foot-9, 194-pound forward, was a 2010 second-round draft pick (55th overall) out of Western Kentucky. Over the first two years of his NBA career, 61 of Evans' 88 baskets have been dunks — 30 of those on alley-oops off passes from point guard Earl Watson.
Evans' dunk percentage of 69.3 percent is the highest in the NBA over the last two seasons. His career averages are 3.2 points and 1.7 rebounds per game.
A new format will be implemented for the 2012 competition. The contest will consist of only one round and each competitor will execute three dunks. Fan voting will open after all four players have completed their first dunk.
Previously, the Sprite Slam Dunk contest consisted of two rounds, with the first round scored by a panel of judges that determined two finalists.
Beginning this year, only fan voting will be utilized in determining the winner and voting also will expand to social media. Fans will be able to cast votes on Twitter by posting a corresponding letter assigned to each dunker along with the hashtag #SpriteSlam. Since 2008, fans have determined the winner of the Sprite Slam Dunk through SMS TXT and voting on NBA.com as part of the "They Dunk. You Decide" campaign.
email: rhollis@desnews.com