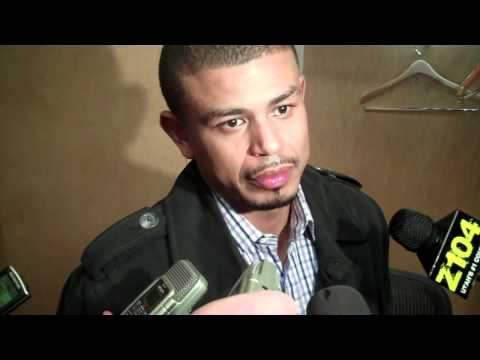 View 50 Items
Youtube

SALT LAKE CITY — Karl Malone and Greg Miller were both in EnergySolutions Arena at the same time Monday.
While that served as an intriguing subplot considering their recent war of words, they were not officially the main event nor the most exciting part of this night.
The San Antonio Spurs and Utah Jazz put on quite the show of their own — on the court, mind you, not on a radio talk show or on a blog.
Unfortunately for Jazz fans, however, the wrong Jefferson made the clutch shot down the stretch.
Utah's defense, concentrating on Tony Parker, Tim Duncan and, yes, Matt Bonner, couldn't rotate quick enough to catch up to a wide-open Richard Jefferson, whose 3-pointer with 6.5 seconds remaining was the biggest shot of the 106-102 San Antonio win.
That winning trey — taken with Jazz bench players closer to the Spurs' shooter than any Utah guys on the court — came moments after Jazz center Al Jefferson missed a game-tying, 18-foot jumper on the other end.
"We did a good job and they just made a spectacular pass," Jazz coach Tyrone Corbin said. "We were rotating, the guys were fighting hard, man. We didn't want to leave Bonner, so there was one man out of the rotation because we stayed home on him. They made the extra pass, and Jefferson made the tough shot."
The 3-pointer was a punch in the gut to a stumbling Jazz team that desperately needed a win and played well enough to get win for much of this exciting showdown.
Despite holding a lead as big as 11 points, Utah was defeated for the second outing in two days and the ninth time in 12 contests. It dropped the Jazz's record to 15-16, marking their first wandering into sub-.500 land since they were 2-3 on Jan. 2.
"It's a disappointing loss. I thought the guys really competed hard," Corbin said. "We gave ourselves a chance to win the game down at the end. We just have to keep fighting."
The Jazz have one last chance to even their record before the All-Star break — which would be a better spot that most predicted they'd be in before the season — when they visit Minnesota on Wednesday.
Utah is in last place in the Northwest Division and trails the Timberwolves (16-17) by one one-thousandth of a percentage point (.484 to .485).
"We've still got a lot to work on," Jazz power forward Paul Millsap said. "We've got to work on closing our games. We're standing in there in the fourth quarter, but just not coming out with the win at the end."
Three Spurs scored 20 or more points as they won their 11th straight game and the seventh in a row on a nine-game road trip.
Tony Parker led Southwest Division-leading San Antonio (23-9) with 23 points and 11 assists, while Tim Duncan and Matt Bonner each contributed 20 points.
Bonner did his best Kyle Lowry imitation from outside, nailing five 3-pointers a night after the quick Houston guard dropped seven treys during the Rockets' 101-85 win over Utah in Houston.
Parker did his, well, usual best Tony Parker imitation, making life miserable on the Jazz defense with his skilled execution and speed.
"Tony's an All-Star. He did what he's been doing for us all year," Spurs coach Gregg Popovich said. "He had another magnificent game — scoring, finding people, playing tough (defense), being a leader."
The Jazz don't have a current All-Star, but they had some strong showings.
As usual, Jefferson topped Utah with 20 points and 11 rebounds.
Millsap, playing a rare game in front of his favorite former Louisiana Tech player, struggled at times against the Spurs' bigs, but he still managed to score 16 points (on 6-for-17 shooting) and pull down 11 rebounds.
Devin Harris added 15 points and four assists, C.J. Miles contributed 13 points off the bench in his best performance in some time, and Josh Howard scored a dozen points with seven boards in a starting role.
Though they played one of their stronger games in quite a while against a top-notch opponent, the Jazz just couldn't quite catch up with the Spurs in the closing moments after San Antonio turned a three-point deficit early in the fourth into a five-point edge.
Jefferson's jumper bounced off the rim and into Parker's hands with 29.9 remaining, and the Jazz chose to play defense for the 24-second shot clock rather than foul the Spurs.
Their defensive effort seemed to be going very well until the Spurs swung the ball around the court to an open Jefferson, who lifted San Antonio to its fifth straight win over Utah.
9
comments on this story
"We just have to keep fighting," Corbin said. "We just didn't get the calls or get the plays right at the end of the game, and it's tough for us. It's a tough one to take, but you've got to move forward.
GAME NOTES: The Jazz were down a man as starting shooting guard Raja Bell was unable to go due to a strained left adductor (groin) incurred in Sunday's loss. … Bell's absence allowed small forward DeMarre Carroll to dress in a Jazz uniform and sit on the bench for the first time since he was picked up by Utah off the waiver wire on Feb. 8. Carroll didn't play. … San Antonio was without Manu Ginobili (oblique), Tiago Splitter (calf) and T.J. Ford (hamstring).
Email: jody@desnews.com
Twitter: DJJazzyJody