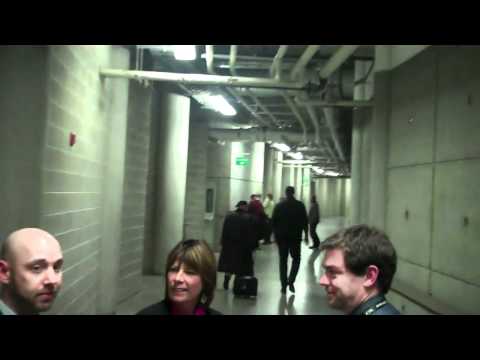 View 4 Items
Brandon Brown, Deseret News

Rockmonster unplugged: Mailman and Miller: End the drama
Jazzland: Karl Malone and Greg Miller finally meet
SALT LAKE CITY — The Mailman made a somewhat surprising delivery to his old "P.O. Box" Monday night.
A couple of weeks after a much-publicized blowup with team CEO Greg Miller, legendary Utah Jazz power forward Karl Malone was in the house for Monday's game against San Antonio. Malone and his son, Karl Jr., were sitting in courtside seats under the basket with longtime season-ticket holder Dr. Richard Anderson at EnergySolutions Arena on Monday, which also marked the third anniversary of former team owner Larry Miller's death.
Unfortunately, Malone wasn't granting any media interviews this time around. So it wasn't possible to get his latest take on his recent feud with Greg Miller, whose dad, Larry, was the popular "You Know This Guy" auto dealer and business magnate who certainly went the rounds with The Mailman a few times over the years himself, although they had a very close and loving father-son type of relationship.
Malone, the franchise's all-time leading scorer and rebounder, took the Jazz organization to task a few weeks ago regarding Jerry Sloan's sudden exit as head coach, and Malone also claimed he had to buy a ticket from a scalper to attend the next game following Sloan's abrupt resignation last season.
Greg Miller fired right back at Malone via Twitter and his blog, accusing Malone of lying about the ticket situation and saying The Mailman hadn't been hired for a coaching job or any other position by the franchise because he was deemed "unreliable," among other uncomplimentary things.
After Malone left his courtside seat at halftime of Monday's game and entered the arena's lower concourse, he shook hands and hugged several members of the Jazz coaching staff as they returned to the court for the second half of the Spurs' game.
Numerous admirers then approached The Mailman, and he graciously gave away handshakes, hugs and autographs and had his photograph taken with many adoring Jazz fans and friends.
But, as Malone conversed with a couple of fans just outside the entrance to the Jazz locker room, Greg Miller walked by — close enough to exchange a high-five with The Mailman — and didn't even acknowledge the franchise's greatest player.
21
comments on this story
Instead, Miller glanced briefly at Malone, looked down as he walked by, and then headed toward his own courtside seat located adjacent to the Jazz bench to watch the second half of Monday night's 106-102 loss to the Spurs.
After the game, however, Malone and Miller met briefly courtside and went into the Jazz coaches' office together. Behind closed doors, they talked for almost an hour before Malone exited first.
"We talked," The Mailman said. "It's between me and Greg."
Miller emerged 5-10 minutes later and had no comment for the assembled media. So it still wasn't clear whether their fractured relationship had been repaired or not.
email: rhollis@desnews.com