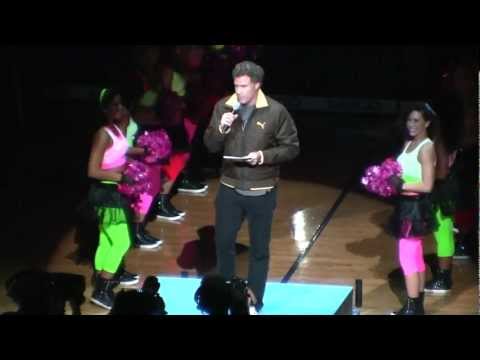 View 2 Items
YouTube

LIFELINE
Dwight Perry of the Seattle Times recently noted that Joe Paterno had a practical reason for coaching into his 80s.
Perry referenced a 2008 ESPN interview in which broadcaster Brent Musberger said: "He is fearful — and he looks back at Bear Bryant as the example — he is fearful that he would not be with us if he stepped away. He ... has no other interest other than his family and football. And he's just afraid what would happen with the rest of his life if he walks away from it."
Both coaches died the January following their final game.
So apparently it's not the stress of coaching that imperils coaches; it's the lack thereof.
On the other hand, how does that explain Dick Vitale?
LARGE QUESTION
Nobody did anything when LeBron James wore a Yankees hat while playing in Cleveland. So it makes sense that most everyone was OK with 49ers quarterback (and ex-Ute) Alex Smith wearing a Giants hat in post-game press conferences last season.
Not the New York Giants. The San Francisco Giants.
Rock On thinks any Giants hat is acceptable for Smith, not counting the football Giants. Yomiuri Giants are fine.
Andre the Giant?
Outstanding.
UN-BAVETTABLE
Hall of Famer Karl Malone said last month that Dick Bavetta, the NBA referee who made some controversial calls — and no-calls — late in Game 6 of the 1998 NBA Finals, once apologized to him and John Stockton.
He said Bavetta told them before a 1998 exhibition game that he had "been through the worst summer I've had in my life," agonizing over blown calls in the Finals.
Sources say he was so upset he swore he'd get his eyes examined as soon as Jerry Sloan quit mid-season and an Asian-American guard for the Knicks scored 38 on the Lakers.
MOMMA'S BOY
Actor Will Ferrell livened up introductions at the New Orleans-Chicago NBA game last week by adding his own anecdotal observations.
Regarding ex-Jazz player Carlos Boozer, he joked: "At forward, No. 5, he still lives with his mother ... Carlos Boozer."
That would explain why he kept getting owies and staying home when he was playing in Utah.
email: rock@desnews.com Twitter: therockmonster Facebook: rockmonsterunplugged