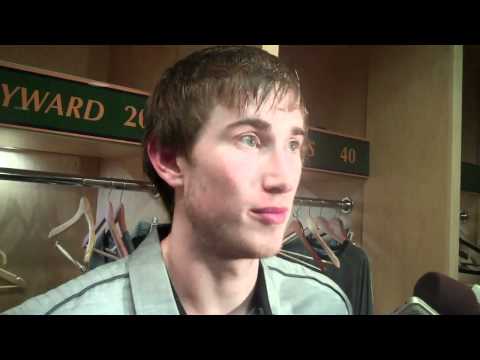 View 22 Items
Brandon Brown, Deseret News

SALT LAKE CITY — The Jazz did almost everything right in the first quarter of Friday night's game against the best team in the NBA, the Oklahoma City Thunder.
Utah shot well over 50 percent from the field, including 40 percent from 3-point range. What's more, the Jazz shared the ball extremely well with nine assists, swiped three steals on defense and had only one turnover.
Heck, they even held Thunder leading scorer Kevin Durant to just four points over the first 12 minutes.
It's no wonder, then, that it all added up to a 30-point scoring outburst by Utah in the first period, which translated into a 30-27 lead over OKC at the first break.
But everybody in the arena probably suspected that the Jazz couldn't possibly keep up that impressive pace.
And, sure enough, everybody was right.
Utah scored just 14 second-quarter points and, after that outstanding 30-point output in the first period, managed just 57 points the rest of the way in a 101-87 loss to the Thunder.
To make things even more frustrating for the Jazz, their defensive effort, led by Gordon Hayward, held Durant in check to the tune of 19 points — far under his season average of 27-plus per game.
But Utah allowed Oklahoma City's Russell Westbrook and Serge Ibaka to pick up the slack with strong performances that went a long way in dealing Utah (13-12) its third straight setback and its fifth defeat of the season at home. Westbrook scored a game-high 28 points, while Ibaka had a double-double with 16 points and 11 rebounds — far surpassing his season averages of 7.5 points and 7.1 rebounds per game.
Two key categories jumped off the stat sheet in Friday's late-night loss.
First, the Thunder dominated the Jazz on the backboards, finishing with a sizable 46-32 rebounding advantage as Ibaka and Kendrick Perkins combined for 21.
And second, Oklahoma City outscored Utah by 19 points from the foul line, as the Thunder converted 27-of-32 attempts while the Jazz made just 8-of-13 free throws.
So, in the end, Utah's solid 48 percent shooting night and 27 assists, though they looked mighty nice on the final box score, really didn't matter much.
Along with the stellar defensive job it did on Durant, Utah also wasted a solid 20-point, eight-rebound performance by starting center Al Jefferson, as well as a solid shooting night by veteran guard Raja Bell, who hit 4-of-5 shots from the field, including 3-of-4 from 3-point range like the slick-shooting Raja of days gone by.
Comment on this story
But while the Jazz couldn't possibly keep up that torrid first-period scoring pace, the Thunder had no such problem putting points on the scoreboard.
Even with Durant not lighting it up at his customary rate, Oklahoma City (21-6) scored 22 in the second quarter, 25 in the third period and 27 more in the fourth frame to win going away.
One of sports' well-worn cliches is it's not how you start, it's how you finish. And that phrase certainly held true for the Jazz on Friday night.
Email: rhollis@desnews.com