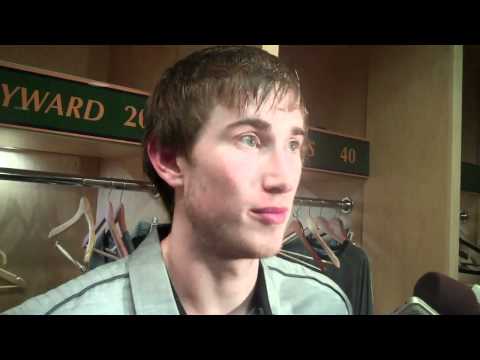 View 22 Items
Brandon Brown, Deseret News

They most definitely was the aggressor tonight. They most definitely outworked us all over the court, not just the rebounding — everywhere, they outworked us.

—Jazz center Al Jefferson
SALT LAKE CITY The Utah Jazz seemed to have caught the Oklahoma City Thunder at a good time.
The Western Conference-leading squad had a late game in Sacramento on Thursday night. They were playing their fourth away game in five nights. Plus, they were playing at EnergySolutions Arena.
The Jazz, meantime, had a couple of days off to recuperate from a rough two-game road trip back East.
That scenario actually concerned Jazz coach Tyrone Corbin coming into this ESPN-televised contest for good reason, it turned out.
If we look at them as if theyre going to be tired, Corbin said earlier in the day, were making a mistake.
Despite Utahs favorable rest factor, two things didnt play into the Jazzs favor:
For one thing, the Thunder had to be extra motivated after losing to the Kings. For another, Al Jefferson wasnt just blowing smoke when he called Oklahoma City the best team in the NBA.
Russell Westbrook, Kevin Durant & Co. showed that their talent is big enough to trump both tired legs and the home team, wrapping up their road trip with a convincing 101-87 win over the slumping Jazz.
Utah was outrebounded 46-32 and shot 19 fewer free throws than the visitors.. The outcome gave Utah its first three-game losing streak of the season and dropped the Jazzs record to 13-12.
They most definitely was the aggressor tonight, Jefferson said. They most definitely outworked us all over the court, not just the rebounding everywhere, they outworked us.
Making matters worse for the Jazz, whove lost five of six, they now face their dreaded lockout-caused back-to-back-to-back set.
That road journey begins Sunday in Memphis and includes games in New Orleans (Monday) and at, gulp, Oklahoma City (Tuesday).
Its a tough stretch, Millsap said. But everybody goes through it. Well figure it out.
It became obvious throughout the night that, for whatever reason, the Jazz couldnt figure out how to get to the charity stripe.
Oklahoma City went 27-for-32 at the free-throw line compared to an 8-for-13 night for the home team.
Instead of targeting the referees, Jefferson blamed the Jazz for not continuing to attack the basket enough after failing to get some calls.
If we stay aggressive, he said, the referees will give us them calls.
Corbin thought the free-throw discrepancy was the big difference in the ballgame, and said the Jazz shouldve adjusted better to how the game was being called. Interestingly, Utah was only whistled for one more foul (21-20).
OKCs smaller All-Star was the biggest individual difference-maker in securing the Thunders third consecutive win in Utah.
The quick and athletic Westbrook became the latest point guard to punish the Jazz, leading the 21-6 Thunder with 28 points, six rebounds and three assists.
But Corbin credited the explosive guard for punishing the Jazz from outside, where they forced him to beat them instead of allowing him to attack the basket.
Hes a tough guy and he was making jumpshots on us early, and thats what we wanted him to have, Corbin said. Unfortunately for us tonight, he was making them.
Durant was held in check for the most part but still managed 19 points in the victory. OKC also got 16 points and 11 rebounds from Serge Ibaka, with Kendrick Perkins throwing in an 11-point, 10-board outing.
All five Jazz starters scored in double figures, led by Jeffersons 20 points and eight rebounds.
Gordon Hayward and Raja Bell each had 13 points, Devin Harris added 11 with seven assists and birthday boy Paul Millsap tallied 10 points and nine rebounds.
Utahs bench, however, only contributed 20 points in the teams low-scoring performance.
Theyre a good team, but I think we beat ourselves this game. Im not just saying that, said Millsap, who turned 27 on Friday. We had shots that we wanted, shots that we should make, including myself. A lot of easy buckets we shouldve made. We just didnt make them.
Millsap had the roughest shooting night, only going 4-for-15 from the field. As a team, Utah hit 38 of 80 field goals (47.5 percent). OKC, which used a 10-0 second-quarter run to take the lead for good, shot 47.3 percent (35-74) for the night.
I thought the guys played hard, Corbin added, we just didnt make shots.
GAME NOTES: The game was played on the one-year anniversary of Jerry Sloans resignation and Corbin becoming the Jazzs seventh head coach. Former Jazz point guard Eric Maynor is out for the season with a knee injury. Bell had a season-high three treys, increasing his 3-point streak to 13 games.
EMAIL: jody@desnews.com
TWITTER: DJJazzyJody