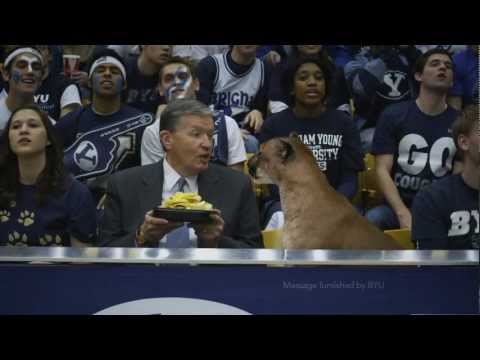 View 2 Items
YouTube


The BYU athletic program recently released a promotional video for the program.
The theme of the video is recruiting a "cougar" to BYU. BYU president, Cecil Samuelson, starts the video off by discussing the benefits of BYU with a real life cougar.
Comment on this story
The commercial continues with appearances by BYU men's head basketball coach, Dave Rose, former player Jimmer Fredette, women's basketball player Xojian Harry, and track athlete Lacey Bleazard talking to the cougar. The commercial includes the BYU student section chant of "Whoosh, Cecil!" after every made free throw for the home team.
This commercial is the second involving the live cougar. You may remember the video featuring BYU football greats Steve Young, Chad Lewis, Bryan Kehl and coach Lavell Edwards.
Contact Gregory Rose at grose@deseretdigital.com or follow him on Twitter at @GRoseDDM